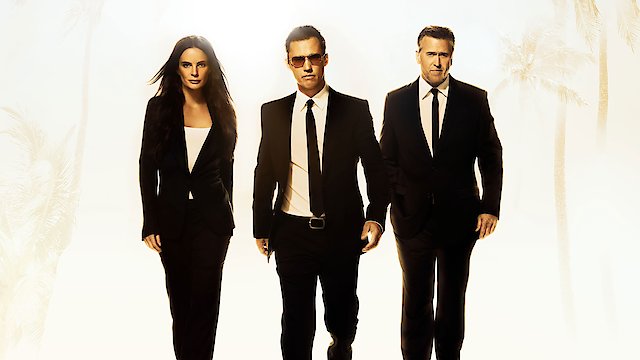 Where to Watch Burn Notice
In the series finale, Michael attempts to regain the trust of those whom he betrayed, while James works feverishly to ruin him.
Watch Burn Notice Season 7 Episode 13 Now
Michael is forced to reveal his true identity to James; Fiona and Jesse are concerned he has taken on more than he can handle.
Watch Burn Notice Season 7 Episode 12 Now
As Michael becomes increasingly conflicted with his mission, he travels to Mexico with Sonya to assist James with an important job.
Watch Burn Notice Season 7 Episode 11 Now
When Michael's cover is threatened, he must decide just how far he will go to protect the mission.
Watch Burn Notice Season 7 Episode 10 Now
The team is desperate to find an antidote at the manufacturer's lab in order to save a poisoned Middle Eastern diplomat. Elsewhere, Madeline believes she's being followed.
Watch Burn Notice Season 7 Episode 9 Now
Michael hunts a drug smuggler on the orders of the organization he's trying to infiltrate. Elsewhere, Fiona, Jesse and Strong visit a mental hospital in an effort to find out more information about James.
Watch Burn Notice Season 7 Episode 8 Now
Michael is finally introduced to the head of the organization he's been assigned to dismantle, but when the leader drugs him at gunpoint in order to learn his deepest secrets, Michael must face his past in order to maintain his cover.
Watch Burn Notice Season 7 Episode 7 Now
Michael and Fiona pose as hackers in an effort to steal information for Sonya. But Michael's things become complicated when working with Fiona stirs up painful memories.
Watch Burn Notice Season 7 Episode 6 Now
Michael encounters a former Russian operative who is involved with Burke's mysterious organization. In order to get out of Cuba, they must manipulate a bloodthirsty counterintelligence expert who's locking down the island.
Watch Burn Notice Season 7 Episode 5 Now
Michael works hard to learn about Burke's underground network; Fiona and Madeline must frame a corrupt Russian bureaucrat for treason.
Watch Burn Notice Season 7 Episode 4 Now
Sam and Jesse travel to the Dominican Republic to assist Michael with a high-stakes trade; Fiona intervenes when a bookie threatens Madeline.
Watch Burn Notice Season 7 Episode 3 Now
Michael is back in Miami on a manhunt for someone who is trying to blow his cover; Michael is forbidden from contacting his crew.
Watch Burn Notice Season 7 Episode 2 Now
In the seventh season premiere, a terrorist seeks Michael's help in stealing equipment from a defense facility. Elsewhere, Sam and Jesse learn Michael's life may be in danger.
Watch Burn Notice Season 7 Episode 1 Now

Burn Notice is an American television series that aired on the USA Network for seven seasons from 2007 to 2013. The show is a blend of action, crime drama and espionage thriller, wrapped around a compelling personal drama. The series is renowned for its refreshing blend of high-stakes narrative, sharply written dialogues, and tongue-in-cheek humor. The central character of the series is Michael Westen, portrayed by Jeffrey Donovan. Westen is a highly skilled and brilliantly resourceful spy who served his country in multiple dangerous zones across the world. However, right in the middle of an operation, Westen receives a 'burn notice', an abrupt and unexplained termination of his services. Stripped of his job and resources, and placed under constant surveillance, Westen is dropped back to his native city Miami without any explanation or assistance. Westen, however, is a man persistent in seeking answers. Determined to find out who issued the burn notice that has not just ended his professional career but also endangered his life, Westen employs his formidable intelligence, indomitable willpower, and nearly superhuman resourcefulness in his quest. What follows is a gritty and intense journey filled with adrenaline-fueled action, crafty detective work, and ingenious improvisations, all delivered in Westen's dry, witty, and often darkly humorous narrative style. Michael's principal allies in his mission are a small but trustworthy group of friends who each bring their unique set of skills. Gabrielle Anwar stars as Fiona Glenanne, a former Irish Republican Army operative and Michael's ex-girlfriend, who lends her explosive expertise to his cause. Bruce Campbell plays Sam Axe, a retired Navy SEAL and Michael's loyal friend, whose resourcefulness and local connections prove invaluable. As the series progresses, Coby Bell is introduced as the tough and vigilant Jesse Porter, a counterintelligence agent who becomes intricately involved in Westen's endeavors. Sharon Gless enacts the role of Madeline Westen, Michael's chain-smoking, tough-talking mother, who gets unwittingly wrapped up in her son's dangerous world. With her sharp wit and straightforward wisdom, Madeline often provides the grounding influence in the dynamic, fast-paced world of espionage. Eschewing the classic 'James Bond' style sophisticated spy tropes, Burn Notice offers a more grounded experience of the spy-game, where the heroes, instead of relying on fancy gadgets or flawless plans, have to lean on their instincts, improvisation skills, and sheer grit. The show's premise also offers a unique perspective on the spy genre, dealing with the aftermath of a career in international espionage and the challenges of reintegrating into civilian life. Over its successful seven-season run, Burn Notice skillfully balances episodic storylines with an overarching narrative, delivering a steady pace of intrigue, suspense, and action throughout. Each episode typically presents a 'client' – an innocent party stuck in a dangerous situation due to criminals or corrupt officials – for whom Westen and his team provide their skilled yet unconventional assistance. These episodic missions, while exciting in themselves, also contribute to the broader story of Westen's search for answers. A distinctive feature of Burn Notice is its educational quality. As Westen takes on criminals and navigates treacherous plots, he often shares his counterintelligence wisdom with the audience, offering tips on tracking, evasion, misdirection, interrogation, and numerous other spy-craft techniques. These insightful instructional voice-overs, blended with captivating storytelling and colorful characters, contribute to making the series a signature staple in the annals of spy-based TV shows. Burn Notice is a refreshing take on spy-centric narratives that successfully combines action, thriller, and drama elements while delivering a rich, multi-layered viewing experience. With its charming cast, ingenious scripting, and heart-thumping action, the series has left an enduring mark in the heart of its audiences and effectively set a high bar for shows in this genre.
Burn Notice is a series categorized as a canceled. Spanning 7 seasons with a total of 113 episodes, the show debuted on 2011. The series has earned a mostly positive reviews from both critics and viewers. The IMDb score stands at 8.0.
How to Watch Burn Notice
How can I watch Burn Notice online? Burn Notice is available on USA with seasons and full episodes. You can also watch Burn Notice on demand at Hulu Plus, Amazon Prime, Apple TV, Amazon, Google Play, Vudu online.
Cast
Jeffrey Donovan, Gabrielle Anwar, Bruce Campbell

Stream shows like Burn Notice