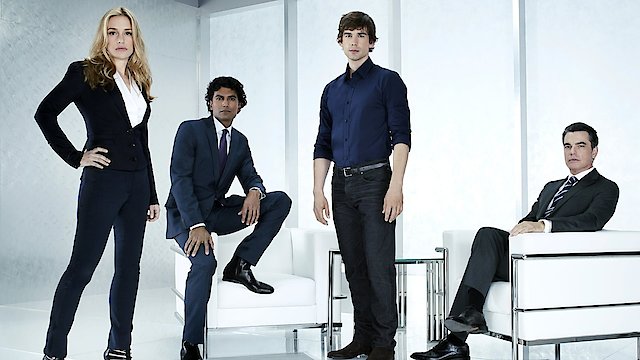 Where to Watch Covert Affairs
With assassins pursuing them, Annie and McQuaid struggle to escape Argentina; Belenko's final plan is set into motion.
Watch Covert Affairs Season 5 Episode 16 Now
Annie and McQuaid's relationship becomes more serious during their search for Belenko's next target; Calder gets into trouble while searching for the truth. Meanwhile, Joan believes that keeping Belenko alive is in the best interest of the CIA.
Watch Covert Affairs Season 5 Episode 15 Now
With no options remaining, Annie and McQuaid sneak into Russian Territory to search for Belenko.
Watch Covert Affairs Season 5 Episode 14 Now
Energized by a shocking revelation, Annie teams up with a new ally to bring Belenko's bad behavior to justice. McQuaid and Joan head into the field while Calder enlists Sydney to make a dangerous gamble.
Watch Covert Affairs Season 5 Episode 13 Now
12
Starlings of the Slipstream
Annie hunts for a rogue chemist in Germany after Auggie uncovers an unexpected connection with the recent attacks on American soil. Suspicious questions about Joan's time in the Balkans rise to the surface during an unplanned polygraph.
Watch Covert Affairs Season 5 Episode 12 Now
Annie travels her way towards Istanbul where she wants to apprehend Belenko.
Watch Covert Affairs Season 5 Episode 11 Now
Against Auggie's wishes, Annie accompanies McQuaid with a difficult mission. Hayley is determined to discover the truth before destruction in America.
Watch Covert Affairs Season 5 Episode 10 Now
Annie goes on an undercover mission without the help of the CIA.
Watch Covert Affairs Season 5 Episode 9 Now
Annie and Auggie investigate a conspiracy theory about the attack that was carried out against the CIA. Joan and Calder are faced with a dilemma.
Watch Covert Affairs Season 5 Episode 8 Now
Annie and McQuaid search for an off-grid ex-CIA agent in Azerbaijan. Auggie makes a shocking discovery about an old friend.
Watch Covert Affairs Season 5 Episode 7 Now
Annie visits the Russian Embassy while undercover in Paris. Auggie balances her relationships. Joan discovers the details of Arthur's latest business trip.
Watch Covert Affairs Season 5 Episode 6 Now
Auggie's past with a potential asset causes problems. Joan tries to set Calder up.
Watch Covert Affairs Season 5 Episode 5 Now
Annie is involved in a stakeout. The CIA discover an insider may have leaked intel.
Watch Covert Affairs Season 5 Episode 4 Now
3
Unseen Power of the Picket Fence
McQuaid and Annie must work together in order to get out of Venezuela.
Watch Covert Affairs Season 5 Episode 3 Now
Annie considers teaming up with Ryan McQuaid in an effort to catch a terrorist in Venezuela. Auggie is questioned by the NCTC.
Watch Covert Affairs Season 5 Episode 2 Now
Annie is running out of time to stop a terrorist attack. Arthur considers moving into the private sector.
Watch Covert Affairs Season 5 Episode 1 Now

Covert Affairs is a thrilling drama that aired on USA Network from 2010 to 2014, starring Piper Perabo in the lead role. The series sets its roots in the genre that blends forth elements of action, crime, mystery, and drama, all set within the daunting world of international espionage and covert operations. Piper Perabo plays Annie Walker, a young and ambitious fresh recruit at the Central Intelligence Agency (CIA). Immediately after joining the agency, her unique skills and talents made her stand out, and she quickly found herself thrust into the field. The clever and composed Annie swiftly adapts to the militaristic strategies and unending world of secrets surrounding the CIA. Christopher Gorham is cast in the role of Auggie Anderson, a military intelligence/special ops officer who lost his sight during an operation. He becomes Annie's handler and a trusted partner, acting as Annie's guide, especially during the initial phase of her fieldwork. Gorham's portrayal of Auggie's character is packed with shades of inspiration, resilience, and determination. Covert Affairs is not just about intelligence operations. The characters also struggle with personal issues which sometimes intersect with their professional lives, creating more tension and emotional depth. Kari Matchett plays Joan Campbell, a fiercely competent senior officer and head of the Domestic Protection Division. Peter Gallagher portrays Arthur Campbell, Joan's husband, and the authoritative director of the CIA, while Anne Dudek plays Danielle Brooks, Annie's older sister who is oblivious to the secrets that Annie keeps. The series is further enriched with the performance of Sendhil Ramamurthy who features as Jai Wilcox, a CIA operative with ties to Auggie. The storyline also brings forth engaging characters like Calder Michaels, an ambitious CIA station chief in Latin America played by Hill Harper, and Eyal Lavin, a Mossad operative played by Oded Fehr, who becomes an alle occasionally, highlighting the complex and tangled web of international intelligence agencies. Some other noteworthy performances include Gregory Itzin as Henry Wilcox, Jai's father and a former director, Eion Bailey as Ben Mercer, a charming and mysterious former CIA operative who was involved with Annie, Sarah Clarke as Lena Smith, a commanding and secretive spy, and Noam Jenkins who appears as Vincent Rossabi, a CIA investigator. In later seasons, Emmanuelle Vaugier, Richard Coyle, and many others weave in and out of Annie's story, creating additional layers to the show's intricate narrative. Created by Matt Corman and Chris Ord, Covert Affairs offers a layered and dynamic narrative structure, tightly packed with twist-filled espionage, high stakes and thrilling international adventures, painting an exciting image of the covert world of espionage and the gray shades drawn within it. Every episode is carefully fashioned with a blend of intense action sequences and emotional character trajectories, making it an incredibly engaging watch. From the streets of Washington D.C. to the international lands, from political intrigue to power politics, and from personal dilemmas to dangerous missions, Covert Affairs brings you a different flavor of the spy-drama genre. Its secret weapon lies in the perfect combination of believable characters, intense storylines, and the gripping realities of the covert operative world. Set against the backdrop of moral ambiguity, the series presents an interesting dynamic that explores the humanity of its characters within the typically calculated and emotionless world of intelligence work. It consistently peppers in elements of personal strain, addressing how the characters try to balance their typically chaotic professional lives with their personal ones. Covert Affairs can be best described as a show which wraps up international espionage features inside an emotional human story. It successfully straddles both worlds, thereby dishing out an exciting and richly layered series that leaves the audience asking for more. It boasts a compelling cast that delivers convincing performances, making the viewers root and worry for the characters as they navigate through the uncertain world of espionage and personal struggles. In conclusion, Covert Affairs serves up an enticing blend of drama, suspense, intricate storytelling, and emotional investment. It delves deep into the life of a spy and the personal costs that come with it, all the while maintaining the thrill and excitement of covert operations, making it a must-watch for fans of the espionage genre.
Covert Affairs is a series categorized as a canceled/ended. Spanning 5 seasons with a total of 76 episodes, the show debuted on 2010. The series has earned a moderate reviews from both critics and viewers. The IMDb score stands at 7.3.
How to Watch Covert Affairs
How can I watch Covert Affairs online? Covert Affairs is available on USA with seasons and full episodes. You can also watch Covert Affairs on demand at Amazon Prime, Peacock Premium, Apple TV, Amazon, Google Play, Vudu online.
Cast
Eion Bailey, Peter Gallagher, Eric Lively, Christopher Gorham, Anne Dudek, Sendhil Ramamurthy, Piper Perabo, Paul Sun Hyung Lee, Sienna Guillory, Jaimie Alexander, Kari Matchett, Sarah Clarke, Gregory Itzin, Adelaide Humphreys, Avigail Humphreys, Dylan Taylor, Hill Harper, Tim Griffin, Jas Dhanda, Oded Fehr

Stream shows like Covert Affairs