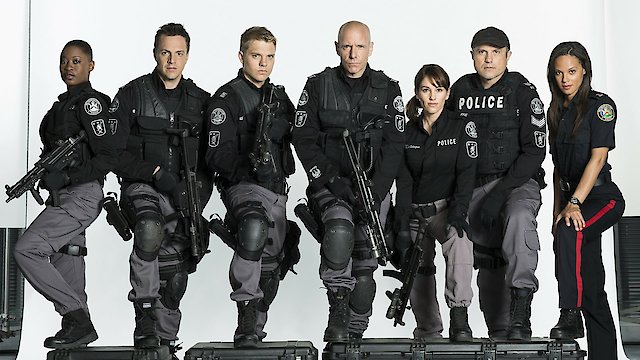 Where to Watch Flashpoint
Team One continues the hunt for a bomber at large as the squad splits up to deal with multiple bomb threats in a city already plunged into chaos.
Watch Flashpoint Season 5 Episode 13 Now
Team One faces the most challenging call of their careers when a series of bombs tears the city apart.
Watch Flashpoint Season 5 Episode 12 Now
Team One is called in when an armed and emotionally disturbed man takes refuge on a ferry after kidnapping his neighbor's baby.
Watch Flashpoint Season 5 Episode 11 Now
Team One confronts a man who's desperate to protect his deaf nephew and the only place the boy has ever felt safe.
Watch Flashpoint Season 5 Episode 10 Now
Parker and Ed's sons accompany Team One on a routine call. A shootout changes the situation though, complicating everything.
Watch Flashpoint Season 5 Episode 9 Now
Ex-soldiers take over an armored truck carrying more than two million dollars.
Watch Flashpoint Season 5 Episode 8 Now
A young man with a unusually amazing memory is abducted and forced to remember the specifications for a new "smart gun" in a high tech research facility.
Watch Flashpoint Season 5 Episode 7 Now
A war breaks out between biker gangs and a bomb explodes in a suburban neighborhood. Team One tries to defuse a second bomb, and help a wounded informant.
Watch Flashpoint Season 5 Episode 6 Now
Team One's efforts to save the life of a kidnapped woman depend largely on the abductor's brother, who harbors a dark family secret.
Watch Flashpoint Season 5 Episode 5 Now
Team One discovers that they need to institute new security measures after a hacker infiltrates their computer system.
Watch Flashpoint Season 5 Episode 4 Now
Team One believes they're stopping a robbery in progress, unaware that part of the teenage thieves' plan is to escape their cruel leader.
Watch Flashpoint Season 5 Episode 3 Now
As Team One tries to rescue a kidnapped doctor, Sam realizes that being taken hostage may be the only way to save a child who needs medical attention.
Watch Flashpoint Season 5 Episode 2 Now
Team One searches for an armed and abusive man who has tracked down his ex-wife, demanding to know where their daughter is.
Watch Flashpoint Season 5 Episode 1 Now

Flashpoint is a riveting CBS television series that ran from 2008 to 2012. The show is set in Toronto, Canada, it takes a deep dive into the intense and high stakes world of crisis and hostage negotiations, bomb defusals, and tactical procedures. Created by Mark Ellis and Stephanie Morgenstern, the series features an ensemble cast that includes Sergio Di Zio, Jessica Steen, Hugh Dillon, Shawn Doyle, and Clare Carey. Flashpoint revolves around a specialized 'tactical unit' called 'Strategic Response Unit' (SRU), a set up inspired by Toronto's Emergency Task Force. The SRU is trained in high-risk procedures and equipped with high-end technology. Their role involves diffusing volatile situations, saving lives while minimizing casualties, and ensuring safety during dangerous incidents. These include hostage situations, suicide attempts, bomb threats, and heavily armed criminals. The SRU's extensive training in psychology also plays a significant role, as their focus is not just resolving crisis situations but also trying to understand and negotiate with individuals to ascertain the reasons for their actions. The multi-talented aristocratic ensemble plays vital members of the SRU. Hugh Dillon plays the role of Team Leader Ed Lane, a cop with a sharp shooting skill, quick wits, and a deep understanding of human behavior. Sergio Di Zio plays Mike "Spike" Scarlatti, a cherished member specializing in explosives and technical operations with a warm heart and sharp humor. Jessica Steen is seen as Donna Sabine, a hard-headed, seasoned officer who doesn't let personal issues impact her professional life. Shawn Doyle brings life to the character of Sergeant Gregory Parker, the SRU team's calm, empathetic, and strategic head, while Clare Carey takes on the job of Dean Parker, Gregory's sister and the chief psychologist. One key aspect of Flashpoint which sets it apart from other crime dramas is its humane and psychological approach to law enforcement. The show attempts to go beyond the black and white distinction between criminals and victims by examining the grey areas of human nature. It explores the reasons behind every action taken by the individuals involved in dangerous situations. Each episode delves into the intricate dynamics of human behavior, drawing upon heartfelt and relatable life situations which push people to their breaking point. Flashpoint also fleshes out individual stories of the team members, taking the viewers on a journey concerning their personal lives and the challenges they face off-duty. The team members are portrayed as humans before police officers, carrying their demons, dealing with traumatic memories, personal difficulties, and family problems. The common struggle they face is maintaining a healthy work-life balance while dealing with the extreme stress that comes with being a part of the SRU. The production quality of the show, along with its superbly written scripts, crystal clear direction, and impressive performances, makes Flashpoint a must-watch. The show is known for its heart-thumping sequences, filmed in real-time, making the audience feel like they are a part of the action. The vivid cinematography takes the audience right in the middle of Toronto's beautiful cityscape and the adrenaline-pumping action sequences. Despite its strong emphasis on action, Flashpoint consistently maintains its focus on the emotional motivations and ramifications of its characters' actions. It navigates issues like loyalty, fear, love, and trauma with the right balance of delicacy and power, making it deeply impactful and emotionally resonant. This keeps the viewers hooked and invested in the plotline through all the episodes. Another striking feature of Flashpoint is its music. The series is known for its captivating musical background that adds depth and emotion to its storyline. The title score "Running Out of Time" by Hugh Dillon amps up the thrill, making it a perfect accompaniment to the high-intensity, action-packed scenes and dramatic moments. In conclusion, Flashpoint is a brilliant blend of action, drama, and elements of a psychological thriller. Its treatment of the subject matter, character depth, and the refreshing take on action-centric police procedurals set it apart as a standout in its genre. Flashpoint is more than just a high-octane action series; it's a show with a heart that explores human nature's depth in the face of adversity. With its consistent and quality storytelling, it remains a must-watch for those seeking a character-driven drama with an adrenaline rush.
Flashpoint is a series categorized as a canceled. Spanning 5 seasons with a total of 93 episodes, the show debuted on 2008. The series has earned a moderate reviews from both critics and viewers. The IMDb score stands at 7.8.
How to Watch Flashpoint
How can I watch Flashpoint online? Flashpoint is available on CBS with seasons and full episodes. You can also watch Flashpoint on demand at Paramount+, Amazon Prime, Pluto TV, Amazon, Vudu, Apple TV Channels, Apple TV online.
Cast
Hugh Dillon, Amy Jo Johnson, David Paetkau

Stream shows like Flashpoint