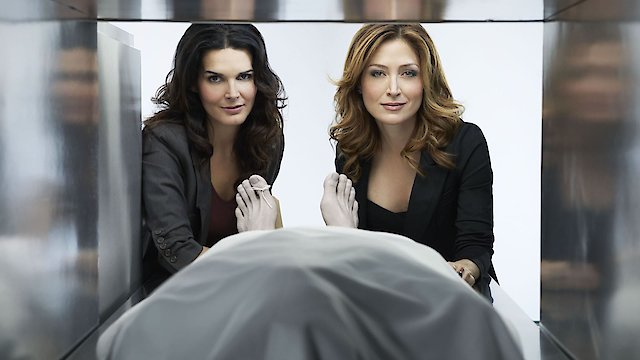 Where to Watch Rizzoli & Isles
The evidence doesn't add up when a dead man is discovered handcuffed to a bed in his own home. As the "Bon Voyage" celebration approaches, everyone puts together a film to say goodbye.
Watch Rizzoli & Isles Season 7 Episode 13 Now
12
Yesterday, Today, Tomorrow
Jane and Maura labor to solve two homicides - one from the past and one present day - that have strong personal connections for Korsak. As everyone gets ready to proceed with the next chapters of their lives: Jane receives a surprise visit that may lead to romance; and Maura gets negative feedback on her novel.
Watch Rizzoli & Isles Season 7 Episode 12 Now
A mortician's body is found in one of his own funeral home's caskets, guiding our team into the world of embalming, interment, and eventually, serial murder. Tommy Rizzoli talks with his son TJ, and ponders returning to Boston forever.
Watch Rizzoli & Isles Season 7 Episode 11 Now
When a forensic accountant is shot down in a park, Jane and Maura are pulled into a sophisticated Ponzi ploy. But the biggest shock in the case is Jane's discovery that her number one suspect is someone from Maura's past.
Watch Rizzoli & Isles Season 7 Episode 10 Now
On the dawn that Jane is about to testify in a murder case, she learns that a key piece of evidence is missing. BPD has three days find the evidence, or else the killer may go free.
Watch Rizzoli & Isles Season 7 Episode 9 Now
In the series' 100th episode, Jane goes covert in a county jail to protract the killer of a brutal homicide.
Watch Rizzoli & Isles Season 7 Episode 8 Now
After a bicyclist seems to spontaneously combust, Maura proves his strange ending is actually a murder and helps snare the science-savvy killer. Meanwhile, Jane's asked to teach a group of FBI recruits at Quantico.
Watch Rizzoli & Isles Season 7 Episode 7 Now
Jane and Maura have to decode an old ghost tale in order to solve a double murder at a hospital. Angela prompts Frankie to stop avoiding Kent and affirm his invitation to a concert.
Watch Rizzoli & Isles Season 7 Episode 6 Now
When a rich lady is discovered dead at the bottom of her stairs, we figure that this was no ordinary slip-and-fall incident. The group is forced into a game of cat and mouse with a clever murderer determined to get away with the perfect crime.
Watch Rizzoli & Isles Season 7 Episode 5 Now
When a mailman is killed, the team must work with a brash, eccentric postal inspector, who believes the mailman's murder is part of a larger conspiracy. Maura continues to struggle with the ramifications of her injury, and Angela intervenes when she discovers Korsak has gotten Kiki a terrible birthday present.
Watch Rizzoli & Isles Season 7 Episode 4 Now
The crew works on behalf of the dead - and the undead - following a murder at a zombie convention. Angela chooses to pursue her GED after revealing that she didn't graduate from high school.
Watch Rizzoli & Isles Season 7 Episode 3 Now
While the entire Boston Police Department looks for Alice Sands, our crew examines a car wreck that isn't all it seems. In the middle of all of this, a new romance blooms.
Watch Rizzoli & Isles Season 7 Episode 2 Now
Following a shooting, the crew must use every device at their disposal to find Alice Sands and bring her to justice before she ruins Jane's future.
Watch Rizzoli & Isles Season 7 Episode 1 Now

Rizzoli & Isles is a dynamic crime drama television series that aired on TNT from 2010 to 2016. The show presents viewers with a strong cast, including renowned actors such as Angie Harmon, Sasha Alexander, Lee Thompson Young, Bruce McGill, Jordan Bridges, Lorraine Bracco, Billy Burke, Chazz Palminteri, Michael Massee, Colin Egglesfield, and Jacqueline Bisset. The series skillfully intertwines the genres of crime, drama, mystery, and thriller to create an engaging narrative that captivates audiences throughout its seven seasons. The story revolves around the unlikely but formidable partnership of Jane Rizzoli and Maura Isles. Angie Harmon portrays Jane Rizzoli, a no-nonsense, gutsy Boston detective who does not hesitate to leap into action. With a rugged exterior shell hiding a compassionate heart, Rizzoli is faithful to her tight-knit, working-class family and the law. Despite her tough exterior, Rizzoli is deeply committed to her job and upholding the law, often putting herself at risk to solve crimes and ensure justice. Ashley Alexander, on the other hand, plays Maura Isles, a brilliant medical examiner who, despite her occupation, maintains a polished image, opting for high heels and designer outfits instead of the conventional white lab coat. Her cultured, empathetic demeanor often contrasts Rizzoli's brash ways, making for engaging dynamics. Dr. Isles uses her medical knowledge and forensic skills to help detective Rizzoli solve some of Boston's most notorious crimes. An essential characteristic that distinguishes Rizzoli & Isles is the strong bond of friendship between the two leading characters. Despite their apparent differences, they are thick as thieves, opening up to each other about their personal struggles, helping each other grow, and, most notably, solving crimes in a highly entertaining manner. The series also fleshes out the spectrum of their lives, from their familial relations to romantic complications. Veteran actor Lorraine Bracco plays Angela Rizzoli, Jane's loveable but intrusive mother. Bruce McGill, as Vince Korsak, is an experienced detective and a sort of father figure in the team. Jordan Bridges, playing Frankie Rizzoli Jr., Jane's younger brother, also joins the police force. A host of recurring characters bring life to the series, with Billy Burke, Chazz Palminteri, Michael Massee, Colin Egglesfield, and Jacqueline Bisset contributing to the show's diverse set of personas. Regarded as one of TNT's highly-rated dramas, Rizzoli & Isles champions the combination of procedural crime-solving and character-driven storytelling. Always engaging and often light-hearted, it offers an optimal balance of suspense, humor, and personal drama. The series treats each case with gravity while preparing viewers for the approaching danger with suspenseful music and cinematography effectively. At the same time, it never strays too far from the personal lives of the main characters, as their trials and tribulations are an integral part of the show's appeal. On a broader scale, Rizzoli & Isles stands as a powerful display of female kinship, strength, and empowerment on television. It champions the principal vision of the modern woman, seeking to dismantle the patriarchy while preserving their individuality. The two titular characters are strong, independent women who excel in their traditionally male-dominated professions, subverting gender norms and providing positive role models for female viewers. In conclusion, Rizzoli & Isles is a captivating series that combines the gravity of crime-solving with the levity of personal interactions. Backed by a stellar cast, engaging storylines, and charismatic titular characters, the show manages to rise above the standard crime-based television series. The tensions, firearms, and eccentric villains are all present in the series, but what sets this series apart is its focus on robust female leads and their complex but gratifying companionship. The show offers suspenseful cases, emotional story arcs, and heated exchanges that keep viewers at the edge of their seats, making it a must-watch for those who enjoy crime dramas with a twist of personal charm.
Rizzoli & Isles is a series categorized as a canceled/ended. Spanning 7 seasons with a total of 106 episodes, the show debuted on 2010. The series has earned a moderate reviews from both critics and viewers. The IMDb score stands at 7.6.
How to Watch Rizzoli & Isles
How can I watch Rizzoli & Isles online? Rizzoli & Isles is available on TNT with seasons and full episodes. You can also watch Rizzoli & Isles on demand at Max, Amazon Prime, Apple TV, Amazon, Google Play, Vudu online.
Cast
Sasha Alexander, Lee Thompson Young, Jordan Bridges, Lorraine Bracco, Billy Burke, Bruce McGill, Angie Harmon, Michael Massee, Colin Egglesfield, Donnie Wahlberg, Heather Tom, Brian Goodman, Tina Huang, Chris Vance

Stream shows like Rizzoli & Isles