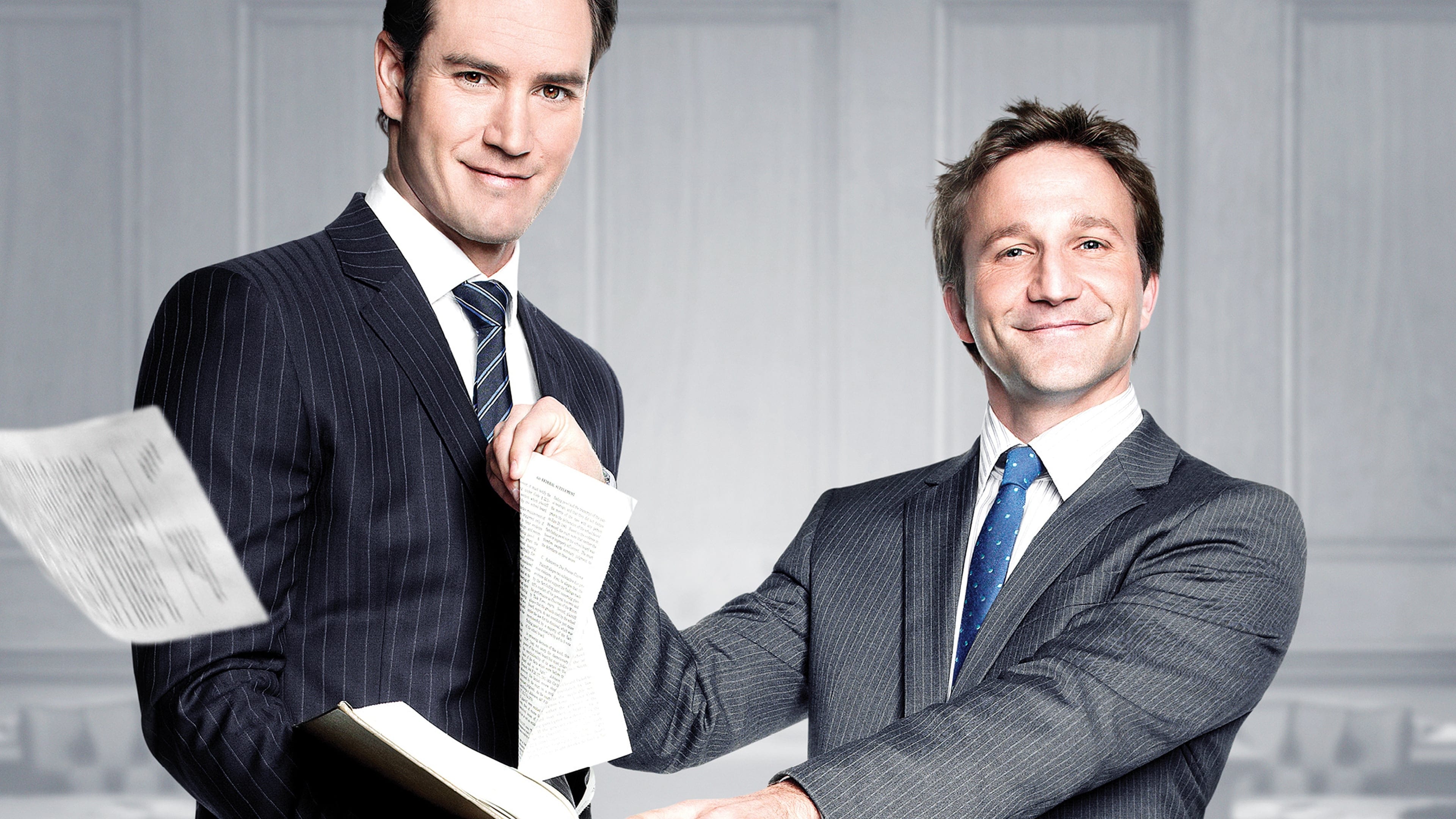 Where to Watch Franklin & Bash
Infeld is scared for his life after a mysterious invitation lures him to Las Vegas.
Watch Franklin & Bash Season 4 Episode 10 Now
9
Spirits in the Material World
The guys help a couple who were manipulated into buying a haunted hotel. Anita faces an old law school rival in a retrial of their disputed moot court case.
Watch Franklin & Bash Season 4 Episode 9 Now
Franklin and Bash help their friend get into an age-restricted retirement community.
Watch Franklin & Bash Season 4 Episode 8 Now
Complications arise between Peter's mother and Jared.
Watch Franklin & Bash Season 4 Episode 7 Now
The guys defend an injured stripper, and receive some help the dancers of Los Angeles to unionize.
Watch Franklin & Bash Season 4 Episode 6 Now
Peter and Jared defend a high-school newspaper reporter accused of orchestrating a smear campaign.
Watch Franklin & Bash Season 4 Episode 5 Now
Peter (Mark-Paul Gosselaar) and Jared (Breckin Meyer) take on a wealthy Malibu resident whose legal maneuvers are targeting a longtime neighbor's beachfront property. Infeld (Malcolm McDowell) and Karp (Reed Diamond) go to war over a lucrative client.
Watch Franklin & Bash Season 4 Episode 4 Now
The guys take on a case of a taxi-service driver accused of stealing celebrity handbags. When Infeld hits a restaurateur, a bitter rivalry ensues.
Watch Franklin & Bash Season 4 Episode 3 Now
A seemingly simple divorce case becomes complicated for Anita. Elsewhere, the guys must call in favors in an effort to score tickets to a big baseball game.
Watch Franklin & Bash Season 4 Episode 2 Now
In the fourth season premiere, Franklin and Bash attempt to help an archaeologist, but soon begin to question his mental state.
Watch Franklin & Bash Season 4 Episode 1 Now

Franklin & Bash is a delightful, comedic legal drama that aired on TNT from 2011 to 2014. The show vividly captures the life of two unconventional lawyers played by Breckin Meyer and Mark-Paul Gosselaar who unwillingly end up in a major law firm after winning a high-profile case. The series is a light-hearted take on the often grim legal dramas, bringing humor and charm to the table in a way that feels fresh and appealing. The lead characters, Jared Franklin (Breckin Meyer) and Peter Bash (Mark-Paul Gosselaar) are talented yet freewheeling lawyers who love using their unconventional methods in the courtroom. The two charming legal practitioners and long-time friends have built their careers by successfully defending clients in what may often seem like lost causes while using flair, wit, sleight of hand and street smarts to win their cases. Their ability to always find a way through the thickest of situations gives the show a fun, unpredictable edge that keeps viewers hooked. Their successful handling of a high-profile case catches the attention of Stanton Infeld (Malcolm McDowell), the partner of a prestigious and successful law firm - Infeld Daniels. Their unusual methods and refreshing perspectives catch Infeld's eye, who decides to hire these unconventional lawyers. Suddenly, Franklin and Bash find themselves facing corporate world's challenges, politics, and power games while sticking to their carefree demeanor and maverick style. As they juggle between corporate pressure and their strange yet hilarious roster of clients, they create a unique work environment, in stark contrast to the firm's usual buttoned-up atmosphere. The duo considerably shakes up the firm with their unconventional antics and approaches, which sometimes include turning a deposition into a party, showmanship in court, or an odd, unexpected witness or piece of evidence. Although they are stark contrasts to the more stoic, corporate-minded lawyers at Infeld Daniels, it becomes apparent that their unique attitudes and outside-the-box thinking are impactful within their cases. Their juxtaposition with the firm and the various relationships they develop within it, create a rich, engaging dynamic touching upon friendship contrasting professional conduct, loyalty, and corporate politics. Breckin Meyer shines in the role of Jared Franklin with his quick-witted and devil-may-care charm while also showing a softer, more vulnerable side of the lawyer's personality. Mark-Paul Gosselaar complements him perfectly as Peter Bash, endowing the character with charisma, humor, and a leicht touch. The on-screen chemistry between Meyer and Gosselaar is absolutely astonishing, making the relationship between Franklin and Bash truly believable and enjoyable to watch. Meanwhile, Malcolm McDowell, playing the role as Stanton Infeld, offers a delightful performance as a legal veteran who admires the youthful exuberance and unorthodox approach of Franklin & Bash. Executive-produced by Jamie Tarses, Kevin Falls, and Bill Chais, the series also features commendable performances from Reed Diamond, Dana Davis, Kumail Nanjiani, Garcelle Beauvais, Kumail Nanjiani, and Heather Locklear, who add their unique flavor to the show. There's a constant feeling of anticipation throughout each episode, thanks to the unpredictable paths that the storylines tend to take. The script is filled with sharp, quick-fire dialogue that keeps the audience engaged and showcases both the humor and the intelligence of the lead characters. Furthermore, the courtroom scenes are consistently compelling and filled with tension, as the unconventional methods employed by Franklin & Bash often lead to unpredictable results. Franklin & Bash brings a refreshing mix of humor and drama to the typical legal drama genre. The characters break the mold of traditional lawyers and courtroom scenes often seen in similar themes. It's a show that doesn't take itself incredibly seriously and yet manages to deliver entertaining, nuanced characters and intriguing legal cases, offering a unique blend of comedy, law, and drama in each of its four seasons. It's a fun, fast-paced series that offers enjoyable diversion, providing a light, entertaining watch with an engaging pair of lawyers at its center.
Franklin & Bash is a series categorized as a canceled/ended. Spanning 4 seasons with a total of 40 episodes, the show debuted on 2011. The series has earned a moderate reviews from both critics and viewers. The IMDb score stands at 7.6.
How to Watch Franklin & Bash
How can I watch Franklin & Bash online? Franklin & Bash is available on TNT with seasons and full episodes. You can also watch Franklin & Bash on demand at Amazon Prime, Pluto TV, Apple TV, Amazon, Google Play, Vudu online.
Cast
Mark-Paul Gosselaar, Malcolm McDowell, Breckin Meyer, Garcelle Beauvais, Dana Davis, Reed Diamond, Mark-Paul Gosselaar, Danny Trejo, James Van Der Beek, Tommy Chong, Jason Alexander, Claire Coffee

Stream shows like Franklin & Bash