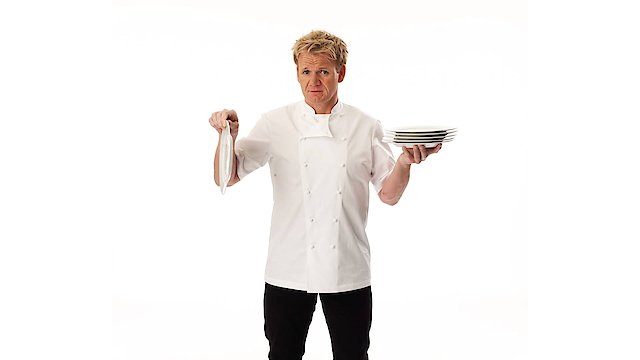 Where to Watch Kitchen Nightmares
Gordon steps in to help transform Diwan, an established Indian restaurant in Port Washington, New York, that is also running a Mexican restaurant out of the same kitchen.
Watch Kitchen Nightmares Season 8 Episode 10 Now
Gordon Ramsay heads to Max's Bar & Grill in Long Branch, New Jersey to mediate the restaurant's divorced owners through their frustrations with each other before their business crumbles.
Watch Kitchen Nightmares Season 8 Episode 9 Now
The co-owners of South Brooklyn Foundry don't see eye-to-eye, causing their communication about the business to grow toxic while the restaurant falls into more debt. Gordon Ramsay steps in to reassess the Brooklyn eatery's priorities and straighten out the finances before it's too late.
Watch Kitchen Nightmares Season 8 Episode 8 Now
A sibling duo opened El Cantito, a Puerto Rican restaurant, five days before the COVID shutdown. However, they struggle to keep the business afloat with malfunctioning equipment, a small staff and pandemic-induced financial strain.
Watch Kitchen Nightmares Season 8 Episode 7 Now
Love Bites is a small restaurant in Saugerties, NY run by childhood sweethearts who have trouble separating their work and personal lives. Gordon Ramsay steps in to save both the cafe and the couple's engagement after the business breaks down their relationship.
Watch Kitchen Nightmares Season 8 Episode 6 Now
A family-run Haitian juice bar and restaurant in Brooklyn, NY has fallen into utter chaos after the owner's children, who value partying and having fun over the success of their father's business, take over management. Gordon Ramsay steps in to completely transform the restaurant when the owner is given a 60-day deadline to turn a profit.
Watch Kitchen Nightmares Season 8 Episode 5 Now
Gordon Ramsay's next transformation is a New Jersey Italian restaurant that is in financial ruin, despite being open only six-months. Da Mimmo is a passion project for a retired mother to work on with her three sons, but Gordon is forced to step in when two of the sons see the failing business as a joke.
Watch Kitchen Nightmares Season 8 Episode 4 Now
One of New Jersey's busiest golf courses is home to In the Drink, a country club restaurant that struggles to find cohesiveness. Despite an absent owner, Gordon Ramsay attempts to revamp the restaurant and revive its lackluster menu.
Watch Kitchen Nightmares Season 8 Episode 3 Now
When a New Jersey couple's six-month old gastropub is in jeopardy due to their fiery head chef and dysfunctional menu, Gordon Ramsay offers his expertise and works to transform it into a successful business.
Watch Kitchen Nightmares Season 8 Episode 2 Now
The Bel Aire Diner in Astoria, New York is no stranger to these challenges as a family-run business crumbling under dysfunction. With their parents retiring, Ramsay urges two brothers to work through their emotional conflicts to save their beloved restaurant.
Watch Kitchen Nightmares Season 8 Episode 1 Now

Kitchen Nightmares is a captivating reality television series from FOX, hosted by universally recognized and acclaimed British chef Gordon Ramsay. The show first hit the small screen in 2007 and has since become a must-watch for food enthusiasts, restaurateurs, and individuals looking for insight into the demanding yet thrilling world of the food service industry. The premise of Kitchen Nightmares hinges on the charismatic and notoriously stern Gordon Ramsay visiting a variety of struggling restaurants across America. Each episode dives deep into the turbulent waters of restaurant business, giving viewers an unvarnished look into the difficulties faced by these establishments. From financial woes to unpalatable dishes, unprofessional staff, and outdated decor, the issues are as diverse as they are daunting. However, they all have one thing in common – a desperate need for Ramsay's expertise. In each hour-long episode, Gordon Ramsay works relentlessly to bring these dire restaurants back from the brink of failure. Ramsay, renowned for his culinary artistry and his blunt, uncompromising approach to restaurant management, acts as a mentor, critic, and occasionally a harsh disciplinarian to the owners and staff. He conducts a thorough investigation into what's causing the failure, often uncovering deep-seated issues that run deeper than just bad food or service, such as leadership crisis, family complications, or severe financial mismanagement. Ramsay's intervention isn't limited to the kitchen. Central to each episode are his candid, sometimes confrontational interactions with the owners and staff. His approach may seem gruff, but it is always tempered with a strong desire to see the business succeed. Ramsay mentors the kitchen staff on the basics of cooking and presentation, infuses positivity, fires up their passion, and instills in them a sense of true commitment to quality. One of the highpoints of each episode invariably is the dramatic restaurant makeover. Utilizing his experienced eye for decor and ambience, Ramsay, alongside a team of professionals, transforms the restaurant's outlook overnight. From redecoration to rebranding, Ramsay aims to create an inviting, modern atmosphere that will attract customers. Equally compelling is the revised menu, which Ramsay crafts for each restaurant. He bases these menus on simple, appealing dishes centered around fresh, locally sourced ingredients. Ramsay emphasizes the importance of quality over complexity, focusing on creating a manageable array of dishes that are easy to execute and will consistently please customers. The climax is the relaunch of the restaurant, complete with well-trained staff and a fresh ambiance that has been curated to bolster the dining experience. After a grueling journey, the owners and staff strive to serve an often-packed house of customers, with Ramsay watching closely. These dramatic scenes make for television gold, as viewers are kept on the edge of their seats, wondering whether the foundering restaurant can successfully execute its turnaround. After the relaunch, Ramsay departs, but not before delivering a heartening parting message and expressing his hopes for continued improvement. Subsequently, a follow-up visit (often shown in subsequent episodes) offers an informative, interesting glimpse into the ongoing success or failure post-Ramsay's intervention. Aside from the drama and entertainment, Kitchen Nightmares incorporates vital lessons about the importance of leadership, organization, and passion in running a successful restaurant. Its broad appeal is not just limited to budding chefs and entrepreneurs, as the show also provides a raw yet intriguing look into the human element involved in these establishments. Throughout its journey from 2007 until now, the real charm of Kitchen Nightmares lies in Gordon Ramsay's colorful personality and his sincere efforts to salvage these struggling establishments. His raw passion, expertise and resilience serve as the show's backbone, making Kitchen Nightmares an intriguing and engrossing ride for anyone with an interest in food, business, or drama-filled reality television.
Kitchen Nightmares is a series categorized as a canceled/ending. Spanning 8 seasons with a total of 116 episodes, the show debuted on 2007. The series has earned a moderate reviews from both critics and viewers. The IMDb score stands at 7.5.
How to Watch Kitchen Nightmares
How can I watch Kitchen Nightmares online? Kitchen Nightmares is available on FOX with seasons and full episodes. You can also watch Kitchen Nightmares on demand at Hulu Plus, FuboTV, FOX, Apple TV, Google Play, Amazon online.
Cast
Gordon Ramsay, Arthur Smith, Kim Seeley

Stream shows like Kitchen Nightmares