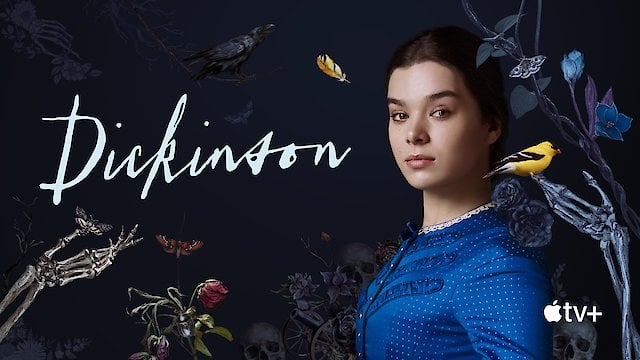 Where to Watch Dickinson
Emily asks Betty to help her design a new dress. The Dickinson family is surprised by an unexpected guest.
Watch Dickinson Season 3 Episode 10 Now
Emily takes steps to ensure that her family won't repeat their past mistakes. The Amherst gang gathers for a fond farewell.
Watch Dickinson Season 3 Episode 9 Now
8
My Life had stood - a Loaded Gun -
On the day of a soldier's memorial, Emily's efforts to keep her family's hope alive reach a breaking point and she descends into a personal inferno.
Watch Dickinson Season 3 Episode 8 Now
After a clash with Sue, Emily wishes she could escape from this troubled time altogether. Austin struggles with a man's responsibility in wartime.
Watch Dickinson Season 3 Episode 7 Now
6
A little Madness in the Spring
The Dickinsons take a fun family outing to an asylum. Henry helps the soldiers with a uniform inspection.
Watch Dickinson Season 3 Episode 6 Now
5
Sang from the Heart, Sire
Emily tries to celebrate her father's birthday with an old-fashioned family singalong, but it devolves into another battle in the Dickinsons' own civil war.
Watch Dickinson Season 3 Episode 5 Now
4
This is my letter to the World
Emily tries to connect with the pain of war by writing to a Union Army colonel and visiting a war hospital. Henry takes a new job teaching soldiers.
Watch Dickinson Season 3 Episode 4 Now
3
The Soul has Bandaged moments
Determined to heal the nation, Emily and Lavinia host a sewing circle to support the troops with help from Amherst's finest seamstress, Betty.
Watch Dickinson Season 3 Episode 3 Now
2
It feels a shame to be Alive -
Frazar Stearns leaves to meet his fate on the battlefield just as the Dickinson family welcomes a new life.
Watch Dickinson Season 3 Episode 2 Now
1
"Hope" is the thing with feathers
Amid the Civil War's mounting casualties, the Dickinsons grieve one of their own-and Emily struggles to keep the peace in her family.
Watch Dickinson Season 3 Episode 1 Now

Dickinson is a daring and distinctly contemporary take on the life and work of the iconic 19th-century American poet, Emily Dickinson, which premiered on Apple TV+ in 2019 and ended in 2021. Crafted by the creative minds of Alena Smith, the three-season series is renowned for its unique fusion of historical themes and modern sensibilities, charting a course unlike any conventional biographical show. The show stars Hollywood's up-and-coming actress Hailee Steinfeld in a mesmerizing portrayal of Emily Dickinson. A fiercely intelligent, independent woman of words in a world that seeks to silence her voice, Emily is a rebel who is unapologetic about her ambitions as a woman and as a poet. Toby Huss interprets Emily's lawyer father, Edward Dickinson, with an imposing yet nuanced performance. Adrian Blake Enscoe, Anna Baryshnikov, and Ella Hunt deliver captivating performances as Emily's siblings, Austin and Lavinia, and her close confidante, Sue Gilbert, respectively. The cast is rounded up by Jane Krakowski and Amanda Warren, with Wiz Khalifa making an enchanting appearance as the personification of Death. Dickinson transports viewers into a vivid exploration of Emily's atmospheric world, grounded in the 19th-century New England setting, but with its perspective and portrayal of events refreshingly rooted in the 21st century. The series sweeps across a variety of themes like societal expectations from women, the suffocating binds of a patriarchal society, the value of creative minds, and the grim realities of war, all underpinned by a steady engagement with mortality—a recurring theme in Emily Dickinson's poems. The show places Dickinson's written word at the center of the narrative, infusing elements of her poems throughout the story. Just as her poetry wavers between the extremely personal and the universally thematic, the show manages to capture this duality, presenting intimate instances of joy, sorrow, love, and loss, and metaphysical meditations on life, death, and everything in between. The innovative narrative style, coupled with injections of contemporary dialogue and a modern soundtrack, challenges traditional storytelling and gives Dickinson its distinctive allure. The show strikes a non-conventional and blend of drama, comedy, and the supernatural, with Death often making symbolic appearances, portrayed with a charismatic performance by Wiz Khalifa. Other famous personages popping up range from Henry David Thoreau (John Mulaney) to Louisa May Alcott (Zosia Mamet), all delivered with a surprising complexity and depth by the stellar guest cast. As Emily Dickinson's universe swings between historical authenticity and out-of-time elements, the viewer is immersed in her infectious passion for poetry and her unwavering spirit that refuses to conform. Dickinson excels in capturing Emily's journey; her desire to be remembered, her struggle with her place in society as a woman and artist, as well as her complicated relationships - especially her intense and passionate relationship with her best friend and future sister-in-law, Sue Gilbert, brought to life with an evocative performance by Ella Hunt. The show features a dynamic and diverse ensemble cast that infuses the series with vibrancy and authenticity. Supporting characters from Emily's circle like Vinnie, Lavinia Dickinson, Edward, are depicted with compassion and complexity. Celebrities from various genres like music sensation Wiz Khalifa, comedy powerhouse John Mulaney, and Game of Thrones star, Finn Jones, among others, make the series a hub of high-profile guest appearances. In a nutshell, Dickinson is a magnificent journey into the mind of one of America's greatest poets, bringing Emily Dickinson's poetry alive in a manner that is unique, vibrant, and stunningly creative. It features fearless performances, especially by Hailee Steinfeld, and avant-garde storytelling techniques that push boundaries at every turn. It is a show that asks viewers to question, to sympathize, to laugh, and even to sing along—a show as multifaceted, complex, and exhilarating as Emily Dickinson herself.
Dickinson is a series categorized as a returning series. Spanning 3 seasons with a total of 30 episodes, the show debuted on 2019. The series has earned a moderate reviews from both critics and viewers. The IMDb score stands at 7.7.
How to Watch Dickinson
How can I watch Dickinson online? Dickinson is available on Apple TV+ with seasons and full episodes. You can also watch Dickinson on demand at Apple TV+ online.
Cast
Hailee Steinfeld, Adrian Enscoe, Anna Baryshnikov

Similar Shows like Dickinson