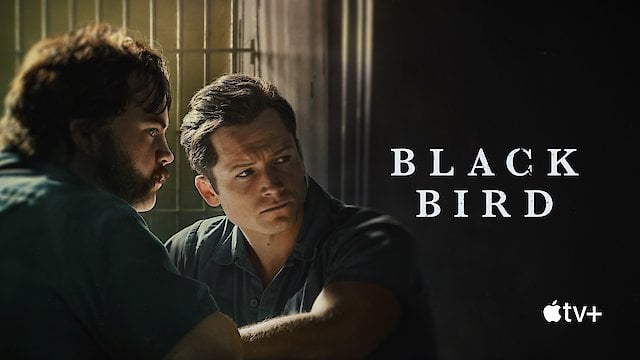 Where to Watch Black Bird
Series finale. Jimmy reaches his breaking point. Larry becomes suspicious. McCauley and Miller talk to an important person in Larry's life.
Watch Black Bird Season 1 Episode 6 Now
Jimmy's mounting fear and paranoia compel him to provoke Larry. McCauley and Miller have a breakthrough.
Watch Black Bird Season 1 Episode 5 Now
In the aftermath of a prison riot, Jimmy and Larry find themselves with time to learn more about each other.
Watch Black Bird Season 1 Episode 4 Now
Struggling with his transition to maximum security prison, Jimmy initiates a friendship with Larry. New holes in Larry's stories are uncovered.
Watch Black Bird Season 1 Episode 3 Now
2
We Are Coming, Father Abraham
Agent McCauley prepares Jimmy for the mission. Detective Miller questions Larry about the missing women, leading to a polygraph test.
Watch Black Bird Season 1 Episode 2 Now
Jimmy Keene is living in the fast lane—until he gets a 10-year prison sentence. Behind bars, he's approached about a high-stakes deal for freedom.
Watch Black Bird Season 1 Episode 1 Now

Black Bird is a gripping psychological thriller that premiered on Apple TV+ in 2022. Adapted from the true crime memoir "In with the Devil" by James Keene and Hillel Levin, the six episode limited series explores the moral corruption of the criminal justice system through the lens of a high stakes prison sting operation. The show centers around Jimmy Keene, played by Taron Egerton, who is serving 10 years for dealing drugs. He is offered the chance at an early release by the FBI if he can elicit a confession from suspected serial killer Larry Hall, played by Paul Walter Hauser. Keene must gain Hall's trust and learn the fates of the many young women thought to be his victims. But this means being transferred to a maximum security prison and developing an intimate friendship with a man suspected of unspeakable violence. The stellar supporting cast includes Greg Kinnear as Keene's father, a police officer who helps broker the FBI deal. Sepideh Moafi plays Lauren McCauley, the eager young FBI agent determined to close this decades old cold case. Ray Liotta, in one of his final roles, plays Keene's stern and skeptical warden who believes the convict is manipulating the system. Inside the prison, Keene encounters an eccentric group of inmates, guards, and staff as he navigates threats around every corner. He forges an uneasy bond with Hall, who opens up to Keene but keeps insisting on his innocence. Over cards, cigarettes, and late night conversations, Keene tries to uncover the truth and locate the missing bodies before more young women can be harmed. But the psychological games between Keene and Hall begin blurring the lines between right and wrong. As Keene peers into the darkness, he faces questions about his own guilt, morality, and human nature's tendency toward deception. His cynical ploy starts becoming something more profound. With claustrophobic cinematography and simmering performances, Black Bird captures the bizarre intimacy of Keene and Hall's relationship. Egerton is masterful as the cocky yet conflicted Keene, while Hauser brings a disarming amiability to the suspected killer. Their tense mind games will keep audiences riveted. Executive produced by Dennis Lehane and developed by Ed Bianchi, Black Bird untangles the ethical dilemmas around criminal justice. Keene's all-consuming determination to find the bodies leads to bigger questions around redemption, trust, and confronting inner demons. This absorbing cat-and-mouse thriller will get inside viewers' heads with its constant twists, tense prison setting, and career-defining performances.
Black Bird is a series categorized as a new series. Spanning 1 seasons with a total of 6 episodes, the show debuted on 2022. The series has earned a mostly positive reviews from both critics and viewers. The IMDb score stands at 8.1.
How to Watch Black Bird
How can I watch Black Bird online? Black Bird is available on Apple TV+ with seasons and full episodes. You can also watch Black Bird on demand at Apple TV+ online.
Cast
Taron Egerton, Paul Walter Hauser, Greg Kinnear

Stream shows like Black Bird