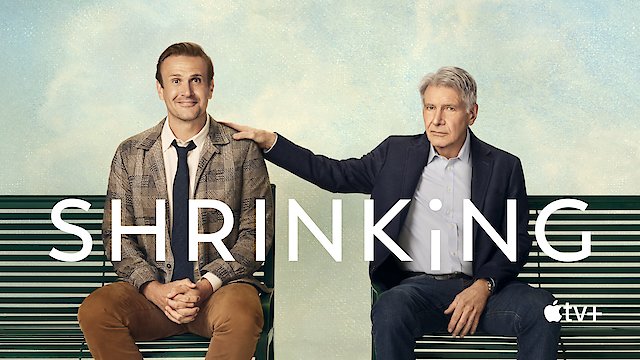 Where to Watch Shrinking
Season finale. As Brian's wedding approaches, Alice takes issue with how Jimmy is living his life. Liz learns a secret.
Watch Shrinking Season 1 Episode 10 Now
Jimmy encourages an ambivalent Paul to accept a career achievement award. Sean approaches Liz with a business proposal.
Watch Shrinking Season 1 Episode 9 Now
Paul and Brian come to Jimmy's aid when Alice starts acting out. Liz and Sean support Gaby by accompanying her to an event.
Watch Shrinking Season 1 Episode 8 Now
Jimmy attempts damage control after his party. Paul's daughter pays another visit. Liz and Sean discover they have something in common.
Watch Shrinking Season 1 Episode 7 Now
At Alice's urging, Jimmy agrees to host a party. Gabby struggles with her post-divorce libido. Liz recommends medical marijuana to Paul.
Watch Shrinking Season 1 Episode 6 Now
When Jimmy hits a roadblock with Sean, he doesn't have Paul to consult for advice. Brian makes an announcement about his relationship.
Watch Shrinking Season 1 Episode 5 Now
As things spiral at work, Jimmy confronts Liz for interfering in his life. Paul struggles with whether to tell his daughter his diagnosis.
Watch Shrinking Season 1 Episode 4 Now
Jimmy witnesses Gaby in a compromising situation. Paul advises Alice on how to deal with her grief while facing a loss of his own.
Watch Shrinking Season 1 Episode 3 Now
To get Sean out of legal trouble, Jimmy reconnects with his estranged best friend--while trying to hide it all from Paul.
Watch Shrinking Season 1 Episode 2 Now
Jimmy, a therapist mourning his wife, takes a more proactive approach with his patients in the hopes that helping them will help himself.
Watch Shrinking Season 1 Episode 1 Now

Shrinking is a new comedy series coming to Apple TV+ in 2023 that stars Jason Segel and Harrison Ford as grieving therapists who start breaking the rules of their profession. Segel plays Jimmy, a gifted therapist struggling to cope with the recent death of his wife. Ford is Paul, a pioneer in cognitive behavioral therapy and Jimmy's colleague who is battling his own health issues. After 30 years of working by the book, Jimmy's grief drives him to start challenging his patients with bold, unorthodox methods. Though morally questionable at first, Jimmy's risky techniques start yielding positive changes in people's lives, inspiring Paul to join him in tearing up their old playbook. Together, they take on patients who have no one else to help them, using shock therapy tactics that put their licenses at risk. Jessica Williams co-stars as Gaby, an air force therapist and recent divorcée who joins Jimmy and Paul's unusual practice. The more Gaby sees their renegade style succeed, the more she advocates for finding new ways to connect with hurting people. This unfiltered trio takes on everything from anxiety disorders and chronic loneliness to helping clients heal decades-old trauma. Their involvements in patients' lives verge on friendship, pushing them to rethink the clinical detachment they were taught. Shrinking blends poignant drama with raunchy humor, finding comedy in the unexplored possibilities between therapists and those who seek their help. Showrunner Bill Lawrence brings his signature wit from hit shows like Scrubs and Ted Lasso. Segel, Ford, and Williams lead a talented ensemble for a series that explores grief and mental health with both heart and humor. Shrinking upends expectations of the therapist-patient relationship for a refreshing take on self-healing and human connection.
Shrinking is a series categorized as a . Spanning 1 seasons with a total of 10 episodes, the show debuted on 2023. The series has earned a mostly positive reviews from both critics and viewers. The IMDb score stands at 8.0.
How to Watch Shrinking
How can I watch Shrinking online? Shrinking is available on Apple TV+ with seasons and full episodes. You can also watch Shrinking on demand at Apple TV+ online.
Cast
Jason Segel, Jessica Williams, Harrison Ford

Similar Shows like Shrinking