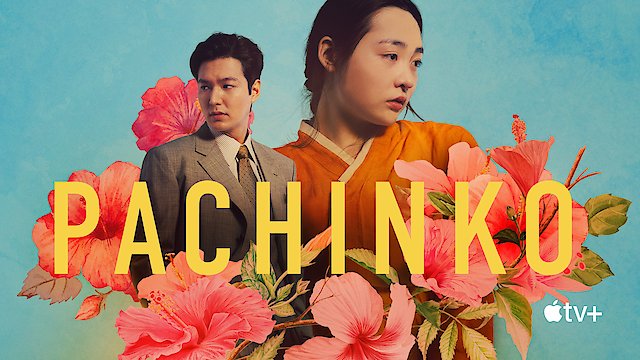 Where to Watch Pachinko
Season finale. Sunja learns that Isak has been arrested and searches for him with the aid of her young son.
Watch Pachinko Season 1 Episode 8 Now
As a young man in 1923 Yokohama, Hansu is thrown into a cataclysmic disaster that will change everything.
Watch Pachinko Season 1 Episode 7 Now
Sunja goes into premature labor while Isak grapples with a political awakening. Solomon finds Hana, his long-lost love.
Watch Pachinko Season 1 Episode 6 Now
As she arrives in Japan with her husband, Sunja must depend on the help of others. Solomon copes with the aftermath of his deal.
Watch Pachinko Season 1 Episode 5 Now
Newlywed Sunja embarks on an epic journey that takes her far from the comforts of home. Solomon gets ready for his big day.
Watch Pachinko Season 1 Episode 4 Now
Sunja discovers surprising new details about Hansu. Solomon looks to his grandmother for help.
Watch Pachinko Season 1 Episode 3 Now
Hansu opens Sunja's eyes to the world, but it inspires dreams that come at a price. Solomon attempts to leverage his Korean identity.
Watch Pachinko Season 1 Episode 2 Now
In 1920s Korea, Yangjin and Hoonie shield their only child, Sunja, from the realities of life under colonial rule. In 1989, Solomon closes a big deal.
Watch Pachinko Season 1 Episode 1 Now

Pachinko is a sweeping period drama from Apple TV+ that first premiered in 2022, consisting of an international ensemble cast led by the Academy Award-winning actor, Youn Yuh-jung, South Korean heartthrob,Lee Min-ho, and rising stars Kim Min-ha, and Jin Ha. This epic saga based on Min Jin Lee's bestselling novel of the same name, explores the hopes and dreams of four generations of a Korean immigrant family and tells the harrowing tale of their journey struggling against all odds in an unfamiliar new world while still preserving their identity and culture. Set over several decades, from the early 1900s until the late 1980s, Pachinko takes place in both Korea and Japan, posing as a riveting exploration of how systemic oppression and discrimination can transcend generations and geographic borders. With each episode, the characters grapple with their identity, the concept of home, love and family alignments against an ambitious backdrop of historical settings compacted with rich and gripping narratives straddling across a complex tapestry of time and space. Youn Yuh-jung embraces the character of Sunja, the proud, resourceful woman who becomes the fitting matriarch of her family. Sunja's journey is the thread that weaves the generations together, connecting their stories and experiences as they navigate through the epochs fraught with turmoil and change. Juxtaposed to Youn Yuh-jung's Sunja is the suave and captivating Lee Min-ho who embodies Hansu, a rich and powerful merchant with a mysterious ties to the local crime syndicate. Hansu's narrative is as intriguing and complex as his character, serving as the catalyst for many of the show's dramatic turning points. Kim Min-ha takes the role of Young Sunja, a strong-willed woman who deftly navigates the challenges and sacrifices of an arduous immigrant life. Her powerful embodiment of Sunja's journey from chaos to resilience plays an integral part in the central narrative of Pachinko. Rounding up this ensemble is Jin Ha who portrays Solomon, a highly educated and ambitious finance prodigy who struggles to fit into both Korean and Japanese society. Solomon's character portrays the modernization of the Korean immigrant ethos and the various paradoxes surrounding it. Pachinko isn't just a simple narrative of Korean immigration, it's also a compelling reflection of socio-cultural progression over time. The attention to detail and respect for historical accuracy make it an authentic visual treat, creating a sense of immersion as you journey through the story. The series adeptly captures the aura and charm of different eras, breathing life into its complex, yet relatable characters. The screenplay meticulously adapts aspects of the original novel, managing to maintain a brisk pace amidst the unfolding drama. What stands out about the series is its multi-lingual narrative, with dialogues in Korean, Japanese, and English, reflecting the linguistic diversity of the immigrant experience. The dialogue translations are handled with care, preserving the essence and emotions of the original words, thereby enhancing the audience's connection with the characters' experiences. The cinematographic aspects of Pachinko are equally enchanting. Expertly framed shots and striking visuals complement the narrative's emotivity and tension, further enriching the storytelling. The elegant mise-en-scène and tantalizing wide shots establish the atmosphere of the periods in which the story unfolds. The show's musical score further enhances the mood, encasing each scene in a sonic ambiance that heightens emotions, while the subtle yet significant use of lighting helps reinforce the story's narrative beats. Pachinko is a grand endeavour that truly transcends boundaries to tell a universally appealing story of familial bonds, survival, and the hope of better things to come. Although the narrative takes us down roads marked by hardship, prejudice, and struggle, it is ultimately a heart-warming series that celebrates resilience, love, and the enduring spirit of survival. You can expect a beautifully crafted, epic tale of love, sacrifice, ambition, and the enduring power of the human spirit from Pachinko. This indeed is a visual treat, and a masterful exercise in storytelling, making it a must-watch for fans of the historical drama genre and those who appreciate finely crafted, intricate narratives.
Pachinko is a series categorized as a new series. Spanning 1 seasons with a total of 8 episodes, the show debuted on 2022. The series has earned a mostly positive reviews from both critics and viewers. The IMDb score stands at 8.3.
How to Watch Pachinko
How can I watch Pachinko online? Pachinko is available on Apple TV+ with seasons and full episodes. You can also watch Pachinko on demand at Apple TV+ online.
Cast
Lee Min-Ho, Soji Arai, Jin Ha

Similar Shows like Pachinko