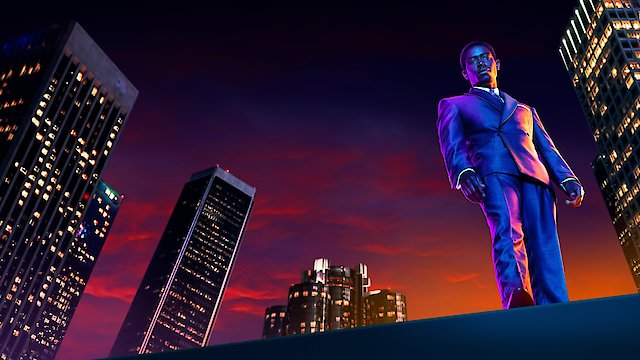 Where to Watch Snowfall
The saga comes to an end.
Watch Snowfall Season 6 Episode 10 Now
Franklin attempts to recover his stolen money.
Watch Snowfall Season 6 Episode 9 Now
Franklin and Gustavo set a plan in motion.
Watch Snowfall Season 6 Episode 8 Now
Teddy and Franklin close in on each other; Gustavo runs out of time.
Watch Snowfall Season 6 Episode 7 Now
Franklin braces for fallout; Kane seeks revenge.
Watch Snowfall Season 6 Episode 6 Now
Franklin confronts Teddy's father; Leon solidifies control of the projects.
Watch Snowfall Season 6 Episode 5 Now
Franklin is forced back out onto the street while Veronique and Cassandra pursue his stolen money; Leon and Big D clash; Teddy starts hunting his KGB counterpart.
Watch Snowfall Season 6 Episode 4 Now
Leon and Wanda return from Ghana to a very different world than the one they left behind.
Watch Snowfall Season 6 Episode 3 Now
Cissy introduces Franklin to the KGB, while also trying to broker peace within the family; Veronique enlists outside help to track Franklin's money.
Watch Snowfall Season 6 Episode 2 Now
Franklin fights to keep his business afloat; Jerome and Louie strike back.
Watch Snowfall Season 6 Episode 1 Now

Set amidst the culturally vibrant yet tumultuous backdrop of 1980s Los Angeles, Snowfall is a riveting and hard-hitting FX drama series that meticulously and dramatically uncovers the nefarious, complex experience of the crack cocaine epidemic - an alarming socio-political issue that shook the United States during that period. The show, which first premiered in 2017, was co-created by the proficient team of John Singleton, Eric Amadio, and Dave Andron. Under their skillful hands, Snowfall immaculately blends human stories, socio-political commentary, and historical authenticity, reflecting on the experiences of various people involved in or affected by the crack epidemic. The narrative of Snowfall showcases the perspective of four main characters, each from disparate backgrounds and each offering a distinct viewpoint on the overall story. Franklin Saint, a witty, ambitious, and entrepreneurial young man from South Central, is portrayed as a spark that inadvertently kindles the monumental and calamitous drug proliferation. His tale predominantly serves as the moral epicenter of the show, which progressively digresses towards the dark underbelly of the drug trade. On the other side of the spectrum is Teddy McDonald, an on-the-edge CIA operative burdened with the politically motivated undertaking of funding wars in Central America. His journey takes the viewers through a suspenseful blend of covert operations and unrestrained corruption within the vast echelons of U.S. government agencies. Further adding depth to the narrative is Gustavo "El Oso" Zapata, a Mexican Luchador caught in the crosshairs of a power struggle within the dangerous Mexican crime cartel. His story provides an insightful glimpse into the notorious drug cartel culture and the associated perils. Lastly, Lucia Villanueva, the self-reliant daughter of a Mexican crime lord, offers a compelling perspective on the often overlooked roles of women within the criminal world. As the series progresses, the paths of these characters intersect more frequently, unveiling a multi-faceted, complicated web of trafficking, consumption, corruption, and addiction - each element supplementing and escalating the others, inextricably merging into the larger narrative arc of the show. Snowfall doesn't shy from confronting the dark, unsettling realities of its bleak premise. The show is unflinchingly raw in its portrayal of the crack cocaine epidemic, shedding light on the myriad ways it wreaks havoc, not only on individuals but entire communities. Yet, amidst this undeniable harshness, the series remains rooted in the spheres of humanity – illustrating the characters' dreams, flaws, hopes, relationships, and their fights for survival within a city under siege by insurmountable challenges. The creators of Snowfall have smartly utilized the narrative freedom in a TV series in their favor. This has allowed them time to develop their characters and plot intricately over the course of the series while also allocating considerable screen space towards exposing the macro impact of the crack cocaine epidemic. In doing so, they etch a far-reaching narrative landscape encompassing international politics, law and enforcement machinery, societal hierarchies, inner-city realities, and personal turmoil and transformation. The impeccable writing of Snowfall is well supported by the strong performances of its cast, which includes Damson Idris (Franklin Saint), Carter Hudson (Teddy McDonald), Sergio Peris-Mencheta (Gustavo "El Oso" Zapata), and Emily Rios (Lucia Villanueva), amongst others. Snowfall emulates the visual aesthetics of its 80s setting and remains consistent in delivering compelling cinematography that captures the flagrant opulence and gritty reality of Los Angeles during the era. Its unflinching realism and thematic strength, combined with expert performances, result in a compelling experience that encapsulates the gravity of its subject matter spectacularly well. Even though Snowfall is rooted in past events, it reverberates with echoes of the present, making the series contemporary in its appeal. It is a testament to the complexity of human nature, political systems, societal dynamics, and the lengths individuals will go to survive and flourish. By illuminating the multitudes of factors and fates tangled in the crack epidemic, Snowfall is not only a historical narrative but a warning from history, a mirror to the present and potentially the future as well. The show stimulates its audience to reflect upon the long-lasting societal implications of such tragic events, urging us to learn from the mistakes of the past. Snowfall, certainly, is a vividly woven tapestry of drama that bravely confronts a markedly infamous chapter in America's socio-political history.
Snowfall is a series categorized as a currently airing. Spanning 6 seasons with a total of 60 episodes, the show debuted on 2017. The series has earned a mostly positive reviews from both critics and viewers. The IMDb score stands at 8.3.
How to Watch Snowfall
How can I watch Snowfall online? Snowfall is available on FX with seasons and full episodes. You can also watch Snowfall on demand at Hulu Plus, Apple TV, Amazon, Google Play, Microsoft Movies & TV, Vudu online.
Cast
Damson Idris, Carter Hudson, Sergio Peris-Mencheta

Similar Shows like Snowfall