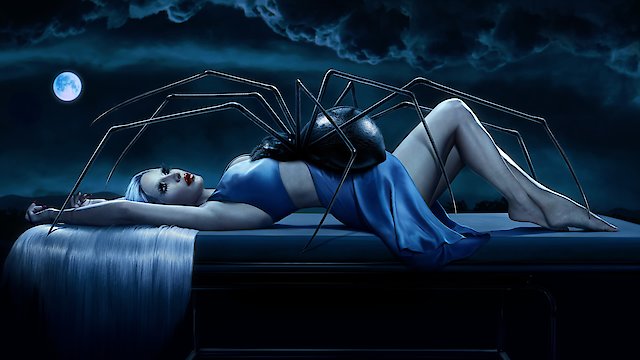 Where to Watch American Horror Story
Anna senses the dark presence closing in on her, closer than ever. Ms. Preecher reveals pieces of her past and may know the truth about what's happening to Anna and Dex.
Watch American Horror Story Season 12 Episode 5 Now
With help from Siobhan, a major announcement helps restore Anna's public image. Behind closed doors however, something powerful seems to be taking over.
Watch American Horror Story Season 12 Episode 4 Now
As Anna and Dex settle into their Hamptons sanctuary, the comfort begins to fade. Her circle of trust is slowly shrinking, and doubt creeps into Anna's head - could the evil be right under her nose?
Watch American Horror Story Season 12 Episode 3 Now
It's awards season and Anna is primed to be a major player who will be in contention; after a frightening encounter convinces her that she's being followed, she begins to question who she can trust.
Watch American Horror Story Season 12 Episode 2 Now
After multiple failed attempts of IVF, actress Anna Victoria Alcott wants nothing more than to start a family. As the buzz around her recent film grows, she fears that something may be targeting her - and her pursuit of motherhood.
Watch American Horror Story Season 12 Episode 1 Now

American Horror Story (AHS) is an engrossing and chilling anthology series produced by FX that first premiered in 2011. It's a unique blend of horror and drama, extending across various seasons, each of which presents a standalone, yet gripping and ominous tale. The series has been lauded for its storytelling technique, an assortment of deeply complex characters, and its perfect balance of horror and suspense. The stellar ensemble cast of American Horror Story includes acclaimed actors such as Connie Britton, Dylan McDermott, Evan Peters, Taissa Farmiga, Denis O'Hare, Jessica Lange, Zachary Quinto, Joseph Fiennes, Sarah Paulson, Lily Rabe, and Lizzie Brocher. Each season, the cast members embody different characters and scenarios, delivering staggering performances that showcase their versatility and talent. The appeal of American Horror Story stems from its ability to explore a different facet of the horror genre in each season, often playing off common fears and phobias. The settings are as diverse as the stories themselves, from a haunted house, a wicked asylum, a witch's coven, to a gory freak show, a haunted hotel, and more. In its first season, known as "Murder House", Connie Britton and Dylan McDermott play a married couple who, along with their teenage daughter (played by Taissa Farmiga), move into a seemingly idyllic home in Los Angeles. However, they soon discover dark secrets that the house holds and must confront a series of chilling and creepy occurrences which are linked to a bloody history of the home. The second season, "Asylum", transports viewers to a mental institution in the 1960s. Here, Jessica Lange delivers a compelling performance as a nun with a dubious past, while Sarah Paulson and Zachary Quinto play inhabitants of the asylum. The narrative weaves in issues of morality, sanity, and the struggle for survival amid horrific circumstances. Other seasons introduce further unsettling scenarios. There's a coven of witches in New Orleans with Jessica Lange leading them, a unnerving freak show in Florida with Evan Peters and Sarah Paulson portraying freaky performers, a haunted hotel in Los Angeles where Lady Gaga resides, etc. The brilliance of American Horror Story is its ability to mix reality with fiction seamlessly, often referencing true events and infamous figures from American history, magnifying the horror element. The show effectively uses drama, suspense, and supernatural elements to create an atmosphere of dread that keeps viewers on the edge of their seats. Moreover, the series takes fearless turns to tackle themes such as discrimination, oppression, and survival, providing a thoughtful commentary wrapped in the layer of scares and thrills. It pushes the boundaries, both in terms of horror and emotional storytelling, leading to a series that is as thought-provoking as it is terrifying. Additionally, the cinematography and production design in American Horror Story deserves special mention. The series excels in building a bone-chilling atmosphere through its visual storytelling. The detailed set designs, rich colors, the use of light and shadow, and intricate camera work, all contribute to creating an underlying sense of dread. Not only do they intensify the storytelling, but they also add another layer to the show's creativity. American Horror Story is renowned for its surreal and creepy opening credits too, each season featuring a unique title sequence that hints at the horror that awaits in the episodes to follow. The series also boasts an eerie and memorable soundtrack that blends harmoniously with the visuals to accentuate the frightful ambiance. To conclude, the uniqueness of American Horror Story is its commitment to reinvention. The anthology format allows the show to consistently provide fresh narratives and character arcs with every season, keeping viewers intrigued and craving for more. The series gives its audience a terrifying roller-coaster ride of emotions, mixing fear, disgust, and intrigue with a dash of dark humor. Despite the changing themes, characters, and settings, American Horror Story maintains its central essence, a deep dive into the horrifying aspects of American culture and history. It's a must-watch for fans of horror and psychological thrillers.
American Horror Story is a series categorized as a currently airing. Spanning 12 seasons with a total of 128 episodes, the show debuted on 2011. The series has earned a mostly positive reviews from both critics and viewers. The IMDb score stands at 8.0.
How to Watch American Horror Story
How can I watch American Horror Story online? American Horror Story is available on FX with seasons and full episodes. You can also watch American Horror Story on demand at Hulu Plus, FuboTV, FX Networks, Apple TV, Amazon, Microsoft Movies & TV, Vudu, Google Play, Amazon Prime online.
Genres
Drama, Horror & Suspense

Stream shows like American Horror Story