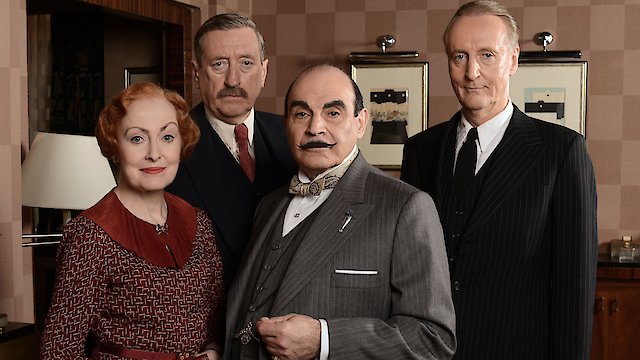 Where to Watch Poirot
6
Exclusive Q&A with David Suchet
An exclusive Q\&A with David Suchet after screening "Curtain" at The Paley Center. SPOILER ALERT!
Watch Poirot Season 13 Episode 6 Now
5
Curtain: Poirot's Last Case
An ailing Poirot returns to Styles with Hastings nearly three decades after solving their first mystery together there in order to prevent an unscrupulous and ingenious serial killer from claiming more victims.
Watch Poirot Season 13 Episode 5 Now
Poirot journeys to the Swiss Alps to lay a trap for an infamous art thief.
Watch Poirot Season 13 Episode 4 Now
Ariadne Oliver is asked to devise a murder hunt for a Devon fete, but her sense of foreboding summons Poirot to the scene. Her fears are realized when, during the fete, the girl playing her murder victim winds up well and truly murdered.
Watch Poirot Season 13 Episode 3 Now
As the threat of world war looms large, Poirot seeks the help of friends both old and new when he is pitted against a dangerous group of dissidents responsible for a series of violent murders.
Watch Poirot Season 13 Episode 2 Now
While Poirot investigates the murder of a renowned psychiatrist, Ariadne Oliver becomes an amateur sleuth of her own when her goddaughter tasks her to find out the truth about the nature of her parents' mysterious deaths.
Watch Poirot Season 13 Episode 1 Now

Poirot, a classic British mystery series presented by Acorn Media from 1989–2013, is centered around the compelling character of Hercule Poirot, immaculately portrayed by award-winning actor David Suchet. Poirot, a quirky yet brilliant detective, originally hails from Agatha Christie's renowned series of crime novels, and this television series faithfully brings to life the glamour and intrigue of these cherished tales. Poirot, an expatriate Belgian, embodies the consummate 'gentleman detective' in 1930s England. He is linguistically flamboyant, scrupulously meticulous, and fanatically devoted to symmetry and order. He fights crime armed not with physical prowess but with his 'little grey cells', relying on his acute intelligence, intuition, and understanding of the human nature to uncover the truth beneath the most convoluted crimes. The rapport between Poirot and other show regulars adds depth and dimension to the series. His loyal yet often bemused friend, Captain Arthur Hastings, is played by Hugh Fraser with warmth and humor. As a well-meaning but less astute counterpart to Poirot, Hastings is often the Watson to Poirot's Sherlock. Philip Jackson is another series mainstay, portraying the character of Chief Inspector James Japp. Portrayed as a competent but occasionally irritable Scotland Yard veteran, Japp's relationship with Poirot oscillates between grudging respect and professional rivalry. Poirot's trustworthy secretary, Miss Felicity Lemon, is played with delightful precision by Pauline Moran. Her character, famed for her unrivaled efficiency in all things administrative, is a steady presence throughout the series, providing much-needed administrative support to Poirot and adding to the series' wonderfully eccentric ensemble. To add the cherry on top, the cast also includes Zo, portraying a variety of interesting characters in a few episodes of the series. Throughout its run, Poirot maintained an admirable commitment to quality storytelling. Each episode of this series is akin to a mini-movie, with rich production values emphasizing authenticity in its evocation of the period. From seedy London streets to the sumptuous seaside retreats, every episode is set in a vivid and tangible world, rich in 1930s style, fashion, and architecture, which greatly helps to draw the viewer into the narrative. In terms of plot, the series traverses a wide range of stories from high-stakes heists, delicate matters of diplomatic intrigue, to more personal, intimate mysteries. In every situation, however, the method remains the same: apply Poirot's infallible intellect to expose the lies, reveal the hidden truths, and bring the guilty to justice. The strength of the series lies not only in the intricate plotlines, that are tightly-woven webs of clues, red-herrings, and surprises, but also in its skillful development of interesting and dynamic characters. From Poirot himself who steals the show with his eccentricities, to the supporting cast, each character is created with depth and personality, and each actor plays their role to perfection. The series, featuring an impressive 70 episodes over its 13 seasons, is not only a masterclass in staying faithful to the original source (despite occasional departures from the canon), but also a captivating showcase of how a detective series can be both entertaining and thought-provoking, without resorting to gratuitous violence, gritty realism, or digital-age gimmickry. For fans of Agatha Christie, Poirot offers a well-rendered visual interpretation of her works, faithfully conveying the flavor and nuances of her writing. For those new to the world of Christie, the series provides an engaging introduction to her crime-solving universe, as well as to one of literature's most beloved detectives. In conclusion, Poirot is more than a detective series. It's a journey into an era when mystery and manners danced a tantalizing tango. From the signature opening credits, with the art-deco themed music, to the concluding reel, it guarantees a viewing experience designed to engage, entertain, and leave its viewers eagerly anticipating the next twist-filled adventure.
Poirot is a series categorized as a . Spanning 13 seasons with a total of 72 episodes, the show debuted on 1989. The series has earned a mostly positive reviews from both critics and viewers. The IMDb score stands at 8.6.
How to Watch Poirot
How can I watch Poirot online? Poirot is available on Acorn Media with seasons and full episodes. You can also watch Poirot on demand at Amazon Prime, Apple TV, Amazon, Google Play online.
Cast
David Suchet, Hugh Fraser, Philip Jackson

Similar Shows like Poirot