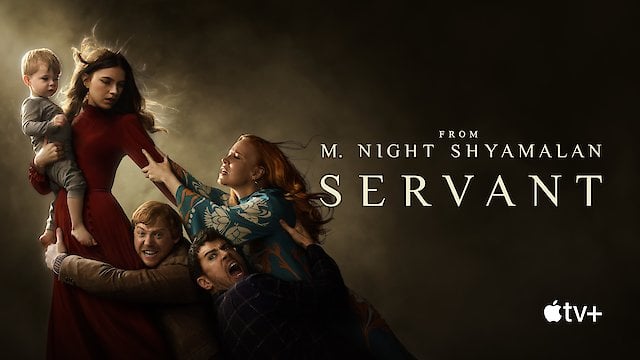 Where to Watch Servant
Series finale. As the world crumbles, can anyone stop Leanne?
Watch Servant Season 4 Episode 10 Now
Sean and Julian open up about a secret.
Watch Servant Season 4 Episode 9 Now
Sean and Julian make a decision about Leanne.
Watch Servant Season 4 Episode 8 Now
Dorothy discovers a connection with Leanne. Uncle George shares information with the Turners.
Watch Servant Season 4 Episode 7 Now
The birthday party from hell ensues when the cult makes its boldest move yet with Leanne.
Watch Servant Season 4 Episode 6 Now
Sean and Dorothy host the new neighbors on Spruce with plans to finally get Leanne out of the house.
Watch Servant Season 4 Episode 5 Now
Sean sees Leanne's true colors while she hunts her enemies on Halloween.
Watch Servant Season 4 Episode 4 Now
Dorothy hires two live-in nurses to help speed up her recovery—and protect her from Leanne.
Watch Servant Season 4 Episode 3 Now
Leanne begins to torment Dorothy as chaos overtakes Spruce Street.
Watch Servant Season 4 Episode 2 Now
The war between Leanne and the Church of the Lesser Saints reaches its peak.
Watch Servant Season 4 Episode 1 Now

The Apple TV+ series, "Servant" is a gripping psychological thriller that seizes your attention from the get-go and doesn't let go. The show debuted in late 2019 and has run through 2023, captivating audiences all around the globe. From the minds of screenwriter Tony Basgallop and executive producer M. Night Shyamalan, known best for his iconic twist-filled movies like "The Sixth Sense" and "The Unbreakable," "Servant" revels in creating an eeriness that is both disturbing and intriguing. This American horror series is set in Philadelphia, one of Shyamalan's signature locations, and is notable for its atmospheric and claustrophobic set, which adds to the eerie sensation that pervades each episode. Narrating the story of a Philadelphia couple suffering from a gaping personal tragedy, "Servant" focuses on Sean and Dorothy Turner, played by Toby Kebbell and Lauren Ambrose respectively. Kebbell is brilliant as the gourmet chef, distraught husband, and skeptic, while Ambrose wows with her performance as the sophisticated yet psychologically marred local TV news reporter. Their idyllic lives appear deceptively normal on the surface, but a deep grief is lurking beneath. They hire a nanny for their baby, Leanne Grayson, who is mysteriously portrayed by Nell Tiger Free. As the series unfolds, the audience becomes increasingly engrossed in the mysteries around Leanne's character, watching as she develops from an apparently innocent and quiet girl into a perplexing enigma wrapped in unsettling peculiarities. Rupert Grint, known worldwide as Ron Weasley from the Harry Potter series, has grown into a more mature role as Julian Pearce in "Servant". Julian is Dorothy's younger brother and also works as Sean's business consultant, serving as a significant player who adds to the series' intrigue. Moreover, Grint's on-screen energy and charisma is a tremendous addition to the show, contributing to the complex and intricate dynamics amongst the primary characters. Tony Revolori also stars in the series, making notable appearances and adding to the layers of mystery and intrigue. He helps sustain the eerie atmosphere that pervades every scene and keeps audiences on their toes. What sets "Servant" apart from other shows in its genre is its extraordinary ability to blend elements of the real and the supernatural, with clever twists and turns that keep audiences guessing. The series is a puzzle box that consistently refutes clear answers, making it a deliciously frustrating mystery that dares viewers to try and solve it. While the plot is decisively dark and mysterious, expertly crafted moments of humor and culinary imagery break the unease, adding an additional layer of depth to the show. Additionally, "Servant" utilizes high-quality production elements such as sound design and cinematography to heighten the audience's experience. The use of ambient noises, sinister soundscapes, and dramatic score, designed by Trevor Gureckis, work in unison to create an immersive viewing experience that amplifies the suspense. The homely yet unsettling setting, with dimly lit rooms, combined with an effectively unstable narrative, mirrors the confusion and paranoia that lurk beneath the surface of the story. While "Servant" is horror-centric, it also examines themes of grief, loss, and trauma, with a narrative that goes beyond straightforward terror. The series explores the psychological and emotional repercussions that the characters go through because of the tragedy that struck their lives. Unlike most horror shows, "Servant" does not rely solely on shock value or gore but employs psychological scares and continuous suspense, resulting in a unique blend of horror and intrigue. The show has been praised for secure and powerful performances from Kebbell, Ambrose, Free, and Grint, and it manages to leave viewers guessing and theorizing with each passing episode. The enigmatic housekeeper and her relationship with the grief-stricken family, coupled with the mysterious circumstances around the baby, make "Servant" truly compelling viewing. To sum it up, "Servant" is a chilling tale, exquisitely eerie and sublimely suspenseful. With a strong cast, compelling narrative, and brilliantly executed psychological horror elements, it is a series that invites viewers to solve its mysteries while constantly defying expectations. Whether you are a die-hard fan of the horror genre or a casual viewer interested in deep psychological dramas, "Servant" promises an incredibly audacious yet disturbingly entertaining experience that compels viewers to face their deepest fears from the safety of their couch.
Servant is a series categorized as a . Spanning 4 seasons with a total of 40 episodes, the show debuted on 2019. The series has earned a moderate reviews from both critics and viewers. The IMDb score stands at 7.4.
How to Watch Servant
How can I watch Servant online? Servant is available on Apple TV+ with seasons and full episodes. You can also watch Servant on demand at Apple TV+ online.
Genres
Drama, Horror & Suspense, Thriller
Cast
Lauren Ambrose, Toby Kebbell, Nell Tiger Free

Similar Shows like Servant