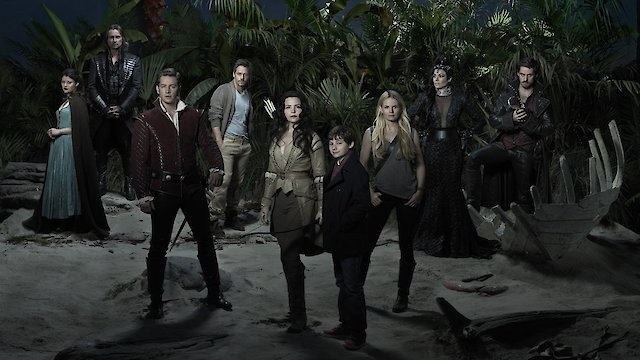 Where to Watch Once Upon a Time
Wish Rumple's evil plan is revealed and Regina realizes the only hope to stop him is by turning Wish Henry from his path for vengeance. Meanwhile, Tilly and Margot try to get help in Storybrooke.
Watch Once Upon a Time Season 7 Episode 22 Now
As the residents of Hyperion Heights celebrate the breaking of the curse, Henry is visited by Wish Rumple, who's hatched an evil plan to use Ella and Lucy to keep Weaver from destroying the Dark One powers. In order to stop him, Henry, Roni, Weaver and Rogers must travel to the Wish Realm, home to versions of some of our most beloved and fearsome characters.
Watch Once Upon a Time Season 7 Episode 21 Now
Roni enlists Lucy's help to wake Henry, but things don't go as planned. Meanwhile, Rogers and Weaver go to Margot in hopes of getting through to Tilly.
Watch Once Upon a Time Season 7 Episode 20 Now
Tilly and Rogers find themselves in danger after an encounter with Eloise, forcing Tilly to make a life-altering decision when Rogers' life is threatened. Meanwhile, Henry and Jacinda's relationship takes a step forward, but despite Lucy's efforts, their union doesn't provide the answers she's seeking.
Watch Once Upon a Time Season 7 Episode 19 Now
Weaver discovers the Dark One Dagger has been taken and sets out to get it back, even if it means betraying Roni's trust. Meanwhile, Margot takes Tilly on a date, but their time together takes an unexpected twist.
Watch Once Upon a Time Season 7 Episode 18 Now
Kelly comes face-to-face with The Candy Killer after someone she loves is taken hostage. Meanwhile, Samdi uses Drew to execute a deadly plan.
Watch Once Upon a Time Season 7 Episode 17 Now
Henry grapples with an important decision when a job prospect in New York threatens to take him away from Jacinda and Lucy, but a revelation in the case of The Candy Killer could make it even harder to leave Hyperion Heights. Meanwhile, Margot confides in Tilly, and in a flashback, Hook helps Henry find a way to prove himself to Ella.
Watch Once Upon a Time Season 7 Episode 16 Now
When the Candy Killer attacks, Ivy has to risk what remains of her family.
Watch Once Upon a Time Season 7 Episode 15 Now
Rogers works to prove Tilly's innocence in the case of the Blind Baker's death, while Ivy attempts to make amends with Anastasia, and Samdi makes a revealing confession to Roni. Meanwhile, in a faraway realm, Alice forms an unbreakable bond.
Watch Once Upon a Time Season 7 Episode 14 Now
Rogers strikes a deal with Eloise despite Tilly's fair warning, while Ivy struggles to find herself after Victoria's death. Meanwhile, in a faraway realm, Hook confronts Captain Ahab over a legendary magical talisman which can free Alice, only to learn that his quest may have unintended consequences.
Watch Once Upon a Time Season 7 Episode 13 Now
On the day of Tiana's coronation, a confrontation with Dr. Facilier compels her to take a trip through the Bayou, where a surprising encounter changes her life and the hunt for an alligator takes a dark turn.
Watch Once Upon a Time Season 7 Episode 12 Now
Eager to harness her burgeoning magical skills, Robin engages in a risky relationship with Mother Gothel. Meanwhile in Hyperion Heights, Roni and Kelly strike a deal with Eloise, desperate to save Lucy from her mysterious illness.
Watch Once Upon a Time Season 7 Episode 11 Now
When Drizella threatens the realm with a dark curse, Henry and Ella take extreme actions to protect Lucy and the others; and Regina is forced into making an unimaginable choice. In Hyperion Heights, Roni recruits Henry to travel to San Francisco to search for her sister, but when he learns Lucy has fallen unconscious, Henry rushes to be by her side.
Watch Once Upon a Time Season 7 Episode 10 Now
Victoria strikes a deal with Weaver in an attempt to free herself from jail and wake Anastasia, but the cost of saving one life could mean the loss of another. In a flashback, we learn Lady Tremaine's surprising connection to another classic fairytale when Mother Gothel offers to help her family.
Watch Once Upon a Time Season 7 Episode 9 Now
In an attempt to prevent a distressed Alice from running away, Henry and Ella follow her into Wonderland. Once there, Henry realizes that Ella has a surprising connection to this strange world.
Watch Once Upon a Time Season 7 Episode 8 Now
In pursuit of revenge, Hook seeks a dark and powerful magic, but an encounter with Rapunzel could alter his fate forever. Meanwhile, in Hyperion Heights, Ivy's plot to take down Victoria intensifies and has unexpected consequences for Jacinda and Lucy.
Watch Once Upon a Time Season 7 Episode 7 Now
Feeling like a third wheel as Henry and Cinderella's relationship strengthens, Regina is surprised to find herself needed by Drizella, who is searching for magic. But when a brutal truth is revealed, it could lead Drizella down a dangerous path.
Watch Once Upon a Time Season 7 Episode 6 Now
Tiana seeks help from a traveling soothsayer, the iconic Dr. Facilier, in an attempt to save her kingdom.
Watch Once Upon a Time Season 7 Episode 5 Now
Victoria forces Ivy to take Lucy trick-or-treating for Halloween. Meanwhile, Tilly tries to wake from the curse and wants Weaver to know the truth; and in a flashback, Rumple and Belle seek the answer to a prophecy that affects their happy ending.
Watch Once Upon a Time Season 7 Episode 4 Now
3
The Garden of Forking Paths
Victoria plans to destroy the community garden, and makes Jacinda an offer that she can't refuse. In the past, the reason for Tremaine's hatred of Cinderella is revealed...
Watch Once Upon a Time Season 7 Episode 3 Now
When Henry finds himself in trouble, he calls upon his Storybrooke family for help, and together they set off on a mission to find Cinderella. Along the way, Hook is confronted by an unexpected foe who threatens the group's success.
Watch Once Upon a Time Season 7 Episode 2 Now
Henry leaves Storybrooke in search of his own story. Years later in another realm, he encounters a troubled Cinderella, changing the trajectory of his quest forever.
Watch Once Upon a Time Season 7 Episode 1 Now

Once Upon a Time is an enchanting adventure intricately woven by the minds at ABC, that ran from 2011 to 2018. Set between two parallel worlds, our reality and a realm of treasured fairy tales, the series blurs the lines between good and evil, heroes and villains, truth, and magic. The story begins in Storybrooke, Maine, a seemingly mundane town with a deep, enchanted secret. Its inhabitants are actually characters from different fairy tales, subjected to a ruthless curse that strips away their memories of their true selves and their magical pasts. Here, legendary princesses, princes, pirates, and witches unknowingly lead normal lives, trapped in a world without magic, happy endings, or memory of their true identities. Ginnifer Goodwin shines in her role as Snow White, also known as Mary Margaret Blanchard. In the heart of Storybrooke, she is a humble school teacher, far removed from her royal lineage. Alongside Goodwin, Jennifer Morrison as Emma Swan, the long-lost, no-nonsense daughter of Snow White and Prince Charming, becomes the reluctant savior needed to break the curse. The diverse cast comes with Josh Dallas as Prince Charming, Lana Parrilla as the vindictive Evil Queen Regina, Robert Carlyle as the enigmatic Rumpelstiltskin, and Jared S. Gilmore as Emma's wise-beyond-his-years son, Henry. The series seamlessly blends the old and the new, juxtaposing tales from a storybook with the stark reality of modern life. The non-linear narrative cleverly reveals the backstories of beloved characters, tinging them with a complexity rarely seen in their traditional fairy-tale portrayals. Notably, Once Upon a Time champions the idea of redemption, illustrating that even storybook villains can harbor deeply layered motivation for their actions. Several well-known actors had transient roles within the series, contributing to the richness of the Storybrooke tapestry. The likes of Meghan Ory as Red Riding Hood, Michael Socha as the Knave of Hearts, Emilie de Ravin as Belle, Colin O'Donoghue as the delightfully roguish Captain Hook, and Rebecca Mader as the Wicked Witch of the West each brought their unique flare to the story. At the core of the series, the notion of love - romantic, familial, and self-love - acts as a potent catalyst in the narrative. Often, it is the love for their families, true loves, and their own selves that brings about revelations, challenges, and perseverance for our heroes, and even villains. The magic clothing thread running through the series adds a delightful touch, with costumes that are not only pleasing to the eye, but also meaningful. Characters' costumes often mirror their personalities or hint at their magical alter-egos, playaing an essential role in constructing the layers of these spellbinding characters. Bright pops of fantasy further echoes throughout the series, from enchanted forests and magical crystals to giants and fire-breathing dragons. The series skillfully uses visual effects to its advantage without overshadowing the intricate storylines, offering audiences stunning visuals that only amplify the overall viewing experience. Composer Mark Isham's musical score, a harmonic blend of enchanting melodies and haunting scores, adds further depth to the storytelling, marking poignant emotional moments and building tension in high-stakes scenarios. Once Upon a Time is not just a magical spectacle; it is a heartfelt exploration of humanity's intricate and universal facets – love, redemption, family, and the blurred lines between good and evil. Staying true to its name, the series is indeed a timeless tale spun together using threads of optimism, growth, and the indomitable human spirit, beyond the realms of mere fantasy. The show invites viewers on an enchanting journey through familiar fairy tales, unraveling them in an entirely new – but still purely magical – way.
Once Upon a Time is a series categorized as a canceled/ended. Spanning 7 seasons with a total of 162 episodes, the show debuted on 2011. The series has earned a moderate reviews from both critics and viewers. The IMDb score stands at 7.7.
How to Watch Once Upon a Time
How can I watch Once Upon a Time online? Once Upon a Time is available on ABC with seasons and full episodes. You can also watch Once Upon a Time on demand at Hulu Plus, Disney+, Apple TV, Amazon, Google Play, Microsoft Movies & TV, Vudu online.
Cast
Josh Dallas, Sean Maguire, Colin O'Donoghue, Lana Parrilla, Emilie de Ravin, Rebecca Mader, Ginnifer Goodwin, Jared S. Gilmore, Jennifer Morrison, Robert Carlyle

Stream shows like Once Upon a Time