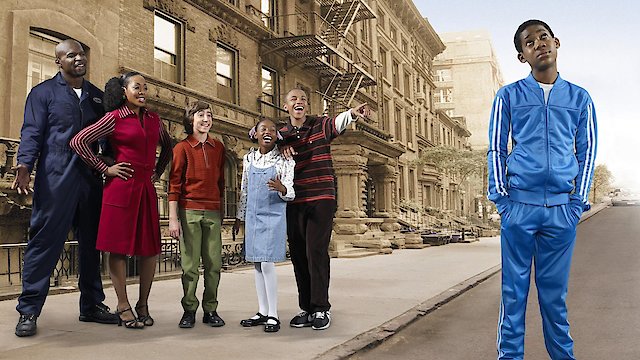 Where to Watch Everybody Hates Chris
22
Everybody Hates the G.E.D.
It's the last week of school and while Drew decides he wants to try out for Amateur Night at the Apollo even without a talent at his disposal, Chris is informed that if he gets one more tardy he will have to repeat the 10th grade. But one day he misses the bus and arrives at school late, forcing him to deliver the bad news to his parents.
Watch Everybody Hates Chris Season 4 Episode 22 Now
21
Everybody Hates Bomb Threats
When Chris and his classmates are given the task of memorizing a World War II speech and reciting it in front of the class as a punishment, Chris cooks up a surprising way of postponing his presentation. Meanwhile, Rochelle has problems of her own when a customer puts a hex on her.
Watch Everybody Hates Chris Season 4 Episode 21 Now
Chris finally manages to ask out Tasha and she accepts but then Chris doesn't expect that all his free time and only doing things that Tasha wants to do is the result of being with his long-standing crush. Meanwhile, Rochelle discovers Julius' shocking secret!
Watch Everybody Hates Chris Season 4 Episode 20 Now
19
Everybody Hates Back Talk
Chris refuses to do his chores as a show of strength against him mother's strict rules, causing Rochelle to tell Julius that her son is disrespecting her. Meanwhile, Mr.
Watch Everybody Hates Chris Season 4 Episode 19 Now
18
Everybody Hates the Car
Chris is finally able to buy a car when he gets his driver's license but when it is stolen and vandalized, Chris realises having ownership of a car is a huge responsibility. Meanwhile, Rochelle finds Julius' hidden racing form.
Watch Everybody Hates Chris Season 4 Episode 18 Now
17
Everybody Hates Spring Break
Chris accidentally hits Greg while test driving the janitor's car, landing Greg in the hospital with a broken leg and Rochelle taking care of him. Meanwhile, Julius must figure out a way to entertain Drew and Tonya when it rains the entire time they are on vacation at the beach.
Watch Everybody Hates Chris Season 4 Episode 17 Now
16
Everybody Hates Lasagna
Chris just can't say no when a criminal on the run asks him to hide a stash of marijuana. But where can he hide it without it being discovered?
Watch Everybody Hates Chris Season 4 Episode 16 Now
Coach Thurman spots Caruso bullying Chris and suggests he take up boxing to defend himself. Meanwhile, Julius has a new set of problems when he suspects Rochelle of adultery and catches the eye of a female neighbour.
Watch Everybody Hates Chris Season 4 Episode 15 Now
Rochelle inadvertently prevents Chris from "cramming" for an upcoming PSAT test by taking the family out to a social event. Knowing a good score will help him get into college, Chris resorts to cheating.
Watch Everybody Hates Chris Season 4 Episode 14 Now
13
Everybody Hates Fakd IDs
In order to attend an age-restricted concert, Chris and Greg try to get themselves a fake ID. Elsewhere, Rochelle plans Julius' surprise party, and Drew tries returning a pair of faulty X-ray vision glasses he bought in the mail.
Watch Everybody Hates Chris Season 4 Episode 13 Now
12
Everybody Hates Varsity Jackets
Chris and Greg decide to join the wrestling team to earn a varsity jacket in order to impress the ladies. Meanwhile, Rochelle attempts to lose weight by drinking a popular weight-loss drink which gives Julius a money-saving idea and Tonya jeopardises Drew's all-girl singing group.
Watch Everybody Hates Chris Season 4 Episode 12 Now
11
Everybody Hates Mr. Levine
Chris recieves help from a complete stranger during a city-wide blackout and decides to return the favour by helping the old man meet new friends. Meanwhile, Rochelle discovers she is one year younger than she thought she was and Greg searches for an identity.
Watch Everybody Hates Chris Season 4 Episode 11 Now
10
Everybody Hates New Years Eve
New Year's Eve in Times Square is something Chris really wants this year but needs an adult to accompany him. And that is where problems arise...
Watch Everybody Hates Chris Season 4 Episode 10 Now
Julius begins watching Oprah Winfrey on TV in hopes it will improve his marriage, but Rochelle believes he is having an affair behind her back. Chris gets a surprise when he sees who his "little brother" is after signing up in the Big Brother program.
Watch Everybody Hates Chris Season 4 Episode 9 Now
8
Everybody Hates Big Bird
When the dorkiest girl in school, who everyone calls "Big Bird", asks Chris out on a date, he agrees but only to spare her feelings. He soon realizes after spending time with her that he genuinely likes her.
Watch Everybody Hates Chris Season 4 Episode 8 Now
7
Everybody Hates Snitches
Chris has a dilemma when a reward is offered for anyone who witnessed a shoot-out outside a movie theater. Chris was there but he was supposed to be babysitting Tonya and Drew - what will he do?
Watch Everybody Hates Chris Season 4 Episode 7 Now
Doc's bossy girlfriend keeps sending Chris to do inane chores at the store, making his life miserable. Meanwhile, Julius gets in trouble when Rochelle finds a bra in his sock drawer in which Tonya had hid there so she wouldn't be caught wearing it to school, hoping to be noticed more.
Watch Everybody Hates Chris Season 4 Episode 6 Now
Although warned by Greg that it's a bad idea, Chris starts to help the football team with their homework as a means to socialize with the cool kids. As a result, Chris ends up failing his own exams.
Watch Everybody Hates Chris Season 4 Episode 5 Now
After Julius and Rochelle raise the rent, Mr. Omar demands reparations and moves in with the family while his apartment is being repaired.
Watch Everybody Hates Chris Season 4 Episode 4 Now
3
Everybody Hates Homecoming
Chris is thrilled when Jenise Huckstable asks him to the homecoming dance. His nerves begin to get the better of him when Jenise tells him that her father Dr.
Watch Everybody Hates Chris Season 4 Episode 3 Now
Chris makes a deal with a classmate, Angel. He will help Angel improve his grades in school and in return Angel will help Chris get the attention of Maria, his latest crush.
Watch Everybody Hates Chris Season 4 Episode 2 Now
1
Everybody Hates Tattaglia
As a first-time high school student, Chris is really looking forward to attending a school with some diversity. Unfortunately, when he arrives at school, he discovers that the school's new principal, Ms.
Watch Everybody Hates Chris Season 4 Episode 1 Now

Everybody Hates Chris is an American period sitcom that originally aired on The CW from 2005 to 2009. The show is based on the early life and adolescence of renowned comedian Chris Rock, who also assumes the role of the narrator. The coming-of-age comedy series presents a light-hearted, humorous, and realistic story about a teenager juggling school, family, and life in general, all while growing up in Brooklyn, New York, in the 1980s. Tyler James Williams flawlessly embodies the protagonist, Chris, a charismatic, quick-witted, and likable 13-year-old. He is the oldest child of three, often finding himself responsible for his younger siblings, Tonya and Drew, played by Imani Hakim and Tequan Richmond, respectively. Due to a school zoning issue, Chris, the only African American kid in his school, must traverse two bus rides every day to attend a predominantly white, Italian middle school. The challenges and social dynamics that Chris confronts and navigates in his school-life are one of the significant elements of the show. The huge heart of the sitcom is Chris's family. Terry Crews features as Chris's penny-pinching, frugal, yet affectionate father, Julius. His hardworking, stern, and loving mother, Rochelle, is portrayed by Tichina Arnold. The family bond, layered with love, respect, and a shared sense of humor, forms a central piece of the show's essence. One of the unique aspects of Everybody Hates Chris is that it does not shy away from addressing racial and class issues. The show veers away from sugar-coating these matters, presenting them with a raw honesty that is also laced with humor and wit. It navigates Chris's experiences as a black youth in a mostly white school, amidst racial tensions, all while maintaining its comedic charm. Taking a creative stance on the era, the 1980s serve as more than just a backdrop for the show. The decade's culture, fashion, politics, and society play a starring role to immerse viewers into the distinctive period. From the vintage wardrobes of the characters to the timeless music from the period, the show pays a heartfelt tribute to the 80s while providing a slice-of-life image of Chris's struggles and successes. Apart from the primary cast, the series boasts an ensemble of recurring characters, each adding their unique color to the plot. Vincent Martella stars as Greg, Chris's best friend and fellow outcast at school, who shares many of his joys and sorrows. The on-screen chemistry between Chris and Greg contributes to some of the show's most heartwarming and comedic moments. The show uses a vivid non-linear storytelling approach, with Chris Rock's oversaturated voice-over providing engaging insights into Chris's thought processes and experiences. His retrospective narrations add an extra layer of humor to the show, making the audience feel as though they're looking at the characters and their actions through Chris's own eyes. This unique method reinforces the comedic elements while maintaining an emotional connection with the audience. The creators ensured that the show wasn't just another sitcom by constantly pushing boundaries to depict an average American family's vocals and values during challenging times. What sets Everybody Hates Chris apart is its candidness about real-life issues during a specific period in American history and the infusion of relatable humor to make the show both entertaining and informative. In conclusion, Everybody Hates Chris is a heartwarming, nostalgic, and hilarious trip down memory lane, recounting the realities of growing up in a believable yet amusing way. Its combination of endearing characters, genuine humor, poignant storylines, and the atmospheric backdrop of the 80s make it a must-watch for comedy enthusiasts.
Everybody Hates Chris is a series categorized as a canceled. Spanning 4 seasons with a total of 88 episodes, the show debuted on 2005. The series has earned a moderate reviews from both critics and viewers. The IMDb score stands at 7.5.
How to Watch Everybody Hates Chris
How can I watch Everybody Hates Chris online? Everybody Hates Chris is available on The CW with seasons and full episodes. You can also watch Everybody Hates Chris on demand at Hulu Plus, Paramount+, Amazon Prime, Apple TV Channels, Peacock Premium, Plex, Pluto TV, Tubi TV, Apple TV, Amazon, Google Play, Vudu, Crackle online.
Cast
Imani Hakim, Tequan Richmond, Tyler James Williams, Terry Crews, Tichina Arnold, Chris Rock, Vincent Martella, Travis T. Flory, Jacqueline Mazarella, Kevontay Jackson, Holly Weber, Antonio Fargas

Stream shows like Everybody Hates Chris