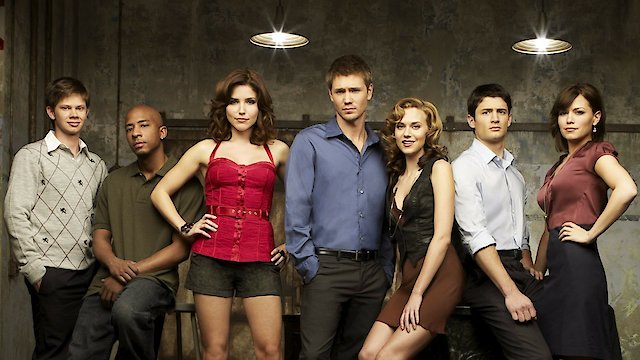 Where to Watch One Tree Hill
14
Always and Forever (Series Retrospective)
Watch One Tree Hill Season 9 Episode 14 Now
In the series finale of One Tree Hill, the tenth anniversary of Tric brings familiar faces and new possibilities for the Tree Hill family.
Watch One Tree Hill Season 9 Episode 13 Now
Brooke tries to deal with her father's betrayal.
Watch One Tree Hill Season 9 Episode 12 Now
The search for Nathan becomes critical, and Dan's life hangs in the balance. Brooke is shocked when her father returns.
Watch One Tree Hill Season 9 Episode 11 Now
10
Hardcore Will Never Die, But You Will
Dan, Julian, and Chris try to rescue Nathan.
Watch One Tree Hill Season 9 Episode 10 Now
Brooke and Julian do everything they can to keep their family safe. Skills aids Mouth in reaching a crossroad.
Watch One Tree Hill Season 9 Episode 9 Now
8
A Rush Of Blood To The Head
Haley gets some news of a tragedy.
Watch One Tree Hill Season 9 Episode 8 Now
Haley goes to Lucas to ask for help; Brooke comes face-to-face with Xavier; Juliain discovers evidence that assists Dan in his search for Nathan; Clay makes a connection with another patient.
Watch One Tree Hill Season 9 Episode 7 Now
6
Catastrophe and the Cure
Dan asks Julian to help him find Nathan.
Watch One Tree Hill Season 9 Episode 6 Now
As Quinn distracts Jamie, Haley looks for Nathan. Clay finally gets answers about his condition. Meanwhile, Julian tries to resume a normal life, while Brooke tries to give Tara a chance.
Watch One Tree Hill Season 9 Episode 5 Now
4
Don't You Want to Share the Guilt?
As Julian tries to work through his guilt, Brooke helps Haley confront a new rival café and its difficult owner. Meanwhile, Chase's new girl hides a secret, and Quinn takes extreme measures that help Clay realize he's worse off than he thought.
Watch One Tree Hill Season 9 Episode 4 Now
Quinn learns that Clay is keeping something from her.
Watch One Tree Hill Season 9 Episode 3 Now
2
In The Room Where You Sleep
Brooke discusses a new business venture with her father.
Watch One Tree Hill Season 9 Episode 2 Now
1
Know This, We've Noticed
In the final series premiere, Brooke and Julian adjust to life with their new children while Haley and Nathan find themselves dealing with similar issues. Unbeknownst to them, familiar faces from the past threaten to interrupt plans for all their futures.
Watch One Tree Hill Season 9 Episode 1 Now

One Tree Hill is an iconic American television drama series that aired on The CW from 2003 to 2012. Created by Mark Schwahn, the series set the standard for teen dramas, narratively bridging the gap between adolescence and adulthood with a unique mix of love, tragedy, and triumph. Starring Chad Michael Murray, Hilarie Burton, James Lafferty, and Bethany Joy Lenz, One Tree Hill progressively unfolds the interconnected lives, loves, and betrayals of two brothers in a small but eventful North Carolina town, One Tree Hill. Murray plays Lucas Scott, an introspective writer and lone wolf, while Lafferty portrays his younger half-brother, Nathan Scott, a gifted and cocky basketball player. With a backdrop of high school basketball, the series also delves deeper into the familial dynamics, significantly the complicated relationship between the boys and their estranged father, Dan Scott, played by Paul Johansson. Lucas, the son Dan rejected at birth, and Nathan, the son he always favored, share the same dream of excelling at basketball but find themselves on opposite sides, thanks to their father's manipulations. The characters of One Tree Hill are three-dimensional and individuals that the audience can resonate with. Apart from the Scott family, there's the spirited and vivacious cheerleader Peyton Sawyer (Hilarie Burton), the brainy and bold Brooke Davis (Sophia Bush), and the sweet and multi-talented singer Haley James (Bethany Joy Lenz). The series brilliantly showcases their growth from naive teenagers overwhelmed by their passions and dreams to responsible, mature adults dealing with life's ups and downs. One Tree Hill brings in other memorable characters as it progresses. Lee Norris provides comic relief as the geeky and good-hearted Marvin "Mouth" McFadden, while Antwon Tanner as Skills Taylor gives a realistic depiction of friendship and loyalty in adversity. Jackson Brundage and Lisa Goldstein offer charming performances as Nathan and Haley's son, Jamie, and quirky clothing designer Millicent Huxtable, respectively. In later seasons, Austin Nichols, Shantel VanSanten, and Robert Buckley also join the cast, embodying the characters of Julian Baker, Quinn James, and Clayton Evans, making their own indelible impressions on the close-knit community. Fans followed their lives with as much interest and investment as the original characters. It is this feeling of familial continuity that allows One Tree Hill to seamlessly transition from high school through to college and adulthood, maintaining its authentic and relatable flavor. These characters face challenges such as love trials, career paths, marriage, parenthood, and much more, interspersed with laughter, music, and games. They experience loss, resilience, and rebirth, teaching the audience about the power of forgiveness, unity, and friendship. The backdrop of North Carolina's fictional town gives the show a timeless quality. The charming community, local café, high school, River Court, and central character houses all lend themselves to creating a world that is familiar and intimate. They become as much a part of the audience's life as they are to the characters. At its heart, One Tree Hill teaches essential life lessons that extend beyond the complements of adolescence and adulthood. The series delivers a powerful narrative of struggles and triumphs, friendship, and rivalry, love and heartbreaks, and more. The show enriches its narrative with unique structural elements, such as voice-overs derived from literature and music references, setting it apart from traditional TV dramas. One Tree Hill has an acclaimed soundtrack with a blend of popular and lesser-known artists and genres, with music often used to underscore and augment emotional scenes. From the first guitar strains of the show's theme 'I Don't Want to be' by Gavin DeGraw, the show signaled its intention to be a defining catalyst in contemporary culture. Barry Corbin, as the wise and good-natured Coach Whitey Durham, provides the voice of reason in the tumult of emotions that often storms through One Tree Hill. Unlike the plot's melodrama, his character brings a balance of wisdom and humor that gives the show a grounding sense of reality. In conclusion, One Tree Hill is a memorable journey through the intricacies of adolescence and the challenges of early adulthood, striking a chord with the viewers with its realistic portraiture of life, friendship, and love. Its unique blend of compelling characters, dramatic storylines, and emotional depth make it a pivotal entry in the annals of television drama series.
One Tree Hill is a series categorized as a canceled. Spanning 9 seasons with a total of 188 episodes, the show debuted on 2003. The series has earned a moderate reviews from both critics and viewers. The IMDb score stands at 7.8.
How to Watch One Tree Hill
How can I watch One Tree Hill online? One Tree Hill is available on The CW with seasons and full episodes. You can also watch One Tree Hill on demand at Max, Amazon Prime, Hulu Plus, Amazon, Google Play, Vudu, Apple TV online.
Cast
Chad Michael Murray, James Lafferty, Hilarie Burton

Stream shows like One Tree Hill