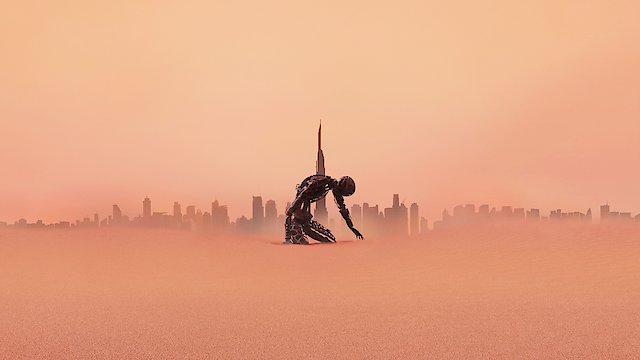 Where to Watch Westworld
'Que Sera, Sera.' Like what I've done with the place? (I just cranked it to expert level.)
Watch Westworld Season 4 Episode 8 Now
It's been seven years since Dolores sacrificed herself to free humanity from Roboam's computer system. Now, Maeve and Caleb suspect a conspiracy to regain control of the human species.
Watch Westworld Season 4 Episode 7 Now
Elsie discovers a possible source of sabotage, while Bernard searches for clues to anomalies in a sector thought to be abandoned. Theresa questions Ford's leadership while Lee encounters a new arrival at Westworld.
Watch Westworld Season 4 Episode 6 Now
Christina questions the nature of her reality. Charlotte tasks William with tracking a human outlier who has breached.
Watch Westworld Season 4 Episode 5 Now
Should auld acquaintance be forgot and days of auld lang syne?
Watch Westworld Season 4 Episode 4 Now
'Annees Folles.' You can never go back again. But if you do, bring a shovel.
Watch Westworld Season 4 Episode 3 Now
'Well Enough Alone.' I heard a fly buzz when I died.
Watch Westworld Season 4 Episode 2 Now
'The Auguries.' Hello again. Don't worry about a thing. It's all in your head.
Watch Westworld Season 4 Episode 1 Now

Westworld is a riveting science-fiction drama series from HBO that was broadcasted from 2016 to 2022. The series is a blend of old-western vibes, science fiction elements, existential philosophies, and intricate character development. It is a thematic exploration into the volatile dynamics between humans and artificial beings, the struggle for dominance, survival and identity, and the philosophical questioning of consciousness, free will, morality, and what it truly means to be human. The TV series is inspired by Michael Crichton's 1973 movie of the same name. The show's setting is a high-tech, incredibly sophisticated, amusement park named "Westworld" styled like the old American Wild West. This park is populated by lifelike android 'hosts' that play roles in an array of pre-programmed narratives designed to entertain the human 'guests', who pay quite a hefty sum to visit this adult-themed playground. In this park, Human guests can partake in interactive old western narratives, with no real danger to themselves regardless of their actions towards the hosts. Westworld, however, is far more than just a rowdy Western amusement park. It's highly advanced technological landscape makes it the perfect stage for a tumultuous story of self-discovery, sentience, and the question of "artificial" consciousness. The central storyline breaks away from the traditional exploration of robotics in the media, instead choosing to delve deep into the emotional psyche of these humanoid entities, their potential for true consciousness, and the moral complexities that arise from such a premise. The series has a multi-layered storyline, characterized by numerous overarching themes, plots, and subplots. The intrigue starts small, with aberrations in the behavior of a small number of androids placing the park's future in jeopardy. However, as the series progresses, it evolves into a riveting exploration of consciousness, morality, destiny, and power, as these androids begin to question their reality, their programmers, and even their own existence. The cast is led by some of the most skilled actors in Hollywood, including Anthony Hopkins, Evan Rachel Wood, Jeffrey Wright, and Thandiwe Newton, whose performances add depth and intricacy to the intriguing narrative. The switch between their android and human roles is so seamless that it leaves you spellbound and forms one of the most enthralling aspects of the performances. Westworld's narrative is not linear, and this enhances not only the suspense but also the viewer's engagement. It needs one to keep their eyes peeled and their minds sharp as the story unfolds. The show constantly keeps viewers on the edge, alternating between the rustic Wild West setting and the futuristic, high-tech world that controls it with brilliant cinematography and visual aesthetics. While Westworld is undoubtedly a sci-fi drama, it skillfully incorporates elements of several genres including thriller, western, and elements of mystery, making it even more appealing to viewers with diverse interests. Every scene and dialogue seem to carry deeper meanings, filled with references, allegories, and metaphors that paint Westworld not merely as a tale of man versus machine, but also as a profound examination of consciousness and the human condition. Furthermore, the show's highly detailed and intricate set designs, brilliant special effects, and captivating score are noteworthy. They provide the perfect backdrop to the complex narrative, enhancing the storyline while ensuring the viewers are thoroughly entertained. The effective use of landscape, light, and shadows helps transport the audience to the contrasting worlds of rugged western terrains and modernistic, sterile interiors. The music beautifully accentuates the mood, further drawing audiences into Westworld's mesmerizing aura. The series is not devoid of action and suspense, violence and romance, love and betrayal, which will keep audiences constantly on their toes. At times, Westworld might seem convoluted and intense, but if you delve deep, it offers an unforgettable viewing experience filled with thought-provoking themes and brilliant storytelling that blurs the lines between humans and machines, reality and illusion, freedom and servitude. Overall, Westworld was a fascinating ride, one full of shifts and surprises. Its intricate storytelling, phenomenal performances, and its daring and innovative narrative made it an important addition to the genre of science fiction on television. With its willingness to ask difficult questions about consciousness, morality, existence and: 'how real is real?', Westworld became a remarkable meditation on humanity's future with artificial beings. It's a must-watch for science fiction and drama enthusiasts.
Westworld is a series categorized as a now streaming. Spanning 4 seasons with a total of 36 episodes, the show debuted on 2016. The series has earned a mostly positive reviews from both critics and viewers. The IMDb score stands at 8.5.
How to Watch Westworld
How can I watch Westworld online? Westworld is available on HBO with seasons and full episodes. You can also watch Westworld on demand at Max, Apple TV, Amazon, Microsoft Movies & TV, Vudu online.
Genres
Action & Adventure, Drama, Fantasy, Science Fiction
Cast
Evan Rachel Wood, Thandie Newton, Jeffrey Wright, James Marsden, Ben Barnes, Ingrid Bols

Stream shows like Westworld