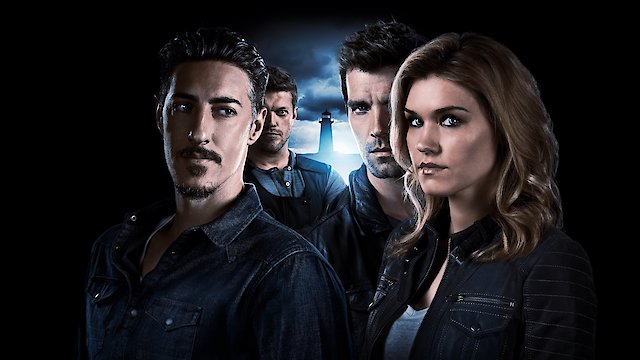 Where to Watch Haven
In the series finale, questions are answered and the story of Haven wraps up.
Watch Haven Season 5 Episode 26 Now
In the penultimate episode of the series, hope of ending the troubles dwindles as the heroes struggle to rebuild the Barn despite mounting obstacles.
Watch Haven Season 5 Episode 25 Now
Nathan and Dwight race to rescue Audrey from Croatoan, but the consequences of Duke's dark destiny complicate matters.
Watch Haven Season 5 Episode 24 Now
Audrey and Nathan try to regain control of the police station while a mysterious killer leaves a wake of bodies.
Watch Haven Season 5 Episode 23 Now
Audrey and Duke are desperate to save Nathan from the Void; at the same time, Dave must plumb the depths of his own mind in an attempt to free himself from Croatoan's deadly grasp.
Watch Haven Season 5 Episode 22 Now
Nathan encounters a previous rival after entering the terrible Void; Audrey and Duke deal with the threat of a vengeful person.
Watch Haven Season 5 Episode 21 Now
Nathan and Vince travel back to the year 1983 in order to discover Croatoan's origins in Haven. Meanwhile, Duke finds himself in a dangerous situation.
Watch Haven Season 5 Episode 20 Now
Nathan receives otherworldly aid as he hunts a terrifying killer.
Watch Haven Season 5 Episode 19 Now
Charlotte and Audrey try to come up with a new plan; Dwight and Nathan try to get to the bottom of a threat; the Teagues try to identify the serial killer.
Watch Haven Season 5 Episode 18 Now
Dwight and Charlotte must find a way to free Audrey from the Sandman's stasis before he traps her in his mind forever; at the same time, Duke tries to help Darkside Seeker Seth Byrne recover his memories of Haven.
Watch Haven Season 5 Episode 17 Now
16
The Trial of Nathan Wuornos
The citizens of Haven put Nathan on trial for his life, and it's up to Dwight and Charlotte to save him.
Watch Haven Season 5 Episode 16 Now
As conditions grow increasingly desperate in Haven, Dwight struggles to maintain control over a terrified population.
Watch Haven Season 5 Episode 15 Now
Conditions in Haven seem hopeless, which lead to a terrified population that's difficult for Dwight to establish control over; at the same time, Nathan assembles a task force to restore power to the town; and Audrey tries to put an end to the trouble permanently.
Watch Haven Season 5 Episode 14 Now
As Mara'a endgame becomes clear, Nathan and Audrey concoct a plan to stop her once and for all.
Watch Haven Season 5 Episode 13 Now
Charlotte makes progress towards developing a cure for the troubles, but it might be too late as Duke's condition takes a turn for the worse. Meanwhile, realizing their objectives may no longer line up, Haven's heroes must reassess where their true loyalties lie.
Watch Haven Season 5 Episode 12 Now
While Audrey's condition worsens, a new Trouble strikes Haven. Meanwhile, Duke's internal Troubles are ready to burst and only Mara can help him...
Watch Haven Season 5 Episode 11 Now
Dr. Cross has the power to expose Haven's secrets to the outside world but what are her intentions?
Watch Haven Season 5 Episode 10 Now
When Audrey and other residents suddenly fall ill to a mysterious sickness, the truth about the Troubles could be exposed to the outside world.
Watch Haven Season 5 Episode 9 Now
Trapped in intangible form, Nathan is desperate to restore his body with Duke and Audrey's assistance.
Watch Haven Season 5 Episode 8 Now
Nathan and numerous other Haven residents vanish, and Audrey and Duke are unaware that their friend has been transformed into a ghost. Meanwhile, the Guard still believes that Audrey is Mara and intends to kill her.
Watch Haven Season 5 Episode 7 Now
Duke's body could explode from the Troubles within, and Nathan struggles to focus enough to release him. To save him and Duke, they have to reunite the brothers and have them undo their body-switching Trouble.
Watch Haven Season 5 Episode 6 Now
While Vince and Dave travel to North Carolina to investigate Dave's past, a body switching Trouble descends upon Haven.
Watch Haven Season 5 Episode 5 Now
Dwight and Nathan go toe-to-toe trying to figure out what to do about Mara and potentially end the Troubles forever.
Watch Haven Season 5 Episode 4 Now
Nathan is desperate to retrieve Audrey, leaving Duke and Dwight to deal with a Trouble that could obliterate Haven.
Watch Haven Season 5 Episode 3 Now
With Nathan and Duke struggling with the loss of people close to them, Dwight is determined to keep Haven together as Mara unleashes a new wave of Troubles.
Watch Haven Season 5 Episode 2 Now
In the fifth season premiere, Mara seems to be in control and Audrey is still missing. Trouble surfaces once again.
Watch Haven Season 5 Episode 1 Now
WWE Star Adam Copland talks about Haven and his character
Watch Haven Season 5 Episode 103 Now

Haven is an engrossing supernatural drama television series which aired from 2010 to 2015 on the Syfy channel. The show is inspired by Stephen King's novel "The Colorado Kid" and is steadfastly imbued with the author's richly woven blend of the extraordinary and the everyday life. The series is centered on a quaint, picturesque yet peculiar coastal Maine town named Haven. The town is not just another serene coastline but is inhabited by locals who possess various supernatural abilities, named "The Troubles." The real trouble erupts when these abilities start wreaking havoc, unraveling the seemingly peaceful town's underlying chaos. The motivation behind the character of Audrey Parker, deftly played by Emily Rose, is the driving force of the narrative. Audrey is a savvy, shrewd, and strong FBI agent who is dispatched to the town of Haven on a routine case. However, her ordinary mission takes a complex turn as she discovers the town's mysterious undercurrents. Audrey gradually realizes that she is strangely immune to the town's supernatural phenomena, making her the ideal peacemaker amidst the often violent outburst of "The Troubles." Promptly, her regular assignment transforms into a personal journey as Audrey realizes she might have a deeper connection to Haven than she initially thought. While navigating her way through Haven's twisted world, Audrey is joined by two vital characters - Nathan Wuornos and Duke Crocker. Nathan, portrayed by Lucas Bryant, is a local police officer with a troubled legacy. He becomes Audrey's most trusted ally and partner in managing the town's supernatural challenges. On the other side, there's Duke Crocker, a charming rogue played by Eric Balfour, who has his complexities linked to the town's mysteries. Further brought to life by supporting actors such as Nicholas Campbell, Richard Donat, John Dunsworth, and Mary-Colin Chisholm, Haven creates an intriguing maze of characters, each contributing their unique perspectives and stakes to the unfolding narrative. The visually stunning seaside town setting is beautifully juxtaposed with the horror lurking under its surface. Haven treads the fine line between a police procedural drama and a paranormal thriller. Each episode introduces new afflicted residents and their unique troubles, giving the series a procedural touch, while the continuous storyline of Audrey's past and the town's mysteries provide an overarching narrative structure. Haven is not an average supernatural show; it has its heart firmly rooted in the human experience, showcasing how people cope with abilities they don't want, secrets they didn't ask for, and legacies they cannot escape. It is a character-driven story where the supernatural acts as a metaphor for the human condition and emotion. The show proficiently uses the horror genre to shed light on subjects like acceptance, loss, courage, love, and dread, brilliantly wrapped in suspense and thrill. In addition to the depth of its characters, Haven stands out for its storytelling. The series masterfully blends the episodic with the serial by solving a 'trouble of the week' while also diving deeper into the ongoing storyline. This framework ensures that the audience is captivated, leading them on through every twist and turn, whilst also feeding their curiosity about the overarching narrative. By marrying the ordinary and paranormal, Haven provides an immersive watch that concurrently baffles, scares, and touches viewers. Throughout its five seasons, the show consistently delivers thrilling entertainment — blending mystery, humor, drama, and suspense in equal measures. The writing is crisp, the direction is solid, and the performances are nothing short of compelling. Packed with atmospheric dread and mystery, Haven is a fascinating exploration of human emotions and resilience, set against an eerie supernatural backdrop. Whether you come for the mystery, stay for the characters, or simply get hooked on the chilling narrative and supernatural undertones, Haven is a series that demands your attention and keeps you coming back for more.
Haven is a series categorized as a returning series. Spanning 5 seasons with a total of 79 episodes, the show debuted on 2010. The series has earned a moderate reviews from both critics and viewers. The IMDb score stands at 7.5.
How to Watch Haven
How can I watch Haven online? Haven is available on Syfy with seasons and full episodes. You can also watch Haven on demand at Amazon Prime, Tubi TV, Apple TV, Amazon, Google Play, Vudu online.
Genres
Action & Adventure, Drama, Science Fiction
Cast
Lucas Bryant, Eric Balfour