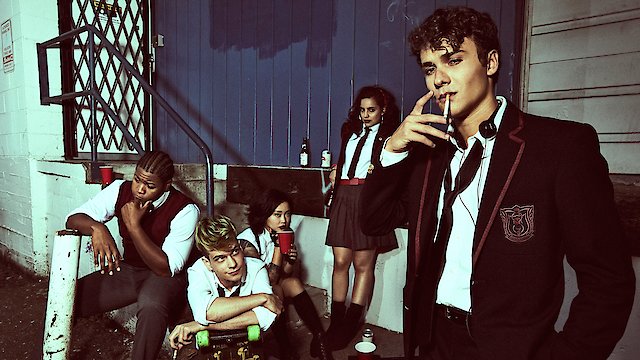 Where to Watch Deadly Class
Our heroes raid Chester manor, while across town Lin runs with his daughter from El Diablo.
Watch Deadly Class Season 1 Episode 10 Now
After discovering Chester has taken over Shabnam's house, the heroes lay down plans to raid it.
Watch Deadly Class Season 1 Episode 9 Now
Following the death of Chico and Yukio, a gang war brews during a lockdown imposed by Lin.
Watch Deadly Class Season 1 Episode 8 Now
Marcus confesses the truth about Chester to Saya which leads them on a citywide manhunt.
Watch Deadly Class Season 1 Episode 7 Now
Marcus and Maria, now dating in secret, have to deal with the ramifications of Chico's death.
Watch Deadly Class Season 1 Episode 6 Now
On a mission to Las Vegas to kill Billy's dad, Marcus accidentally takes way too much acid.
Watch Deadly Class Season 1 Episode 5 Now
Saya and Marcus have to survive an attack on the school when Saya's past comes back to haunt her.
Watch Deadly Class Season 1 Episode 4 Now
Marcus navigates a prank war between the Rats and Legacies, as everyone prepares for the big dance.
Watch Deadly Class Season 1 Episode 3 Now
Marcus, dealing with the guilt of killing Rory, has a party at Shabnam's and all the school is invited.
Watch Deadly Class Season 1 Episode 2 Now
A disillusioned teen finds purpose and fights for survival at an elite academy for the Deadly Arts.
Watch Deadly Class Season 1 Episode 1 Now

"Deadly Class" is an intriguing and intense drama series produced by Syfy. Running for one season from 2018 to 2019, the show gained a sizeable cult following due to its unique story and compelling characters. The British actor Benedict Wong, recognized for his roles in "Doctor Strange" and "The Martian," leads the cast as Master Lin. Wong's portrayal of Lin, the enigmatic and commanding headmaster of a school for assassins, sets a dynamic tone that enhances the show's gripping narrative and intense atmosphere. Benjamin Wadsworth, a young actor known for his role in "Teen Wolf," provides an absorbing performance as Marcus Lopez Arguello, the show's central character. The story follows Marcus, a teenager living on the streets, who is taken in by a mysterious academy known as King's Dominion. His arrival upsets the school's established power dynamics and fuels the story's central conflicts. Lana Condor, the breakout star of "To All The Boys I've Loved Before," brings depth, intelligence, and charisma to her role as Saya Kuroki. Saya is a member of the Yakuza crime family enrolled at King's Dominion to learn the deadly arts. As a woman of strength and strategy, Saya's character adds complexity and intrigue to the narrative. "Deadly Class" is unafraid to explore social issues of the 1980s, from Reagan-era politics to punk rock subculture. It cleverly employs the backdrop of the decade to explore the diverse backgrounds and motivations of the show's ensemble cast, connecting their backstories with myriad historical, cultural, and political threads. Set in San Francisco during the late 80s, this high-octane program draws viewers further into its world with its darkly seductive aesthetic. The grimy streets, the edgy fashion, and the raw soundtrack create an immersive atmosphere that pulls viewers back episode after episode. It also sharpens the series' key theme – the disturbing underbelly of society and the lethal skills teenagers are being trained to perpetuate within it. Beyond the blood and gore that one would expect from a series revolving around teen assassins, "Deadly Class" manages to delve into various emotional undercurrents. It explores the students' struggles to retain their humanity in a brutal world, the friendships they develop, and their yearning for normalcy amid the chaos of their violent lives. There are elements of family dynamics, romance, personal identity, loyalty, and survival all expertly woven into the narrative. The series is based on a popular graphic novel series of the same name by Rick Remender and Wes Craig. The visual aesthetics used within the series are a nod to its origin, as it echoes the dark and gritty atmosphere of the comic. It's a blend of visuals and story, both vibrant and dark, and altogether mesmerizing. Despite being wrapped in the cloak of a dystopian premise, "Deadly Class" still connects with topics that are very relevant today. It captures the essence of adolescence; the search for identity, the need to fit in, and the emotional ups and downs. These common teenage dilemmas are presented from the perspective of young characters who also happen to be dealing with the realities of their training as assassins. In its short run, "Deadly Class" managed to create a distinct identity among television series. Its potent mix of drama, action, and dark humor, combined with the cultural tapestry of the 1980s, made it an unexpectedly poignant commentary on youth and society. It's not just the engaging performances, vivid visuals or pulse-pounding plotlines that make it a binge-worthy entrant in the world of television, but its uncanny ability to strike balance in depicting teenage angst against the grim premise of a school for assassins. In summary, "Deadly Class" offers a unique take on the dichotomy of adolescence and the mafia underworld, a spectacularly daring journey into a world filled with darkness, violence, emotion, and above all, gripping entertainment. Whether you're a fan of thrillers, nostalgic for the 80s, or simply enjoy well-executed storytelling, "Deadly Class" is a viewing experience like no other.
Deadly Class is a series categorized as a new series. Spanning 1 seasons with a total of 10 episodes, the show debuted on 2019. The series has earned a moderate reviews from both critics and viewers. The IMDb score stands at 7.5.
How to Watch Deadly Class
How can I watch Deadly Class online? Deadly Class is available on Syfy with seasons and full episodes. You can also watch Deadly Class on demand at Netflix, Apple TV, Amazon, Google Play, Vudu online.
Genres
Action & Adventure, Crime, Thriller
Cast
Benedict Wong, Benjamin Wadsworth, Lana Condor

Similar Shows like Deadly Class