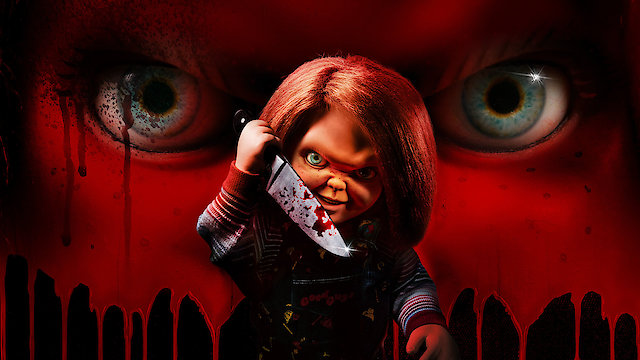 Where to Watch Chucky
9
Halloween III: Season of the Witch
Jake, Devon and Lexy infiltrate a Halloween ball to stop Chucky...but the demon doll has other plans.
Watch Chucky Season 3 Episode 9 Now
Watch Chucky Season 3 Episode 8 Now
Watch Chucky Season 3 Episode 7 Now
5
Anger, Denial, Bargaining, Depression, Murder
Watch Chucky Season 3 Episode 5 Now
Jake, Devon and Lexy infiltrate a Halloween ball to stop Chucky, but the demon doll has other plans.
Watch Chucky Season 3 Episode 4 Now
Chucky's complex motivations are revealed; Tiffany is tried for Jennifer Tilly's murder spree.
Watch Chucky Season 3 Episode 3 Now
Jake, Devon and Lexy hatch a plan to take down Chucky by befriending the President's teenage son.
Watch Chucky Season 3 Episode 2 Now
No child is left behind when Chucky manages to insinuate himself into the White House and find a new "friend 'til the end" in the President's lonely young son, Henry. Meanwhile, Jake and Devon help Lexy for her missing sister Caroline.
Watch Chucky Season 3 Episode 1 Now

Chucky is a gripping drama-horror television series that premiered on Syfy in 2021. Developed by Don Mancini, it features the iconic homicidal doll Chucky from the popular "Child's Play" franchise. Not only does this series pay homage to the lunacy and intensity of the renowned franchise, but it also artfully introduces a refreshing narrative arc that is both modern and compelling for old and new viewers alike. In Chucky, the storyline revolves around Jake Wheeler, a classic outsider living in the idyllic American town of Hackensack, New Jersey. Jake, a 14-year-old vintage doll collector, stumbles across a familiar face at a yard sale – Chucky, a seemingly innocuous Good Guy doll. Consumed by curiosity and aesthetics, Jake purchases Chucky, unaware of the deeply unsettling past that it harbored. As Jake integrates Chucky into his life, the doll reverts to its vile nature, kickstarting a spate of horrifying murders that completely disrupts the tranquility of Hackensack. Simultaneously, Chucky brazenly hijacks Jake's life, using his vulnerabilities as a platform to unleash a sequence of chilling events that would test Jake's courage and resilience. However, Chucky doesn't merely focus on the clash between Jake and Chucky. It intricately delves into the exploration of personal demons, identity struggles, and the raw reality of bullying. Through Jake, the series addresses his adolescent journey through a judgmental society, his struggle with sexuality, the loss of a parent, and the emotional trauma that follows. These potent themes ensure the show is more than just a relentless bloodbath; it's a heartfelt exploration of humanity amidst chaos. Chucky significantly excels in its character development. Jake, brilliantly portrayed by Zackary Arthur, seamlessly embraces the complexity of his character. These complexities, combined with his vengeful, charmingly energetic nemesis, create an engaging and bracing dynamic that roots the viewers. Complementing this duo are the well-rounded, intriguing supporting characters, each pulling off their roles with unwavering excellence and contributing to the consistent suspense and unpredictable nature of the series. The narrative also introduces a plethora of characters from the original "Child's Play" series, intertwining past narratives with the current storyline. This clever infusion ensures that the essence of the franchise remains intact while also making Chucky a fantastic standalone series that doesn't require immersion in the original series to appreciate fully. Chucky superbly maintains a tight grasp on the horror element that the franchise is known for, coupled with a hint of humor that enriches the narrative. The series features enough scream-inducing moments and gore to satiate the appetite of horror enthusiasts while also tempering it with sharp-witted punchlines and snarky comebacks filled with dark humor, primarily delivered by the titular character himself. From a technical perspective, the series' production value is top-notch. The cinematography, set design, visual effects are all meticulously done to craft a captivating atmosphere that mirrors the horror-thriller genre but also pays tribute to the vibrant aesthetics of 80s fear. Moreover, the various unexpected twists and turns in the plot, tertiary subplots, and the cliffhanger endings of each episode help maintain the series' engaging pace, ensuring a surefire hook for its viewers. While the original franchise has revolved around the terrifying doll wreaking havoc in the lives of people, this series masterfully switches perspective by offering Chucky's backstory, captivatingly narrated by the doll himself, which adds depth to his character and a new dimension to the series. This cleverly researched and crafted storytelling humanizes the notorious doll, making him even more terrifying because of his coldly logical reasoning behind his sadistic actions. Chucky, a blend of horror, suspense, and drama, proves a worthy successor to the original film series. Despite being a part of an established franchise that has been entertaining audiences for more than three decades, this 2021 Syfy series represents a unique entity in its own right. With its unflinching commitment to character building and storytelling layered with complexity, Chucky is not just an extension or a reboot, but an emphatic reimagining of the franchise. Above all, it is a series that fans of horror, suspense, and drama genres can relish.
Chucky is a series categorized as a new series. Spanning 3 seasons with a total of 24 episodes, the show debuted on 2021. The series has earned a moderate reviews from both critics and viewers. The IMDb score stands at 7.3.
How to Watch Chucky
How can I watch Chucky online? Chucky is available on Syfy with seasons and full episodes. You can also watch Chucky on demand at Apple TV Channels, FuboTV, Peacock Premium, NBC, Apple TV, Amazon online.
Genres
Horror & Suspense, Thriller
Cast
Zackary Arthur, Bjorgvin Arnarson, Alyvia Alyn Lind