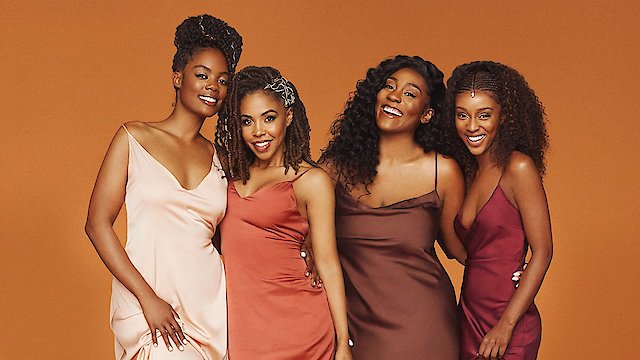 Where to Watch Sistas
As tensions between Karen and Fatima continue to escalate, their feud reaches a breaking point. Despite Calvin's warning, Maurice meets with the cops.
Watch Sistas Season 6 Episode 11 Now
Maurice is willing to risk everything to save a friend as Danni may have made a terrible mistake with Preston. Zac is willing to put his relationship at risk to assist Karen.
Watch Sistas Season 6 Episode 10 Now
After confronting Fatima, Karen gives Andi an ultimatum. Meanwhile, in an impulsive attempt to help Sabrina, Maurice makes a risky decision that may lead them both into further trouble.
Watch Sistas Season 6 Episode 9 Now
Gary is still doubting Tamara's intentions despite the progress with her relationship with Hayden; Maurice is still determined to make Que tell the truth.
Watch Sistas Season 6 Episode 8 Now
After catching Zac off guard, Fatima questions the status of their relationship; Sabrina devises a strategy to remove Que once and for all.
Watch Sistas Season 6 Episode 7 Now
Fatima and Zac's relationship is tested as Karen's feelings for him increases; Gary helps Hayden from an unexpected situation; Sabrina and Maurice meet with a lawyer.
Watch Sistas Season 6 Episode 6 Now
Karen's whereabouts are discovered; Fatima is disturbed by Zac's concern; Andi and Gary share a moment of complete honesty about where their current relationship status is.
Watch Sistas Season 6 Episode 5 Now
As the girls attempt to learn about Karen's whereabouts, the reality of losing a friend starts to sink in.
Watch Sistas Season 6 Episode 4 Now
Hayden makes Tamara an offer she can't refuse, but it could change her mission. Shocking news evokes a reaction from Zac that Fatima isn't ready for.
Watch Sistas Season 6 Episode 3 Now
Preston shows up for Danni when she needs him the most, but it doesn't seem to extinguish her anger toward him; Fatima sets Tamara straight about compensation for the role she's been tapped to play.
Watch Sistas Season 6 Episode 2 Now
You Can't Hurry Love
Watch Sistas Season 6 Episode 1 Now

BET's television series Sistas, launched in 2019, is a sophisticated, provocative, and captivating drama centered on the lives of a group of single black women from diverse backgrounds who are close friends. They navigate the turmoils of modern life, which includes complications of career, family, and romantic relationships. The show brilliantly reveals the unique bonding amid women who are striving to find their identity in the tempest of a complicated world. Sistas was created by Tyler Perry, a well-known figure in the entertainment industry, renowned for his high-quality content that often mirrors the complexities of relationships and society. Perry's signature style, characterized by its unique blend of drama, humor, romance, and raw emotion, is vividly present in Sistas. Through this series, Perry continues his reputation for unapologetically presenting stories and experiences that accurately reflect the black community. The series is arguably on the frontline when portraying the realities of black American women. The show's characters deal with a myriad of universal situations that ample of audience across races and cultural backgrounds can relate to. The unique attachment of the female companionship amplifies with each struggle, often serving as a person's strength in the face of life's ups and downs. The ensemble cast members bring depth to their roles and vibrantly bring the characters they portray to life. The relationship between these women is the cornerstone of the show, with their collective journey laying a solid foundation for a culturally significant and emotionally compelling narrative. Despite their varying professions, backgrounds, and personalities, they share a common bond: navigating the complex world as a single black woman. The dynamics among them also touch upon the spectrum of female friendships, ranging from their shared laughter and love to their disagreements and heartbreaks. An interesting point of the series is the fashion and style illustrated, which speaks volumes about the characters' personalities and their situations in life. As these women are stylish and fiercely independent, their flair for fashion is not overlooked. Each character's wardrobe is uniquely tailored to their personality, further enhancing their distinctiveness. On the surface level, Sistas might seem to center around the romantic relationships of these four women. However, as viewers get to know these characters, they see that it's not just about their relationships with men, but also their relationships with themselves, their careers, and, importantly, with each other. The show digs deep into the intricacies of female friendships, as well as the dynamics that pertain uniquely to black friendship groups. Sistas is a program that explores a society that offers different issues to women based on the color of their skin. The show is on the cutting edge of contemporary issues in society such as race, class, and gender. It is told from the unheard perspective, providing insight into the often unspoken experience of black women in America. Sistas portrays a multifaceted representation of black women in the media, which is a noteworthy feat in today's television landscape. The characters are more than just relatable; they represent the diverse experiences and voices within the black female community, making the show a critically important platform for representing black women on the small screen. Moreover, it's worth mentioning the poignant use of music in the series. From sultry jams to soulful tracks, music plays a key role in setting the tone for many scenes. The soundtrack complements the storyline and characters, providing another layer of authenticity and depth to the series. Sistas continually exhibits a delicate balance between showcasing heart-wrenching situations, genuine emotions and occasionally sprinkling humor, evidencing Tyler Perry's finesse in delivering captivating narratives. With its authentic characters, honest dialogue, and true-to-life situations, Sistas offers viewers an unprecedented peek into the lives of contemporary black women. At every turn, Sistas promises to delight, stimulate, and resonate with audiences of all backgrounds, proving its spot as a powerful narrative in contemporary television.
Sistas is a series categorized as a . Spanning 6 seasons with a total of 124 episodes, the show debuted on 2019. The series has earned a moderate reviews from both critics and viewers. The IMDb score stands at 5.6.
How to Watch Sistas
How can I watch Sistas online? Sistas is available on BET with seasons and full episodes. You can also watch Sistas on demand at Amazon Prime, Philo, BET, Amazon, Google Play, Vudu online.
Cast
Kj Smith, Mignon, Ebony Obsidian

Similar Shows like Sistas