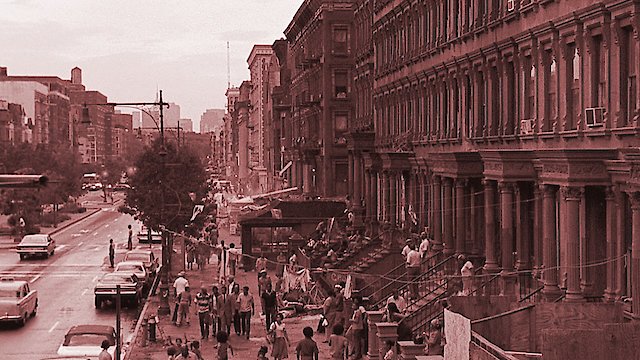 Where to Watch American Gangster
10
Kenneth 'Supreme' McGriff
A closer look at the life and crimes of a New York drug dealer, Kenneth 'Supreme' McGriff, who becomes involved in the music industry and his conviction of killing a pair of rivals.
Watch American Gangster Season 2 Episode 10 Now
A look at the life and crimes committed by 1980's Washington D.C. drug lord, Rayful Edmond III.
Watch American Gangster Season 2 Episode 9 Now
A inside look at Chaz Williams and how his career path leaned him into the music business.
Watch American Gangster Season 2 Episode 8 Now
7
Jeff Fort and the Blackstone Rangers
A profile of Jeff Fort, a Chicago street gang leader who merged a bunch of smaller gangs into one huge organization in the 1960's. Includes footage of Fort's speech to Islam and a look at his connection with political figures.
Watch American Gangster Season 2 Episode 7 Now
Felix Mitchell was an Oakland kingpin who lived an extravagant lifestyle before his imprisonment in 1985, and susequent stabbing in 1986. Interviews include Too $hort and Yukmouth, former Oakland mayor Elihu Harris.
Watch American Gangster Season 2 Episode 6 Now
The profile of Frank Lucas, a former driver for notorious Harlem gangster Bumpy Johnson, who became a wealthy drug kingpin in his own right. Features interviews with Lucas himself and Det.
Watch American Gangster Season 2 Episode 5 Now
Profiling John Allen Muhammad and Lee Boyd Malvo, the men behind the 2002 sniper killings in the Washington D.C.
Watch American Gangster Season 2 Episode 4 Now
Chronicling the exploits of "Little Melvin" Williams, a drug kingpin credited for revolutionizing Baltimore's heroin trade.
Watch American Gangster Season 2 Episode 3 Now
Profiling Larry Hoover, the incarcerated leader of Chicago's Gangster Disciples. Among those weighing in on Hoover's impact on gang culture and on current activities are his family, friends and federal prosecutors.
Watch American Gangster Season 2 Episode 2 Now
1
Philly Black Mafia `Do for Self'
Season 2 begins with a look at Philadelphia's Black Mafia, formed in the late 1960's, and their extortion policies designed to keep money and business within the black community. Also examined are the syndicates most notorious crimes, including the 1971 Dubrow Furniture store robbery and fire; the 1972 Club Harlem shoot out in Atlantic City and the 1973 Hanafi killings in Washington, D.
Watch American Gangster Season 2 Episode 1 Now

American Gangster, which aired on Black Entertainment Television (BET) from 2006 to 2009, is a thought-provoking and gritty documentary series that sheds light on some of the most influential, notorious and enigmatic figures from America's criminal past. Acclaimed filmmaker Nelson George serves as the executive producer and narrator of the series which creatively parallels the lives of these infamous figures to their respective time periods and societal contexts. The show spans three full seasons, with each episode running for approximately 60 minutes, amplifying the drama and providing in-depth chronicles of these nefarious characters. Exceptionally well-researched, each episode of American Gangster delves deep into the lives of these infamous personalities, utilizing interviews, archival footage, police reports and first-hand accounts from those close to these figures, to piece together an engaging and authentic narrative of America's criminal underworld. The criminals featured rip through the pages of history, each notorious in their own right and with their unique brand of notoriety whether they be contract killers, drug lords, or organized crime figures. Some episodes explore the lives of figures such as notorious drug trafficker "Freeway" Rick Ross, infamous gangster Leroy "Nicky" Barnes, the organized crime figure Frank Lucas, and cop-killer Lorenzo "Fat Cat" Nichols. Significantly, American Gangster extends beyond merely portraying these figures as one-dimensional 'bad guys.' On the contrary, the series places them within their respective sociopolitical contexts, providing insight into the circumstances that led them down the path of crime. Pulsating with narratives of ambition, poverty, race, and the American Dream turned nightmare, the series provides a gritty, unapologetically honest view of these figures' rise to infamy, the breadth of their influence, and their eventual downfall. For instance, American Gangster doesn't shy away from exploring how socioeconomic disparities, racial prejudice, failed social systems, and the overarching narrative of the American dream might lead individuals toward a life of crime. It examines the conditions in which these characters were raised, the communities they belonged to, the adversity they faced, and how those elements played a significant role in their decision-making. It's not a justification for their actions, of course, but it's an elucidation of their life circumstances that is typically ignored by mainstream media. In addition to highlighting crimes and criminals, American Gangster shines an essential light on law enforcement and the justice system, depicting how they've grappled with these figures and the challenges they've faced in trying to bring them to justice. As a part of this examination, the series also dives into systemic issues within these institutions, indirectly posing engaging questions about justice, law, and equality to its viewers. American Gangster's honesty, depth of research, and compelling storytelling made it a critical success and a viewer favorite during its on-air time. While it might seem like a typical true-crime show on the surface, its exploration of America's socio-cultural fabric and the criminal justice system set it apart from contemporaries during its runtime. The show offers critical insights on the institutions, systems and individuals that litter America's complex criminal landscape, making it a truly immersive, elucidative and thought-provoking experience. It bravely tackles controversial issues while reframing the narratives of these infamous figures, descending beyond the stereotype and into the psyche of these characters and the society they molded and manipulated. In conclusion, American Gangster is an exemplar of meticulous investigative storytelling paired with dynamic, unparalleled narration — making it essential viewing for any avid viewer of crime, history, and sociology alike. It breathes life into the tales of America's most notorious law-breakers and regales audiences with stories of ambition, power and downfall, delivered in a candidly raw and provocative style.
American Gangster is a series categorized as a canceled/ended. Spanning 3 seasons with a total of 26 episodes, the show debuted on 2006. The series has earned a moderate reviews from both critics and viewers. The IMDb score stands at 7.9.
How to Watch American Gangster
How can I watch American Gangster online? American Gangster is available on BET with seasons and full episodes. You can also watch American Gangster on demand at Apple TV online.
Genres
Documentary & Biography

Similar Shows like American Gangster