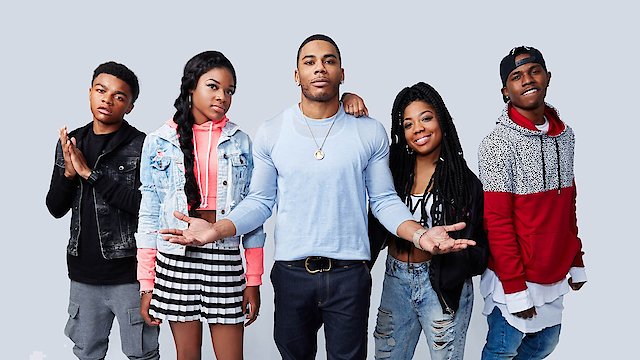 Where to Watch Nellyville
Nelly attends Stink's high school graduation and has a big surprise for her. Nelly performs on tour in St.
Watch Nellyville Season 2 Episode 12 Now
Nelly connects Nana with the chance to record with a famous producer. Stink and Nana fix Shawn up on a blind date, while he and Shad are considering moving to LA.
Watch Nellyville Season 2 Episode 11 Now
Shawn and Shad record with LA producers and book a last minute gig. Nelly performs the important kickoff show on the NKOTB and TLC tour and record with an LA producer.
Watch Nellyville Season 2 Episode 10 Now
Nelly rolls into Vegas to rehearse for his big New Kids on the Block and TLC tour, but he's forced to change his intro only days before the kickoff show. Nelly talks to Nana about her desire to quit school and pursue music full time.
Watch Nellyville Season 2 Episode 9 Now
Nelly supports Miss Jackson through a terrible loss and invites her to come on tour with him. Shawn throws a bowling charity event to raise money for cancer research in honor of his mother.
Watch Nellyville Season 2 Episode 8 Now
Nelly opens up to his kids about his recent arrest. Nana considers nose surgey. Shawn and Shad book a gig in Chicago.
Watch Nellyville Season 2 Episode 7 Now
Nelly gets arrested on the road. Nana's friends encourage her to move on and go on a date after the loss of her last boyfriend.
Watch Nellyville Season 2 Episode 6 Now
Nelly and Tre face off in basketball at Tre's 16th birthday party. Nelly takes Nana and Shawn to Atlanta for a big bash to celebrate Nana's 21st birthday.
Watch Nellyville Season 2 Episode 5 Now
Nelly takes the kids back to his second home that his sister was decorating before she died. Tre takes a crash course in broadcasting to see if he has what it takes for a career in sportcasting.
Watch Nellyville Season 2 Episode 4 Now
When Stink gets cold feet about walking in a New York Fashion Week show, Nana flies to her side, while back in St. Louis, Nelly has a surprise for Tre on his 16th birthday.
Watch Nellyville Season 2 Episode 3 Now

Delivering a unique perspective into the complex world of a high-profile celebrity and the constant negotiation between personal life and public persona, BET's 2014 television series, Nellyville, is a gripping reality series that perfectly captures the life of multi-platinum rapper and superstar, Cornell Haynes Jr., better known as Nelly. The show is not only a portrayal of Nelly's sparkling music career, but also a venture into his profound journey as a devoted father aiming to create balance within his family life and career. Set in the lively cityscape of St. Louis, Missouri, Nellyville serves up an intimate look into the life of Nelly, whose music has been reverberating through the world stage since the late '90s. Unlike numerous reality shows that revolve around the volatile celebrity life, Nellyville profoundly accentuates Nelly's role as a fashionably modern single father who's doing everything he can to provide his children with the best life possible. This familial core, with its authentic, unfiltered moments, expands the series beyond the usual reality-TV clichés. The series adjustments from capturing Nelly as he explores his tumultuous career — juggling live concert preparations, brand management, charitable endeavors, music recording, and business meetings — to meticlously revealing his domestic life, presenting an unparalleled juxtaposition. This gives viewers access to the private Nelly, who cares passionately about his family, friends, and children: biological daughter Nana, son Cornell 'Tre' Haynes III, and his late sister's kids, Lil Shawn and Sydney. Following his sister's untimely death, Nelly becomes the legal guardian for Lil Shawn and Sydney, a responsibility he embraces effortlessly. Nellyville is a standout exemplar of how a family-oriented reality show should be produced. Without making any compromise to sensationalism, the focus remains intently on Nelly's responsibilities as a father, guardian, and mentor. He is depicted urging his kids to focus on their education and teaching them valuable life lessons. Nelly's approach to parenting is showcased, grounding the series in familiar, relatable aspects of parenthood which juxtaposes with the rarefied status of a Grammy-winning superstar. Moreover, the series doesn't shy away from featuring the family dealing with various setbacks and hurdles both at home and in their careers. Viewers gain an in-depth insight into Nelly's role as a supportive father, guiding his kids through the ups and downs of being teenagers and young adults. His enduring fatherly love and guidance, particularly towards his youngest kids who are striving to define their identity and facing their own sets of challenges, remain heartening and human. The reality show is also painted with occasional appearances from Nelly's dazzling crew of celebrity friends, giving an unfeigned glimpse of the industry's influence on the lives of Nelly and his family. Episodes proficiently blend real-life drama with thought-provoking reflections on demand of fame, strikingly retraced through interactions with Nelly's colleagues and surprising cameos. Simultaneously, Nellyville illuminates the factors that contributed to the making of Nelly as one of the best-selling rappers in the music industry, highlighting his inexhaustible determination to remain at the top of his game. It showcases the amount of effort and hard work Nelly puts into his career as well as dealing with the disappointments that come with it. While maintaining the profundity of the show, Nellyville also houses novelty, providing an inkling of fun in every episode. The humor is organic, emerging from the dynamics and amiable banter between family members. It's a refreshing departure from the staged drama often seen in similar reality TV shows and adds a layer of depth to this candid portrayal of a somewhat unconventional family. Nellyville succeeds in unraveling various dimensions of Nelly's life, balancing his universal superstar status and his role as a single father, all while endeavoring to simultaneously remain true to his core values. The series uncovers the commonalities between his public and private life, evoking the bittersweet reality of being a celebrity and the challenges it presents to one's personal life. At its heart, Nellyville is an absorbing reality series that admirably casts light on the trials, triumphs, resilience, and unity of a family dealing with unique circumstances. Its engaging narrative, relatable themes, and its heart of gold makes it a must-watch, not only providing viewers with an insight into the life of a renowned rapper but also offering a touching portrait of his journey as a devoted father.
Nellyville is a series categorized as a currently airing. Spanning 2 seasons with a total of 29 episodes, the show debuted on 2014. The series has earned a mostly positive reviews from both critics and viewers. The IMDb score stands at 8.4.
How to Watch Nellyville
How can I watch Nellyville online? Nellyville is available on BET with seasons and full episodes. You can also watch Nellyville on demand at Apple TV Channels, Amazon Prime, BET+, BET online.
Genres
Documentary & Biography, Drama, Music

Stream shows like Nellyville