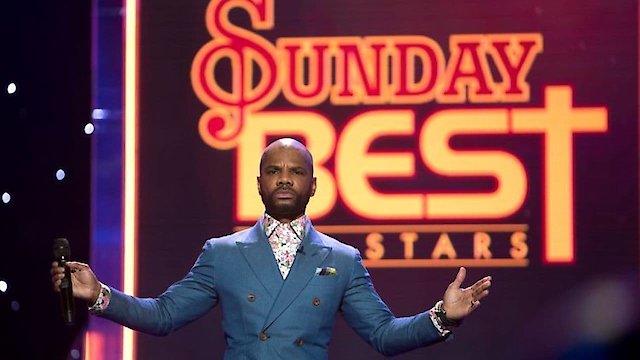 Where to Watch Sunday Best
Celebrating gospel with performances by The Clark Sisters, Erica Campbell, Jonathan McReynolds, Kierra Sheard and Melvin Crispell III; Kirk Franklin will reveal who America voted as the winner.
Watch Sunday Best Season 10 Episode 8 Now
Marvin Sapp performs; three finalists tackle their most difficult challenge -- a double performance; competitors work with producer Warryn Campbell on an original song followed by a song of their choice.
Watch Sunday Best Season 10 Episode 7 Now
Ricky Dillard performs; the top five take it back to the choir stand, backed by Oakwood University's Dynamic Praise choir; singers will compete to harness the power of the choir in their virtual performance with hopes of making it into the top three.
Watch Sunday Best Season 10 Episode 6 Now
Gospel music artist Richard Smallwood performs; the seven remaining hopefuls are challenged to honor his legacy by trying to tackle a hit from his legendary songbook.
Watch Sunday Best Season 10 Episode 5 Now
Yolanda Adams performs; the nine remaining competitors take an R&B classic and remix it with a gospel twist.
Watch Sunday Best Season 10 Episode 4 Now
With the help of host and mentor Kirk Franklin, the top 10 contestants perform the songs that best describe their gospel life's journey.
Watch Sunday Best Season 10 Episode 3 Now
The final 10 of the top 20 aspiring singers perform on the "Sunday Best" stage for the chance to advance; the "Sunday Best" final 10 contestants are revealed.
Watch Sunday Best Season 10 Episode 2 Now
Contestants audition in front of the judges who must narrow the field from 20 to 12; with no backing bands or flashy screens, the contenders strive to be one of the final six who will move on to the main competition, along with six others.
Watch Sunday Best Season 10 Episode 1 Now

Sunday Best is a reality television show that aired on the BET network in 2007, which stands as a striking example of a successful blend of music and faith. Presenting a unique twist on the popular theme of singing competitions, Sunday Best specifically targets talented gospel singers aiming to make their mark in the world of Christian music. The show offers a refreshing mix of spirituality and entertainment, capitalizing on the widespread popularity of gospel music while also offering contestants a platform to share their faith and personal stories. Produced by BET Studios, the show is well-structured and engaging, mirroring the format of other popular reality talent shows. Finding its origins in American church traditions, where showcasing musical talents is a regular part of worship services, Sunday Best opens up this experience to a nationwide audience. Aspiring singers from across the country audition, vying for a chance to display their vocal skills on a national platform and receive valuable exposure which could blossom into a successful musical career. The singers participate in a series of extensive auditions, which the show captures in a fascinating behind-the-scenes format. The competition intensifies as the contestants are narrowed down throughout the season. Contestants perform soul-stirring renditions of gospel songs, showing off their range, control, pitch, and emotional delivery. Along with singing abilities, participants are also evaluated on their stage presence, charisma, and potential for being a successful recording artist. Sunday Best draws audiences in every with the contestants' riveting performances and propels them on a musical journey through love, faith, and redemption. Episodes often leave audiences moved, inspired, and eager to see what the next round holds in store. The faith-centered approach of the show distinguishes it from other reality talent shows, grounding the competition in spiritual values and promoting an uplifting environment within which contestants can genuinely express themselves. One of the significant attractions of the show is the presence of the esteemed panel of judges who possess extensive experience and roots in Gospel music. The judges not just critique the performances but also offer invaluable advice on improving their craft, emphasizing the genuine importance of the emotional and spiritual message behind their songs. Their insightful critiques and guidance also provide viewers with a deeper understanding of what it takes to deliver a great gospel performance. Contestants must impress the judges but winning the competition also requires audience approval, as viewers vote for their favorite contestants. The voting process adds a layer of interaction that encourages viewer engagement, leading viewers to feel personally invested in the journey of their chosen contestants. The winner of Sunday Best is awarded a recording contract and cash prize, but more importantly, they receive the title of 'Sunday Best' - a moniker that reflects their commitment not only to their craft but also their faith. This winning combination of religion and reality TV makes Sunday Best an enriching and heart-warming viewing experience, appealing to a wide range of audiences, irrespective of their religious beliefs. Illuminating the unifying power of music and faith, Sunday Best skillfully uses an instantly recognizable television format to promote up-and-coming talent, gospel music, and Christian values. The series supports, encourages and uplifts others, creating a sense of community among its viewers. Its mix of talent show competitiveness, spiritual upliftment, and moving performances constitutes an engaging televisual offering that is both inspirational and entertaining. In conclusion, Sunday Best is more than just a singing competition. The show provides a potent mix of empowering messages, underdog triumphs, emotional storytelling, and transformative gospel music. It also serves as a platform for contestants to inspire others with their faith, perseverance, and musical talents, offering viewers a wholesome and powerful show that presents an uplifting reality television experience.
Sunday Best is a series categorized as a currently airing. Spanning 10 seasons with a total of 102 episodes, the show debuted on 2007. The series has earned a moderate reviews from both critics and viewers. The IMDb score stands at 7.9.
How to Watch Sunday Best
How can I watch Sunday Best online? Sunday Best is available on BET with seasons and full episodes. You can also watch Sunday Best on demand at Amazon Prime, BET+, Apple TV Channels, Sling, Philo, BET online.
Cast
Kirk Franklin, BeBe Winans, Yolanda Adams, Donnie McClurkin, CeCe Winans

Similar Shows like Sunday Best