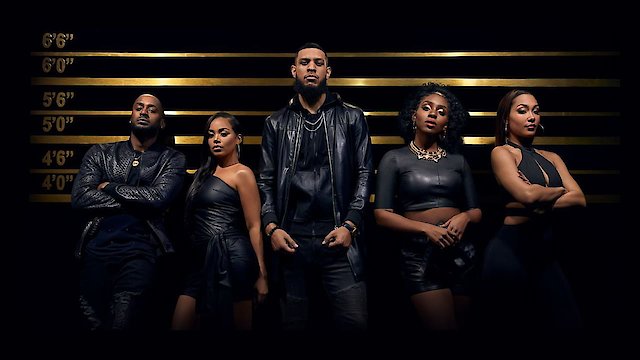 Where to Watch Games People Play
It becomes clear that the spiders have weaved a larger web and our crew finds themselves wrapped up further in that web than ever before. Marques must face the challenge of pursuing his own interests or the safety of those around him.
Watch Games People Play Season 2 Episode 10 Now
Kareem tries his hardest to reconcile with family, but things may not be quite as they seem. Laila is faced with a difficult decision to keep hiding or rise-up and confront her past.
Watch Games People Play Season 2 Episode 9 Now
After a major gaffe on live TV, Kareem faces backlash and must make amends. As MJ gets a larger peek behind the mysterious curtain, Nia spots flags that are deeper than red.
Watch Games People Play Season 2 Episode 8 Now
7
There's No Place Like Home
Marques and crew embark on a journey to his old high school for an honor to be bestowed on him, but family matters threatens to put a damper on the occasion. Unbeknownst to all, MJ may have foolishly reached the point of no return in the rabbit hole.
Watch Games People Play Season 2 Episode 7 Now
6
The Game Catches Everyone
Laila and Nia attempt to confront Laila's past aggressor as he begins to rise to power. MJ is forced to make an extremely difficult decision that could ruin all progress that has beenmade.
Watch Games People Play Season 2 Episode 6 Now
Laila's world is rocked as she is faced with a terrible trauma from her past. Marques is finally able to open up and begin the process of recovery on to road to happier times.
Watch Games People Play Season 2 Episode 5 Now
Nia 's resolve strengthens as she continues on her path to find the truth. Marques is handed another slap in the face as the Vipers begin to push him aside in favor of Romello.
Watch Games People Play Season 2 Episode 4 Now
The lines between Marques's personal and professional problems blur and start to collide as he attempts to weather a storm. Nia, Eric and MJ learn that the curiosity of the cat is a treacherous thing.
Watch Games People Play Season 2 Episode 3 Now
An ambitious reporter, a desperate housewife, a scandalous seductress and the men in their lives.
Watch Games People Play Season 2 Episode 2 Now
While Laila appears to start a path toward certain stardom after a chance encounter, Marques and Kareem are faced with shocking revelations that rock each of them to their core.
Watch Games People Play Season 2 Episode 1 Now

Games People Play is an engaging television drama series originally premiered on BET (Black Entertainment Television) in 2019. The series is based on the popular book "Games Divas Play" by Angela Burt-Murray, which delves into the high-stakes world of professional basketball, exploring the rampant ambitions, deep-seated secrets, and fierce struggle for power. Set in contemporary Los Angeles, this captivating drama revolves around the life of Marques King, a newly crowned basketball superstar, his devoted wife Vanessa King, and his best friend turned agent, Kareem Johnson. As the show progresses, the audience is taken through the glitz and glamour of high-profile celebrity life, behind-the-scenes machinations, complicated relationships, and the inevitable scandals that come with fame and fortune. Games People Play seamlessly blends elements of sports, mystery, betrayal, love, and suspense, making it a unique and addictive series, particularly appealing to the viewers interested in athletic drama and mysteries. The dynamic characters introduced in the series bring an array of diverse perspectives, contributing to the multi-layered narrative. The lead character, Marques King, played by Sarunas J. Jackson, is an ambitious and professional basketball player known for his skills on the court. Marques is navigating the demanding world of professional sports and dealing with the newfound fame that certainly comes with a price. His partner, Vanessa King, portrayed by Vanessa Simmons, is a charming, intelligent, and devoted woman trying to maintain her role as a supportive wife while dealing with the intricate world of intrigues and scandals that surround her husband's successful career. Completing the central trio is Jackie Long's character, Kareem Johnson, Marques' best friend and agent. Kareem is a driven individual dedicated to handling Marques' career but finds himself caught up in the less glamorous side of the sporting world, which includes deceit, manipulation, and controversial business deals. Adding intrigue to the plot is ambitious journalist Nia Bullock, played by Karen Obilom. Nia, a relentless reporter, finds herself on a complex trail, exploring the battle between personal ambition and ethical journalism. The story gets entwined when Nia's pursuit collides with the lives of the central characters. Games People Play takes a deep dive into the world of the rich and the famous, perfectly encapsulating the challenges and dilemmas associated with high-stakes sports, fame, and fortune. It also sheds light on the lives of the wives and girlfriends of the sports stars, often abbreviated as WAGs, revealing how they cope with the pressure, expectations, and scandals associated with their partners' career. While its compelling narrative and well-crafted characters are the show's strong suit, another fascinating aspect of Games People Play is its beautiful and stylish portrayal of Los Angeles. The city, with its high-profile lifestyle and iconic locations, becomes a character in itself, adding authenticity to the series and providing a breathtaking backdrop for the unfolding drama. The series is adeptly created by Tracey Edmonds, a well-known figure in the entertainment industry, and her keen eye for detail and understanding of complex character dynamics and modern issues help provide the audience with a rich and immersive viewing experience. She has successfully managed to translate the essence of the original book onto the screen while also incorporating fresh, contemporary themes that appeal to a wide demographic. The intense cliffhangers, twists, turns, and sweeping revelations at every corner keep the viewers on their toes, making Games People Play an enthralling watch. The stellar ensemble cast delivers authentic performances, further bolstering the rich, character-driven narrative. Themes of friendship, betrayal, loyalty, ambition, power, and love lie at the show's heart, creating a multi-dimensional viewing experience. All in all, Games People Play is a drama series that offers an intimate glance into the fast-paced world of professional sports and celebrity culture, combined with compelling storytelling, layered characters, and gripping plots. Beyond the glitz and glamour, it is a narrative about human emotions, connections, and the struggles involved in maintaining relationships in a world continually under scrutiny. A must-watch for those seeking gripping drama and an inside look at the high-stakes world of sporting celebrities.
Games People Play is a series categorized as a new series. Spanning 2 seasons with a total of 20 episodes, the show debuted on 2019. The series has earned a moderate reviews from both critics and viewers. The IMDb score stands at 6.6.
How to Watch Games People Play
How can I watch Games People Play online? Games People Play is available on BET with seasons and full episodes. You can also watch Games People Play on demand at Amazon Prime, BET+, Apple TV Channels, BET, Sling, Apple TV, Amazon online.
Cast
Karen Obilom, Sarunas J. Jackson, Jackie Long

Similar Shows like Games People Play