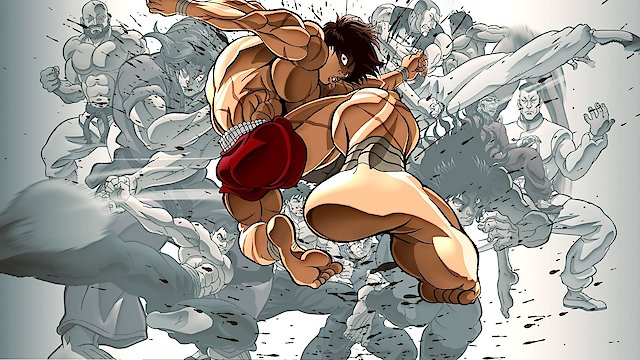 Where to Watch Baki
After Ryukoh Yanagi escapes from prison, Inspector Sonoda attempts to locate the other death row inmates who wreaked havoc on Tokyo.
Watch Baki Season 3 Episode 13 Now
A battle between the sons of two legendary fighters begins deep below Tokyo Dome. It's Baki versus Alai Jr.
Watch Baki Season 3 Episode 12 Now
Badly injured from his street fights, Alai Jr. returns to his hotel room. There his father, the greatest boxer of all time, challenges him to a match.
Watch Baki Season 3 Episode 11 Now
Alai Jr. continues testing his skill against notable fighters, but Baki's half-brother Jack Hammer is unlike any combatant he's faced before.
Watch Baki Season 3 Episode 10 Now
Alai Jr. proposes to Kozue, who's dumbfounded. To prove he's a better man than Baki, Alai Jr. challenges the elderly aikido master Goki Shibukawa.
Watch Baki Season 3 Episode 9 Now
8
The Title of the Strongest
Yujiro pits his raw power against Kaku's martial arts skills, which he's honed for over a century. The match's shocking outcome stuns everyone.
Watch Baki Season 3 Episode 8 Now
Sea Emperor Kaku is the embodiment of Chinese kenpo. Yujiro Hanma is known as the strongest creature on Earth.
Watch Baki Season 3 Episode 7 Now
A genius of Chinese kenpo, Retsu is the superior fighter, but Jaku's dirty techniques and tactical prowess make him a formidable foe.
Watch Baki Season 3 Episode 6 Now
Biscuit Oliva's sheer power is unrivaled, but Shobun Ron and his unconventional fighting stance are unbothered. It's brute strength versus iai kenpo.
Watch Baki Season 3 Episode 5 Now
Sea King Chin and Japan's sole Sea King, Jaku, battle on the tournament floor. Meanwhile, Baki provokes Yujiro into fighting him offstage.
Watch Baki Season 3 Episode 4 Now
Sea Emperor Kaku is 121 years older than his opponent, but the legendary reigning champion doesn't hesitate to face Sea King Samwan in the arena.
Watch Baki Season 3 Episode 3 Now
Alai Jr.'s deadly speed makes quick work of his opponent. A severely emaciated Baki faces Sea King Li, the greatest Poison Hand user in all of China.
Watch Baki Season 3 Episode 2 Now
1
Begin! The Centennial Tournament
Mohammad Alai Jr. tests a battle-eager Yujiro. Even though he's been poisoned, Sea King Retsu enters Baki into the Great Raitai Tournament in China.
Watch Baki Season 3 Episode 1 Now

"Baki" is a Japanese anime series available for streaming on Netflix that was originally aired between 2018 and 2020. The anime is the televised adaptation of the eponymous, long-running manga series by Keisuke Itagaki, and it forms a part of the larger "Baki the Grappler" franchise. The series is a thrilling blend of martial arts, action, and drama, and it has a vivid manga-style animation that is rich in detail and intensity. The storyline revolves around the life of the protagonist, Baki Hanma, a young but extremely skilled martial artist. Baki, born and raised in an environment fervently advocating physical strength, is the son of Yujiro Hanma, the undisputed strongest creature in the world. Even in a family that values combat prowess above all else, Baki's strength and abilities are exceptional. However, his life-long goal is not just to be strong but rather, to surpass his father's strength – an achievement that appears to be nearly impossible. The series tracks Baki's extraordinary journey in pursuit of his goal. Starting from the Underground Arena in Tokyo, he goes on to challenge and compete with various fighters across the world, honing his skills with every battle. The series is patterned like a tournament-style narrative, characterized by continual battle cycles where Baki is tested by larger-than-life foes. These challengers come in different forms, from the world's most notorious criminals who have escaped prison to fight him, to legendary warriors, and even renowned martial artists, each with their unique fighting styles and philosophies. The show constantly delves into the psyche of its fighters and their perspectives on what it means to be strong. Baki's various combats become the stage for showcasing various martial art forms, including Muay Thai, Kickboxing, Jujitsu, Karate, and many more, presumably making it a treat for martial art aficionados. Each episode is a new battle, a new exploration of power dynamics, and a further exploration into the universe's brutal yet fascinating fight culture. "Baki" stands out in its genre for its relentless focus on the pursuit of power and the dynamics between rivals. It succinctly captures the raw intensity of the battles, underpinning it with a philosophical undertone that questions and explores human strength's extremities. The graphic visuals of the anime and the well-detailed fight choreographies provide a visceral appeal which is hard to ignore, catering impeccably to action-loving viewers. The narrative also incorporates elements of comedy and romance, providing relief and further texture to the gritty storytelling. The show's characterisation is another strong point. Every character has a unique personality and a distinct battle spirit that perfectly complements their martial art form. Baki himself is portrayed as a complex character – a hardened, intense fighter with an unwavering resolve, hiding a gentle, tender side, especially in his relationship with his girlfriend, Kozue. The formidable Yujiro Hanma is an intimidating figure, a symbol of power and brutality that Baki continuously strives to overthrow. The bond shared by Baki and Yujiro, fraught with rivalry and resentment, forms the emotional crux of the series. "Baki" features numerous compellingly choreographed fight scenes, characterized by a unique interplay of stylized animation and creative cinematography. The series' insightful exploration of the martial world, complete with its combat tactics, discipline, and hard-earned respect, forms an essential part of its distinct charm. In conclusion, "Baki" is an enthralling anime series that smoothly blends martial art action with elements of drama, comedy, and romance. With its carefully crafted storyline, meticulously designed characters, and intense combative face-offs richly animated, the series promises a riveting viewing experience packed with excitement, engagement, and adrenaline. Whether you're a fan of martial arts, an anime enthusiast, or a viewer who enjoys compelling story-telling, "Baki" constitutes an adventurous plunge into the world of strength and combat worth exploring.
Baki is a series categorized as a new series. Spanning 3 seasons with a total of 39 episodes, the show debuted on 2018. The series has earned a moderate reviews from both critics and viewers. The IMDb score stands at 6.8.
How to Watch Baki
How can I watch Baki online? Baki is available on Netflix with seasons and full episodes. You can also watch Baki on demand at Netflix online.
Genres
Action & Adventure, Anime, Crime, Drama, Sports
Cast
Tôru Furuya, Kirk Thornton, Troy Baker