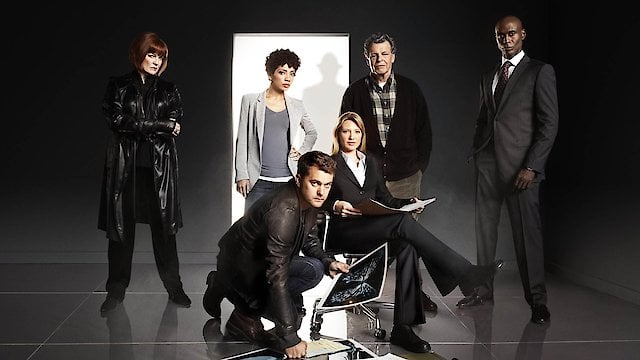 Where to Watch Fringe
The series finale comes to a shocking and climatic conclusion.
Watch Fringe Season 5 Episode 13 Now
The exciting worlds of "Fringe" reveal a mind-blowing ending as the team engages in one final battle.
Watch Fringe Season 5 Episode 12 Now
Walter hopes to find out more about the elusive figure Donald and enters the deprivation tank. Captain Windmark embarks on a critical mission.
Watch Fringe Season 5 Episode 11 Now
As the countdown to the climactic series finale nears, the Fringe team is racing against the clock to save the world. As Peter, Olivia, Astrid and Walter scramble to tap into a key piece of the puzzle to defeat the Observers, they enlist the aid of Nina Sharp who orchestrates a plan.
Watch Fringe Season 5 Episode 10 Now
Walter takes an LSD trip down memory lane in an attempt to triumph over the Observers. Meanwhile, Peter and Olivia follow a mysterious signal to the woods, where they discover an unimaginable scene.
Watch Fringe Season 5 Episode 9 Now
Olivia becomes acquainted with a woman who is like an oracle, as she works to locate an important piece of equipment for Walter; Peter is in trouble as he watches Windmark.
Watch Fringe Season 5 Episode 8 Now
As the fight for the future intensifies, a member of the Fringe team orchestrates a Fringe event of his own.
Watch Fringe Season 5 Episode 7 Now
6
Through the Looking Glass and What Walter Found There
One of the members of the Fringe team assumes a new position. Walter depends on the developing leads he's following to find out important information needed to fight against the Observers.
Watch Fringe Season 5 Episode 6 Now
The Fringe team deals with the aftermath of devastating events, and a key member makes an unexpected move.
Watch Fringe Season 5 Episode 5 Now
4
The Bullet That Saved The World
When the Fringe team follows a lead into a hostile and heavily guarded location, Phillip Broyles appears...but can he be trusted?
Watch Fringe Season 5 Episode 4 Now
The team run into a group of people in the forest dedicated to recording the history of mankind.
Watch Fringe Season 5 Episode 3 Now
The Fringe team go to Walter's old lab at Harvard searching for information that could help their current rebellion against the Observer overlords.
Watch Fringe Season 5 Episode 2 Now
1
Transilence Thought Unifier Model-11
In the season premiere, Peter is reunited with his daughter, together they go out to find out what happened to his wife.
Watch Fringe Season 5 Episode 1 Now

Fringe, a thrillingly unique American science fiction television series, aired originally on the FOX network from 2008-2013. The show's enthralling narrative is a concoction of a variety of genres including drama, crime, horror, and mystery, fused seamlessly with elements of speculative fiction. Fringe, bedecked with a stellar cast featuring the likes of Anna Torv, Joshua Jackson, John Noble, Jasika Nicole, Lance Reddick, Kirk Acevedo, Blair Brown, Seth Gabel, Mark Valley, Michael Cerveris, and Ari Graynor, successfully captivated audiences and critics alike during its five-season run. The series was the brainchild of three creative powerhouses in the entertainment industry: J.J. Abrams, Alex Kurtzman, and Roberto Orci, who are well-known for their work in creating unique narratives. The central premise of Fringe revolves around the premise of 'Fringe' science - an area that explores the less accepted and more exploratory fields like teleportation, reanimation, mind control, and other unexplained phenomena. The narrative follows Olivia Dunham (portrayed by Anna Torv), an FBI Special Agent who is brought into the fray of the Fringe Division after a horrifying incident on an international flight. Investigating these aberrant scientific occurrences, she is tasked to unravel the mysteries and keep them from threatening societal balance. Facing these enigmatic occurrences, Olivia seeks assistance from Peter Bishop (Joshua Jackson) and his estranged father, Dr. Walter Bishop (John Noble). With Walter's acumen in 'Fringe' science, the crew embarks on a mission to investigate the source of these occurrences. Fringe paints an immersive picture of this trios' odyssey into the unknown. Each episode brims with thrilling discoveries and the uncovering of profound truths in their quest, eluding the traditional storyline of science fiction series. The characters are carefully developed over time, with their interpersonal dynamics adding depth to the storyline. The other members of the show such as Jasika Nicole as Astrid Farnsworth, Lance Reddick as Phillip Broyles, Kirk Acevedo as Charlie Francis, Blair Brown as Nina Sharp, and Michael Cerveris as September/ The Observer each play critical roles in the overarching narrative. Fringe presents an immersive world masterfully juxtaposed with our reality, beautifully intertwined with elements of imagination and the inexplicable. Moreover, the series does not shirk away from broaching complex theories of parallel universes, time-space continuum disturbances, and other theoretical physics concepts. Coupled with its gripping narratives, the show skillfully deconstructs these complex theories into digestible updates, making it captivating to a broad range of audiences irrespective of their backgrounds. One of Fringe's most significant achievements lies in its distinctive storytelling method. While each episode revolves around the investigation of the Fringe team, there lies an overarching storyline connecting these standalone stories. This episodic yet serial story structure adds to the series' immersive and engaging experience. Accentuating the series' pacing and mood is its meticulous musical score, courtesy of music maestro Michael Giacchino. The series also flaunts striking visual effects, elevating the otherworldly storyline with a level of realism and intrigue. Despite being couched in a world of science and mystery, at its heart, Fringe is a character-driven drama that explores relationships, love, loss and personal growth amid a backdrop of otherworldly perils and marvels. The audience is treated to beautifully rendered character arcs, making the viewers feel invested in their journey and the world they inhabit. In conclusion, Fringe is much more than a typical science fiction drama series. It's a remarkable blend of intriguing characters, groundbreaking conceptual theories married with compelling storylines, and top-tier production quality. The series was lauded for its audacious storytelling approach and received various accolades for its stellar performances, especially John Noble's portrayal of Dr. Walter Bishop. The compelling world of Fringe continues to captivate fans, making it a distinguished entry in the oeuvre of television science fiction.
Fringe is a series categorized as a canceled. Spanning 5 seasons with a total of 100 episodes, the show debuted on 2008. The series has earned a mostly positive reviews from both critics and viewers. The IMDb score stands at 8.4.
How to Watch Fringe
How can I watch Fringe online? Fringe is available on FOX with seasons and full episodes. You can also watch Fringe on demand at Max, Amazon Prime, Apple TV, Amazon, Google Play, Microsoft Movies & TV, Vudu online.
Genres
Drama, Science Fiction
Cast
Anna Torv, Joshua Jackson, John Noble