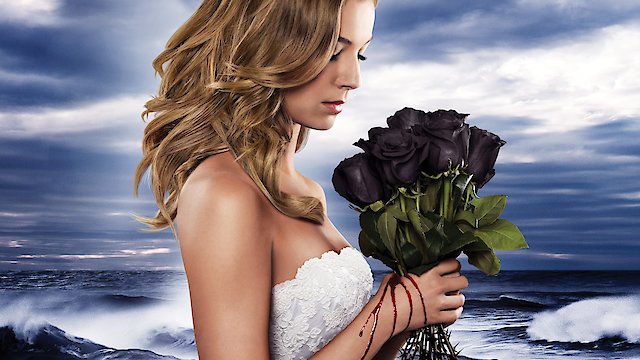 Where to Watch Revenge
With few options left, Emily must reveal her guilt.
Watch Revenge Season 4 Episode 23 Now
Emily fights friends and foes to learn the truth about Victoria.
Watch Revenge Season 4 Episode 22 Now
Emily's friends are worried she isn't coping well with her life circumstances.
Watch Revenge Season 4 Episode 21 Now
Victoria decides to take matters into her own hands when she is attacked.
Watch Revenge Season 4 Episode 20 Now
Emily's hopeful future is threatened after Victoria finds out some new, dark secrets.
Watch Revenge Season 4 Episode 19 Now
Emily is faced with collateral damage while grieving. Victoria follows a new lead.
Watch Revenge Season 4 Episode 18 Now
Emily works to clear Jack's name. Louise and Nolan are visited by Officer Ben Hunter.
Watch Revenge Season 4 Episode 17 Now
Margaux steps up her plans to take down anyone who stands in her way.
Watch Revenge Season 4 Episode 16 Now
Margaux uses her ammunition against Jack and Emily.
Watch Revenge Season 4 Episode 15 Now
Emily tries to help Nolan's bride handle her secrets. Victoria meets a mysterious new socialite that's come to town.
Watch Revenge Season 4 Episode 14 Now
Emily and Victoria must set aside their differences or they'll die alone.
Watch Revenge Season 4 Episode 13 Now
David finally decides to settle his debt to Victoria while Emily helps Nolan with a takedown of his own.
Watch Revenge Season 4 Episode 12 Now
Emily and Victoria are suffering from so much grief. Meanwhile, David leaps into protective mode to safeguard those he loves.
Watch Revenge Season 4 Episode 11 Now
A new woman enters Jack's life. Louise and Nolan offer some Southern charm to East Hampton.
Watch Revenge Season 4 Episode 10 Now
Emily and Victoria learn that information is the most dangerous weapon while Nolan offers up information of his own in order to salvage his reputation due to David's accusations.
Watch Revenge Season 4 Episode 9 Now
Victoria's future hangs in the balance as the FBI closes in and a mysterious new enemy strikes.
Watch Revenge Season 4 Episode 8 Now
Daniel quizzes Emily about the secrets she has hidden. Things between Margaux and Louise continue to intensify.
Watch Revenge Season 4 Episode 7 Now
David and Nolan start back up in a very public way. Emily is concerned about Charlotte.
Watch Revenge Season 4 Episode 6 Now
Victoria now has full control. With the focus on David, Emily hopes to reunite with her dad.
Watch Revenge Season 4 Episode 5 Now
Emily is completely shaken up when she discovers an unexpected revelation. Victoria sinks her claws into David.
Watch Revenge Season 4 Episode 4 Now
Victoria makes plans for a potentially lethal family reunion, which puts Emily in danger.
Watch Revenge Season 4 Episode 3 Now
Emily confronts her former friends and a lifelong enemy in order to find Victoria.
Watch Revenge Season 4 Episode 2 Now
Emily's party becomes filled with unexpected turns of events. Victoria's misfortune may turn into something good as she works to make things better.
Watch Revenge Season 4 Episode 1 Now

Revenge, which aired on the ABC network from 2011 to 2015, is a compelling dramatic series known for its intricate plotlines, complex characters, and candid exploration of the nature of retribution. This primetime soap opera is inspired by Alexandre Dumas' famous novel, "The Count of Monte Cristo," and is set within the picturesque confines of Hampton, adding a sleek veneer to the tale of revenge at its core. Emily VanCamp stars as Emily Thorne (real name Amanda Clarke), the protagonist whose mission to exact vengeance defines the overarching narrative of the series. In her childhood, Emily's father, David Clarke (James Tupper), was wrongfully convicted for a crime he did not commit. This scandalous event triggers her quest for retribution. Years later, she re-enters society under an assumed name with a singular purpose - to retaliate against everyone who destroyed her family's life and reputation. Her main adversaries are the Graysons, a powerful family residing in Hamptons, who played a key role in framing her father. The matriarch and patriarch of the Grayson family are Victoria Grayson (Madeleine Stowe) and Conrad Grayson (Henry Czerny), characters who are as engrossing as they are ruthless. Other vital characters are Victoria and Conrad's children: Daniel Grayson (Josh Bowman) and Charlotte Grayson (Christa B. Allen), who become unwitting pawns in Emily's strategic game. Additional noteworthy characters who fluctuate between being allies or obstacles for Emily include Nolan Ross (Gabriel Mann), Ashley Davenport (Ashley Madekwe), Declan Porter (Connor Paolo) and Jack Porter (Nick Wechsler), amongst others. The series features notable guest appearances from actors such as Jennifer Jason Leigh, Courtney B. Vance, and James Purefoy, each bringing different dimensions that contribute to the ever-evolving dynamics of the narrative. The heart of Revenge lies in Emily Thorne and her relentless pursuit of justice. Her journey becomes even more intriguing as she navigates the treacherous yet luxurious high-society world of the Hamptons. From high-stake parties, clandestine affairs, to harrowing betrayals, the series always maintains a sense of high drama and intensity that captivates the viewers. Revenge is also notable for its intricate and layered storytelling. The narrative often employs flashbacks as a vital storytelling device, gradually revealing the history of Emily's father and the conspiracy that led to his downfall. The show presents a rich tapestry of interconnected subplots focusing on themes of loss, loyalty, power, and identity, which consistently adds depth to the story. While the narrative is full of dark plots and intricate mysteries, there are also moments of romance, friendship, and human connection which offer much-needed respite from the otherwise relentless tension. The complex relationships, especially Emily's entanglements with various characters, offer some of the series' most emotionally charged moments and narrative twists. The series was developed by Mike Kelley, who sets a tense yet sophisticated tone for the series right from the first episode, immersing viewers into a world where every character has a secret, a grievance, or an ulterior motive. The directorial style, visual aesthetics, and stunning locations collectively create a lush and stylish canvas for this story of vengeance, while the nuanced performances immerse the viewers in the emotional depths of the narrative. As the story unfolds, viewers are kept constantly on edge as Emily's complex plans come together and start to unravel. The character's moral quandaries, the ethical limitations of what she is willing to do for revenge, and the collateral damage incurred on her journey are thought-provoking, adding a philosophical layer to this enthralling series. In summary, Revenge is a gripping tale of retribution that fascinates with its complex narrative, intriguing character dynamics, and an intoxicating mix of suspense and melodrama. A balance of elegance and edgy plotlines, it's a series that enthralls from start to finish, captivating viewers with its unpredictable twists and turns. The performances, particularly that of Emily VanCamp, Josh Bowman, and Madeleine Stowe are exemplary and evoke empathy as they make their choices in this thrilling game of power, deception, and redemption. It is, undeniably, a must-watch for those who enjoy high-stakes drama and suspense.
Revenge is a series categorized as a canceled. Spanning 4 seasons with a total of 91 episodes, the show debuted on 2012. The series has earned a moderate reviews from both critics and viewers. The IMDb score stands at 7.8.
How to Watch Revenge
How can I watch Revenge online? Revenge is available on ABC with seasons and full episodes. You can also watch Revenge on demand at Hulu Plus, Apple TV, Amazon, Google Play, Vudu online.
Cast
Kritteera Inpornwijit, Lalita Panyopas, Chaleumpol Tikumpornteerawong

Stream shows like Revenge