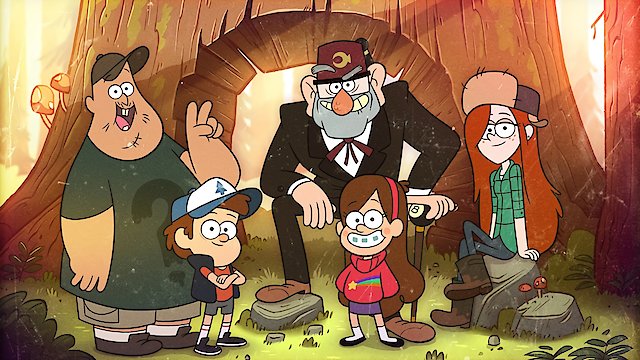 Where to Watch Gravity Falls
Ford discovers Bill's ultimate motive and one last confrontation with Bill results in the Pines family's final fate and biggest sacrifice.
Watch Gravity Falls Season 2 Episode 21 Now
20
Weirdmageddon (3): Take Back The Falls
While Ford discovers Bill's true motives, the Mystery Shack crew forms a plan to fight back. A final confrontation against Bill leads to the Pines family's ultimate fate.
Watch Gravity Falls Season 2 Episode 20 Now
19
Weirdmageddon Part II: Escape from Reality
It's up to Dipper, Soos and Wendy to rescue Mabel from a weird new world, while Bill's squad plans what they will do next.
Watch Gravity Falls Season 2 Episode 19 Now
Trapped in the apocalypse and menaced by villains new and old, Dipper finds himself in a race against time.
Watch Gravity Falls Season 2 Episode 18 Now
17
Dipper and Mabel vs. the Future
Mabel arranges a 13th birthday celebration for her and Dipper; Dipper wanders below the city to find a big surprising secret.
Watch Gravity Falls Season 2 Episode 17 Now
Grunkle Stan travels to Oregon with the kids. He tries to destroy the tourist traps.
Watch Gravity Falls Season 2 Episode 16 Now
Peril faces Mabel entering the enchanted realm of the unicorns. Dipper discovers something about the obscure Bill Cipher.
Watch Gravity Falls Season 2 Episode 15 Now
14
The Stanchurian Candidate
Grunkle Stan decides to run for mayor and Dipper and Mabel try to help become the ultimate candidate.
Watch Gravity Falls Season 2 Episode 14 Now
13
Dungeons, Dungeons, & More Dungeons
Dippers favorite board game come in the mail and his great uncle plays it with him.
Watch Gravity Falls Season 2 Episode 13 Now
The reuniting of the Pine brothers Stanford and Stanley. A series of flashbacks from their lives are shown, and their history together is explained.
Watch Gravity Falls Season 2 Episode 12 Now
With Stan in custody, Dipper and Mabel wonder how much they really know about him.
Watch Gravity Falls Season 2 Episode 11 Now
Pacifica gets Dipper's help to get rid of a ghost in the Northwest Mansion.
Watch Gravity Falls Season 2 Episode 10 Now
Mabel takes matchmaking to a whole new level when she steals a love potion from a real love god.
Watch Gravity Falls Season 2 Episode 9 Now
Blendin Blandin is back to face Dipper and Mabel.
Watch Gravity Falls Season 2 Episode 8 Now
7
Society of the Blind Eye
The kids, along with Old Man McGucket's help, discover there is a secret society in Gravity Falls.
Watch Gravity Falls Season 2 Episode 7 Now
6
Little Gift Shop of Horrors
Stan is cursed by a witch; Mabel braves Claymotion; Waddles eats a bowl of jelly and creates a machine that permits him to speak.
Watch Gravity Falls Season 2 Episode 6 Now
Soos wants to go on a date, so he decides to look into a dating simulator.
Watch Gravity Falls Season 2 Episode 5 Now
Mabel decides to put on a huge sock puppet rock opera.
Watch Gravity Falls Season 2 Episode 4 Now
Mabel and Pacifica battle it out in a miniature golf contest.
Watch Gravity Falls Season 2 Episode 3 Now
The family tries to return back to normal by throwing a party.
Watch Gravity Falls Season 2 Episode 2 Now
The family tries to get things back to normal by hosting a party.
Watch Gravity Falls Season 2 Episode 1 Now
101
Gravity Falls: Between the Pines
Behind the scenes insight from Alex Hirsch.
Watch Gravity Falls Season 2 Episode 101 Now

Gravity Falls is a compelling, animated television series from Disney that captivated children and adults alike from 2012 to 2016. The show revolves around the thrilling, mysterious and fascinating adventures of 12-year-old fraternal twins Dipper and Mabel Pines. Born in Piedmont, California, the two are sent to spend their summer vacation in the town of Gravity Falls, a remote and spooky area in Oregon, to visit their great-uncle Stanford "Stan" Pines. From the onset, the town of Gravity Falls appears to be anything but typical. "Grunkle" Stan, as the twins affectionately call him, is a quirky con-man who runs "The Mystery Shack", a tourist trap filled with a myriad of oddities and abnormal creatures, thought to be fake. When Dipper stumbles across a mysterious journal that reveals strange secrets about Gravity Falls, the twins realize that their summer would be far from ordinary. The old journal, discovered in the woods by Dipper, serves as their guide to navigate the town's unusual circumstances, bizarre creatures and perplexing secrets. Mysterious gnomes disguised as teenagers, time-traveling adventures, psychedelic oddities, unexplained phenomena, and a variety of cryptic conundrums spark the curiosity of the twins. They encounter strange happenings like living lawn gnomes, love potions, mermaids, paranormal activities and other numerous supernatural events. The storytelling in Gravity Falls weaves intricate plots filled with humor, mystery and charm. The series' narratives expertly balance light-hearted fun with a subtly dark undertone that give it a surreal edge. Coupling childlike innocence with classic horror tropes, Gravity Falls artfully blends comedy and drama, making it engaging for viewers across different age groups. The characters in Gravity Falls are all wonderfully eccentric and lovable in their ways. Dipper is the more serious and logical sibling with a keen interest in the supernatural, while Mabel is an optimistic, lively girl with an infectious personality who radiates positivity and confidence. Their polar-opposite personalities create not only an interesting sibling dynamic but also contributes significantly to the show's charm. Meanwhile, Grunkle Stan, with his gruff exterior but good intentions, captures audiences' hearts as a pseudo-parental figure. The other townsfolk also have their eccentric quirks and contribute to the surreal ambience of the show. In these multifaceted characters, viewers find depth and complexity. The character development throughout the series is commendable and enthralling. Characters like the smart and ambitious Wendy, the lovable and outlandish Soos, and the enigmatic Bill Cipher add much depth and richness to the storyline. One key aspect that sets Gravity Falls apart is its unique blend of mystery and intrigue, along with its emphasis on codes and ciphers. This encourages audiences to engage actively with the series, decipher mysteries and predict plot twists alongside the characters. With its compelling narrative and artistic animation, Gravity Falls goes beyond the boundaries of a standard children's show. The backdrop of Gravity Falls is heavily inspired by the natural beauty of the Pacific Northwest and adds a mystic charm to the series. The animation style of the show is enchanting, detailed, and vibrant, with an interesting blend of both realistic elements and stylized exaggeration. It perfectly encapsulates the balance the series maintains between its magical, mysterious elements and slice-of-life humour. From the creators and artists to its superb voice acting cast, everyone brought this unique universe to life, taking its audience on an adventurous ride filled with laughter, scares and even a few emotional moments. With multiple award nominations and wins under its belt, including a BAFTA Children's Award and an Annie Award, Gravity Falls unquestionably marked its place in animated show history. Gravity Falls, while seemingly a children's cartoon, dives deep into the world of supernatural mystery, life lessons, and relationship complexities all wrapped in humor, engaging viewers of all ages. Its wrapped-up storylines after two seasons of installment, leaves its viewers both satisfied and yearning for more, a testament to its larger-than-life storytelling capability. In a nutshell, Gravity Falls is enchanting and intelligently crafted, a series ablaze with creativity, mystery and charm. It's a magical journey of curiosity, adventure, strange creatures, foreboding villains, and most importantly, the bond of family and the courage to grow.
Gravity Falls is a series categorized as a currently airing. Spanning 2 seasons with a total of 42 episodes, the show debuted on 2012. The series has earned a mostly positive reviews from both critics and viewers. The IMDb score stands at 8.9.
How to Watch Gravity Falls
How can I watch Gravity Falls online? Gravity Falls is available on Disney with seasons and full episodes. You can also watch Gravity Falls on demand at Apple TV, Hulu Plus, Disney+, Amazon, Google Play, Microsoft Movies & TV online.
Genres
Animation & Cartoon
Cast
Kristen Schaal, Jason Ritter, Linda Cardellini, Alex Hirsch, Kevin Michael Richardson, Keith Ferguson, Grey DeLisle, T. J. Miller, Will Forte, Gregg Turkington

Stream shows like Gravity Falls