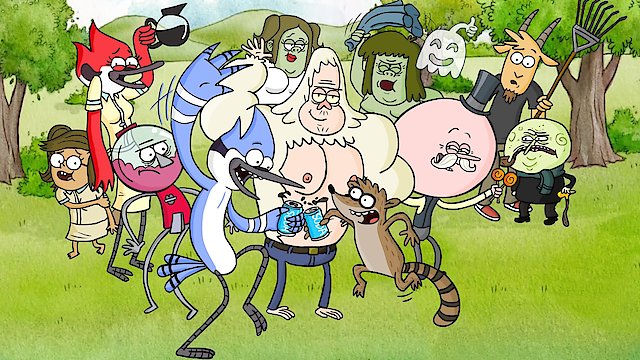 Where to Watch Regular Show
15
A Regular Epic Final Battle Part 2
Cheer Up Pops: The guys want to cheer up Pops. / A Regular Epic Final Battle Part 1: An epic final battle begins.
Watch Regular Show Season 13 Episode 15 Now
14
A Regular Show Epic Final Battle, Part 1
An epic final battle comes to its dramatic conclusion, and the fate of the universe is decided.
Watch Regular Show Season 13 Episode 14 Now
The guys want to raise Pops' spirits.
Watch Regular Show Season 13 Episode 13 Now
The boys need to converse with someone intelligent.
Watch Regular Show Season 13 Episode 12 Now
Kill 'Em With Kindness: Pops wants to be friends with someone. / Meet the Seer: The guys need to talk to someone smart.
Watch Regular Show Season 13 Episode 11 Now
10
Christmas in Space (The Christmas Special)
The guys celebrate their first Christmas in space by sharing stories and opening presents, but Benson gets annoyed that the stories have scary elements.
Watch Regular Show Season 13 Episode 10 Now
The guys help Pops train.
Watch Regular Show Season 13 Episode 9 Now
The Ice Tape: The guys need to play a very special VHS tape. / The Key To The Universe: The guys learn something super important.
Watch Regular Show Season 13 Episode 8 Now
Mordecai and Rigby want to make money for a video game by street performing.
Watch Regular Show Season 13 Episode 7 Now
6
Terror Tales of the Park VI
The gang tells scary stories with a science fiction twist.
Watch Regular Show Season 13 Episode 6 Now
Mordeby and Rigbecai: Mordecai and Rigby mess around with a teleportation machine, and you can pretty much imagine how this one goes. / Alpha Dome: The guys confront some people.
Watch Regular Show Season 13 Episode 5 Now
The guys screw around with a teleportation machine.
Watch Regular Show Season 13 Episode 4 Now
Mordecai, Rigby, Muscle Man, and Fives want Every Meat Burritos from the Jimbros' Burritos drive-thru.
Watch Regular Show Season 13 Episode 3 Now
2
The Space Race / Operation Hear No Evil
The Space Race: The guys race in space. / Operation: Hear No Evil: Mordecai and Rigby want to avoid spoilers of their favorite TV show.
Watch Regular Show Season 13 Episode 2 Now
1
Can You Ear Me Now? / Stuck in An Elevator
Can You Ear Me Now?: Mordecai and Rigby offend some people. / Stuck in An Elevator: Mordecai and Rigby want to go to a reunion concert.
Watch Regular Show Season 13 Episode 1 Now

Regular Show, developed by Cartoon Network from 2010 to 2017, is an Emmy award-winning animated television series that blended humor, drama, adventure, and surreal storytelling, and earned a dedicated following with its unique brand of animated entertainment. The main characters are Mordecai, a six-foot-tall blue jay, and Rigby, a fast-talking hyperactive raccoon. This duo spends their days trying to entertain themselves by any means necessary, much to the dismay of their boss, Benson, a high-strung, perfectionist gumball machine. The crux of the show is rooted in the extraordinary contradictions of the ordinary. While the characters are employed as groundskeepers at a local park, their seemingly mundane humdrum lives are spun into a wild ride where the everyday becomes extraordinary. Each episode offers a bizarre and hilarious perspective on common and recognizable situations gone awry - offering charm and hilarity to audiences of various age groups. The show cleverly leverages its fantastical elements, from talking gumball machines to yetis, allowing for the exploration of the ordinary in a way that's relatable yet delightfully absurd. Many episodes begin with Mordecai and Rigby dealing with everyday problems – unrequited crushes, lack of motivation, struggles with work, and the trials of friendship. However, these themes rarely play out in a standard way. Instead, the duo's everyday boredom or problems escalate into surreal, supernatural, and often cosmic adventures. The animation style of Regular Show was designed to conjure nostalgia for a bygone era. The look and feel of the characters and the park environment where they work harkens back to an aesthetic of the late 80s and early 90s with stylistic outlines, vibrant threading, and expert shading. One delightful aspect of the show is the use of creative licensing in the design of the various characters, vehicles, and gadgets seen throughout the series. Despite mainly targeting a younger audience, Internationally accentuated by slapstick humor and visual gags, Regular Show also excels in tackling mature themes tactfully. This show achieves a fine balance between the comedic and the dramatic, providing thoughtful insights about growing up and taking on responsibility while offering a generous serving of laughs. The nuanced relationships between characters, coupled with the series' willingness to address more serious life situations, grants it a universal appeal that entices both young viewers and adults simultaneously. One of the distinctive aspects of the Regular Show is its use of music. Different styles of music, ranging from pop, rock, electronic, and disco, are often incorporated into the narrative structure. The music typically serves to enhance the show's humor, tension, or contribute to a character's development or emotional state. Regular Show is also notable for its distinctive cast of supporting characters. The park is populated by an array of strange yet endearing characters, each with their unique quirks and oddities. These include a wise yet abominable yeti named Skips, a lollipop man called Pops, and Muscle Man, a burly, green character known for his practical jokes. These diverse characters bring an extra layer of chaos and hilarity to the park, magnifying the madness that characterizes each episode. While the plotlines of Regular Show are predictably unpredictable, blending the mundane with the fantastic into a wild brew of outrageous events, the heart of the show is the friendship between Mordecai and Rigby. The two are practically inseparable, sharing adventures and misadventures, enduring trials and tribulations, and are always there to pull each other out of the most bizarre situations. With over two hundred episodes, the Regular Show stands as a testament to innovative storytelling and animation, as it went from an underground project to a globally recognized brand. Its non-traditional narrative, rich characters, unique visuals, and an underlying layer of nostalgia have contributed to its acclaimed success. Whether it's for the humor, the relatable characterization, the engaging plotlines, the art, or the music, Regular Show is an incredibly entertaining journey offering something for everyone. While the series concluded in 2017, the legacy of these characters – their jokes, their adventures, and the situations they get themselves into – continues to thrive with fans worldwide.
Regular Show is a series categorized as a currently airing. Spanning 13 seasons with a total of 283 episodes, the show debuted on 2010. The series has earned a mostly positive reviews from both critics and viewers. The IMDb score stands at 8.5.
How to Watch Regular Show
How can I watch Regular Show online? Regular Show is available on Cartoon Network with seasons and full episodes. You can also watch Regular Show on demand at Amazon Prime, Apple TV, Amazon, Microsoft Movies & TV, Hulu Plus, Max online.
Genres
Animation & Cartoon
Cast
Mark Hamill, J. G. Quintel, William Salyers, Sam Marin, Sam Marin, Sam Marin, Roger Craig Smith, Jeff Bennett, Janie Haddad Tompkins, Brandon Richardson

Stream shows like Regular Show