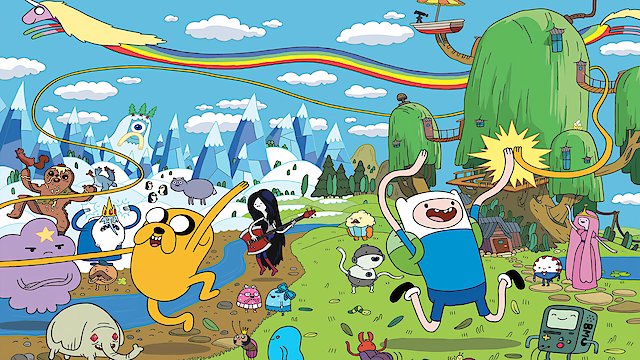 Adventure Time with Finn and Jake

Where to Watch Adventure Time with Finn and Jake
Watch Adventure Time with Finn and Jake Season 14 Episode 8 Now
Watch Adventure Time with Finn and Jake Season 14 Episode 7 Now
Watch Adventure Time with Finn and Jake Season 14 Episode 6 Now
Watch Adventure Time with Finn and Jake Season 14 Episode 5 Now
Watch Adventure Time with Finn and Jake Season 14 Episode 4 Now
Watch Adventure Time with Finn and Jake Season 14 Episode 3 Now
Watch Adventure Time with Finn and Jake Season 14 Episode 2 Now
Watch Adventure Time with Finn and Jake Season 14 Episode 1 Now

Adventure Time with Finn and Jake, commonly referred to as Adventure Time, is a spellbinding animated television series that aired on Cartoon Network from 2010 to 2018, captivating viewers worldwide. The groundbreaking series is a fascinating blend of comedy, adventure, sci-fi, and fantasy genres that explores complex and meaningful themes wrapped in child-like excitement and humor. Set in the post-apocalyptic, vibrantly life-filled world of "The Land of Ooo," Adventure Time chronicles the daily exploits and grand quests of Finn the Human, a 14-year-old boy, and Jake the Dog, his 28-year-old, shape-shifting canine best friend and adoptive brother. Finn, a courageous and unwaveringly righteous hero, and Jake, a wise yet laid-back mentor, use their unique blend of on-the-go wisdom and their thrill-seeking personalities to navigate their way through a multitude of adventures. The series introduces a cast of diverse and well-developed characters populating the Land of Ooo. The ensemble cast includes Princess Bubblegum, the intelligent and scientific ruler of Candy Kingdom; Ice King, a disturbed but mostly harmless antagonist frequently causing hassle for Finn and Jake; Marceline the Vampire Queen, a centuries-old vampire grappling with her own past; BMO, a quirky videogame console and companion, and many more fantastical beings, each more uniquely charming than the last. Adventure Time stands out due to its limitless creativity and impactful storytelling. It combines quirky animation with emotionally resonant storylines, producing an innovative fusion of light-hearted fun and profound narratives. The series explores profound issues of love, friendship, isolation, coming-of-age, and the complexities of good and evil under its colorful, whimsical exterior. Provocative and light-hearted in equal measure, the series challenges conventions, transcending the usual constraints of children's animation and making it appealing to both children and adults alike. The series is also known for its innovative narrative structure. While the first couple of seasons focus on episodic, short adventures, later seasons introduce long-running story arcs, delving deeper into the backstories of main and minor characters alike, thereby adding a complexity and emotional depth that grows with the viewer. All the while, the show maintains its eccentric, imaginative spirit through its inventive world-building, unique lore, and blend of magic and post-apocalyptic science, where candy people live alongside wizards, talking dogs, and cosmic beings. Undoubtedly, Adventure Time made a significant impact on the animation industry and set new standards for animated storytelling. Its influences can be seen in the wave of creator-driven animated shows that followed. The unique appeal of the show lies in its storytelling depth, emotional resonance, and its ability to oscillously transition between the thrill of adventure, striking existentialism, hilarity, and heartwarming moments of tenderness. The show's animation style is a colorful and surreal visual feast, with innovative artistic storytelling adding layers to the plot and character development. Coupled with catchy songs and music, which range from silly and amusing to deeply emotional, the show delivers an utterly unique viewing experience. The impactful narratives, infused with stylized imagery and immersive music, further highlight Adventure Time's notable artistic merit. Adventure Time with Finn and Jake has a distinct narrative voice that engages the viewer in an entrancing journey. Beneath its whimsically colorful facade, it carries an emotive exploration of life's trials, tribulations, joys, and sorrows. The series creates endearing characters and an appealing fantasy world that is hard to forget, ensuring its place in the annals of memorable animated television. A concoction of magical charm, expansive folklore, philosophical ponderings, humor, outright weirdness, and unerring emotion, Adventure Time is a testament to the power of animated storytelling. The show's ability to balance its colorful fun-filled adventures with thought-provoking, sophisticated themes makes it a touchstone in contemporary animation, appealing to audiences of all ages and earning its spot in the pantheon of classic animated television. From its inception in 2010 to its finale in 2018, Adventure Time left an indelible mark in the hearts of its viewers, continuing to weave its spell long after the end credits roll.
Adventure Time with Finn and Jake is a series categorized as a currently airing. Spanning 14 seasons with a total of 315 episodes, the show debuted on 2010. The series has earned a mostly positive reviews from both critics and viewers. The IMDb score stands at 8.6.
How to Watch Adventure Time with Finn and Jake
How can I watch Adventure Time with Finn and Jake online? Adventure Time with Finn and Jake is available on Cartoon Network with seasons and full episodes. You can also watch Adventure Time with Finn and Jake on demand at Amazon Prime, Amazon online.
Genres
Animation & Cartoon
Cast
Mark Hamill, Tom Kenny, John DiMaggio, Olivia Olson, Dee Bradley Baker, Hynden Walch, Jeremy Shada, John Kassir, Kristen Schaal, Maria Bamford, Isabella Acres, Pendleton Ward, Niki Yang, Steve Little, Kent Osborne, Polly Lou Livingston, Ron Perlman, Justin Roiland, Jessica DiCicco, Cloris Leachman

Stream shows like Adventure Time with Finn and Jake