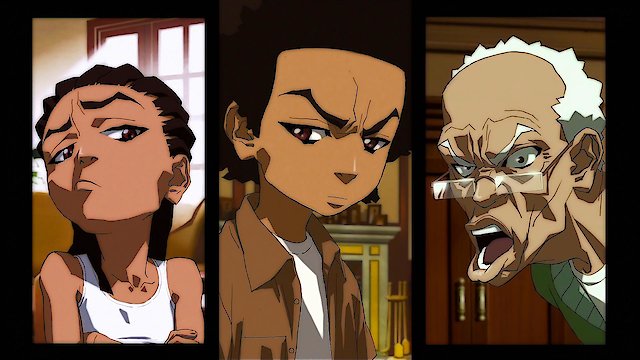 Where to Watch The Boondocks
Riley gets himself in trouble when facing a gay rights group after saying a homophobic slam.
Watch The Boondocks Season 4 Episode 10 Now
9
Stinkmeaner: Begun The Clone War Has
Stinkmeaner is back, or at least his clone is. After a fight with Granddad goes viral, Stinkmeaner turns unto an instant celebrity.
Watch The Boondocks Season 4 Episode 9 Now
Grandpa's personal assistant program on his phone becomes obsessed with him.
Watch The Boondocks Season 4 Episode 8 Now
The Freemans feel that Eddie Wuncler's new slavery theme park "Freedomland" is a little too real, when they are trapped there and forced to be slaves. Huey must find a way to free them from this situation.
Watch The Boondocks Season 4 Episode 7 Now
6
Granddad Dates a Kardashian
Huey is suspicious of Grandad's new girlfriend, a long lost Kardashian sister.
Watch The Boondocks Season 4 Episode 6 Now
Against his wishes, a young Granddad winds up a freedom rider on a trip through the South.
Watch The Boondocks Season 4 Episode 5 Now
Granddad is hired by pimps at a nursing home to escort lonely ladies. But this Woodcrest Gigolo is in for a surprise when he finds that the job is not as sexy as it sounds.
Watch The Boondocks Season 4 Episode 4 Now
The Freemans are selling an explosive hair product, but even more lethal may be the black market of the hair-care industry run by Boss Willona.
Watch The Boondocks Season 4 Episode 3 Now
These are not "good times" for Granddad, who owen not thousands, but millions on his house to Eddie Wuncler (son of Ed Wuncler) who has some unique ideas of how Granddad can pay him back. And with Eddie appearing more like a gangster than a businessman, times are about to go downhill.
Watch The Boondocks Season 4 Episode 2 Now
Pretty Boy Flizzy gets in trouble with the law and exchanges relationship advice for a lawyer in the Season 4 premiere.
Watch The Boondocks Season 4 Episode 1 Now

The Boondocks is an animated adult sitcom that aired on Cartoon Network's latenight programming block, Adult Swim, from 2005 to 2014. It was developed by Aaron McGruder, based on his comic strip of the same name. The show was known for its acute sociopolitical commentary and satirical take on African American culture and race relations in the United States. The Boondocks follows the lives of the Freeman family, consisting of ten-year-old Huey Freeman, his younger brother Riley, and their paternal granddad Robert. Huey, Riley, and Robert—three African American males, residents of inner-city Chicago—move to a predominantly white suburb known as Woodcrest. While Huey is a wise, young Black radical who often serves as a voice of reason, his younger brother Riley is a rap-culture-obsessed miscreant. Robert, their grandfather, tries to navigate maintaining order with his grandsons while also pursuing his own interests. These characters regularly find themselves in a cultural clash with their new environment, and much of the series revolves around the Freeman family dealing with the hilarious, often ridiculous circumstances that this clash entails. This includes issues dealing with racism, social class, contemporary American politics, pop culture, and more. The situations they find themselves in are heightened by a vibrant gallery of recurring characters from both their old and new communities. The show is known for its unique mixture of humorous, satirical, and often controversial exploration of notable topics of the time. It's not afraid to tackle sensitive issues head on, and often does so in a way that is sharp, insightful, and packed with humor. Known for its distinctive art direction inspired by anime, the series also incorporates a notable amount of stylistic influences from hip-hop culture. One of the outstanding features of The Boondocks is its voice cast, which includes prominent actors such as Regina King, who voices both Huey and Riley, and John Witherspoon as Robert. The show also features an array of guest stars, many of whom lend their voices to character counterparts that mirror their own public personas, allowing the show to lean into biting commentary about cultural icons and celebrities. The mix of satirical humor and social commentary in this series sets it apart from many of its contemporaries. The Boondocks uses the Freeman family's unique positioning to challenge and explore issues around race, class, and culture through a lens that is often insightful, challenging, and humorous. This audacious approach to storytelling has earned The Boondocks both critical acclaim and a dedicated following. Throughout its run, the show consistently used its humor and wit to grapple with sensitive, topical issues, making it a platform for the examination of culture and society. Its storylines are encapsulated in a distinctive blend of comedy and drama, synonymous with McGruder's authentic writing style, that crafts a razor-sharp critique of contemporary American society. Epically dramatic and overtly comedic scenes are underscored with hip-hop music, which plays a significant part in setting the tone and context of the show. Additionally, the animation style is dynamic and fluid, incorporating elements of traditional American animation and Japanese anime. In many episodes, this lends itself to the portrayal of action-packed sequences that contribute to the show's charismatic appeal. The Boondocks illustrates the Freeman family's navigation through cultural context, showcasing their struggles, triumphs, and misadventures. The show fosters a close relationship between the viewers and the characters, drawing them into their world filled with satirical humor, dramatic cliffhangers, and moments of poignant social commentary. In conclusion, The Boondocks is a bold animated series that pushes boundaries, using satire and exaggeration to provocative effect. By exploring themes of race and culture through its depiction of the Freeman family, it offers a unique, humorous, thought-provoking, and often stark portrayal of modern life in America. The combination of engaging storytelling, memorable characters, stylish animation, and unfiltered social commentary makes The Boondocks a remarkable addition to Adult Swim's programming and the wider canon of animated sitcoms.
The Boondocks is a series categorized as a currently airing. Spanning 4 seasons with a total of 56 episodes, the show debuted on 2005. The series has earned a mostly positive reviews from both critics and viewers. The IMDb score stands at 8.5.
How to Watch The Boondocks
How can I watch The Boondocks online? The Boondocks is available on Adult Swim with seasons and full episodes. You can also watch The Boondocks on demand at Max, Amazon Prime, Sling, Adult Swim, Microsoft Movies & TV online.
Genres
Adult Cartoon, Animation & Cartoon
Cast
Regina King, John Witherspoon, Gary Anthony Williams

Stream shows like The Boondocks