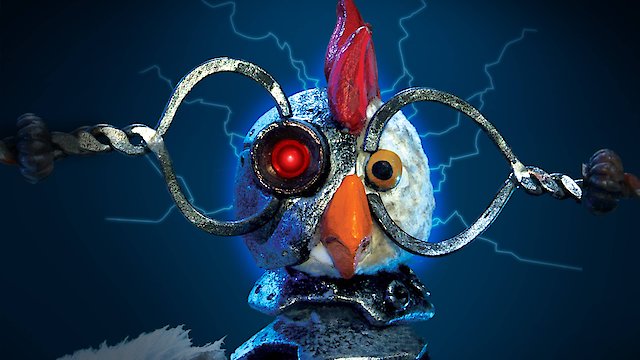 Where to Watch Robot Chicken
19
May Cause Season 11 to End
The Robot Chicken gang thinks Barbie George Washington would've made a fine Floundering Father; The Nerd fixes the Mandela Effect with disastrous results; Robot Chicken says farewell, but not goodbye.
Watch Robot Chicken Season 11 Episode 19 Now
18
May Cause Weebles to Fall Down
Once again it's time for Discovery's Mark Week courtesy of Robot Chicken; Nobody realises Daria is being sarcastic until it's too late; The Wayne family's Murder Alley gets commercialized and Bruce is pissed.
Watch Robot Chicken Season 11 Episode 18 Now
17
May Cause Internal Diarrhea
Robot Chicken helps Dexter bring his robot mother to market but buyers go off-label; the Itsy Bitsy Spider doesn't know what the hell he's doing; visiting the land of Disney's dead parents.
Watch Robot Chicken Season 11 Episode 17 Now
16
May Cause an Excess of Ham
Robot Chicken tells the Lion King tale from the POV of the wildebeests; what happens when a mouse accepts a browser cookie; The Golden Girls discover the otherworldy and deadly secret behind St. Olaf.
Watch Robot Chicken Season 11 Episode 16 Now
15
May Cause Involuntary Political Discharge
Robot Chicken lets Yoshi get his revenge on Mario once and for all; a period so bad it requires a famous exorcist to fix; Snoopy trains a new crew of WWI flying aces.
Watch Robot Chicken Season 11 Episode 15 Now
"Robot Chicken" takes Mojo Jojo's side against the Powerpuff Girls; Nightwing demands criminals butt out; Dilbert dies hard with a vengeance of laughter.
Watch Robot Chicken Season 11 Episode 14 Now
13
May Cause Bubbles Where You Don't Want 'Em
From the minds of the writers at Robot Chicken, it's time for Medusa to get her freak on; The Pirates of Dark Water visit Flint, Michigan; Yarel Poof returns to see how the Star Wars Saga ends.
Watch Robot Chicken Season 11 Episode 13 Now
12
Happy Russian Deathdog Dolloween 2 U
In this terribly terrific Robot Chicken tale, treasure the trials and tribulations of a time-twisted teenager's toxic tussle with tons of terror on, uh, Halloween!
Watch Robot Chicken Season 11 Episode 12 Now
11
May Cause Episode Title to Cut Off Due to Word Lim
Robot Chicken helps George RR Martin finish his novel; The Road Runner knows how to exploit the Coyote; The Mos Eisley Cantina is an unlikely but perfect spot for a bachelorette party.
Watch Robot Chicken Season 11 Episode 11 Now
10
May Cause Your Dad to Come Back With That Gallon of Milk He Went Out for 10 Years Ago
Can Peppa Pig's love of muddy puddles do her dirty? Robot Chicken says yes; Smaug has another use for Hobbits; Feivel discovers being an American citizen comes with shocking responsibilities.
Watch Robot Chicken Season 11 Episode 10 Now
9
May Cause the Need for Speed
The Robot Chicken introduces Velma to a whole new benefit of joining the Scooby gang; The Care Bears are a friend to girls everywhere when you know; The Nerd explores the pros and cons of The Sims' sexuality.
Watch Robot Chicken Season 11 Episode 9 Now
Robot Chicken writers had fun in health class, but it's no laughing matter if you're an Alien; The Kingdom Hearts gang has another use for their keys; The Robot Chicken Nerd has a monstrous Housewives nightmare.
Watch Robot Chicken Season 11 Episode 8 Now
7
May Cause Lucid Murder Dreams
Naruto has trained for the Robot Chicken writers think he's ready for the test or not; The Force evolves into something new and deadly; Robot Chicken teaches Martin Scorcese a few things about filmmaking.
Watch Robot Chicken Season 11 Episode 7 Now
6
May Cause Random Wolf Attacks
"Robot Chicken" locks and loads for a Darkwing Duck hunt; the show's greatest warriors assemble for a battle beyond the stars; even Cobra Commander can't resist the Tiger King.
Watch Robot Chicken Season 11 Episode 6 Now
5
May Cause One Year of Orange Poop
Robot Chicken shows you how Batman Beyond's training goes way beyond Batman's training; A deleted scene makes Cats a masterpiece; Bitch Pudding is determined to bring it on!
Watch Robot Chicken Season 11 Episode 5 Now
4
May Cause the Exact Thing You're Taking This to Avoid
The Robot Chicken writers think Disney is running out of classics to remake; Luke Skywalker is a little too comfy inside that Taunaun; Midsommars' big problem was it wasn't cute enough.
Watch Robot Chicken Season 11 Episode 4 Now
3
May Cause Immaculate Conception
"Robot Chicken" asks if Totoro is overweight and doesn't like the answer; Jigsaw outgrows his tricycle; The Washington Generals destroy the entire world of basketball.
Watch Robot Chicken Season 11 Episode 3 Now
2
May Cause Light Cannibalism
The Gargoyles get as hard as stone, if you know what Robot Chicken means; Solid Snake must master the walk of shame; The Avengers learn to curb their enthusiasm.
Watch Robot Chicken Season 11 Episode 2 Now
1
May Cause a Whole Lotta Scabs
Robot Chicken takes Inside Out's Riley further insde and even more out; The Red Skull battles his ultimate nemesis loneliness; Rey gets more than she bargained for at the Skywalker homestead.
Watch Robot Chicken Season 11 Episode 1 Now

Robot Chicken is not your typical animation. Debuting on Adult Swim in 2005, not 2001, it is a stop-motion sketch comedy show that redefines the genre with its unique blend of humor, science fiction, and pop culture parodies. The show is the brainchild of creators Seth Green and Matthew Senreich, who bring to life an eclectic and often bizarre cast of characters and scenarios that leave the viewer in equal parts shocked, amazed and laughing uncontrollably. The show's bizarre universe is set in motion by the Robot Chicken, itself a take on the Frankenstein mythos. Found on the side of a road by a mad scientist, the chicken is revived and forced to watch a rapid-fire sequence of television sketches, a concept that harkens back to the horror trope of a mad scientist conducting inhumane experiments. This narrative setup is primarily used to frame the show's variety of sketches and doesn't necessarily follow a linear storyline. The sketches range in length but are typically fast-paced and concise, leaving the viewer little time to reflect before being thrust into the next hilarious or weird world. One of the most compelling aspects of Robot Chicken is its penchant for blending various cultural touchstones. Its sketches often involve satirical reinterpretations of pop culture icons, such as superheroes, movie and TV show characters, historical figures, and even toys. The show's creators seem to find a particularly gleeful joy in twisting the stereotypes and conventions of the superhero genre, regularly placing these larger-than-life characters in mundane or ridiculous scenarios. With its irreverent humor and incisive cultural commentary, Robot Chicken presents a humorous critique of our collective cultural memory and consumption. Produced by Stoopid Buddy Stoodios, a production company cofounded by Green and Senreich, the aesthetic of Robot Chicken is unique and instantly recognizable. The stop-motion animation style lends the series a slightly surreal edge, and the artistry and precision involved in creating each sketch are astounding. Yet the show doesn't take itself too seriously, often disrupting its professional appearance with a sense of playful chaos. Props may explode for no reason, characters might break the fourth wall, and the rules of reality are more like suggested guidelines. The voice cast in Robot Chicken is another significant element contributing to its charm. Seth Green, aside from being one of the show's creators, also lends his voice to a multitude of characters, displaying a chameleon-like vocal versatility that brings each sketch to life. Other notable voices on the show include a mix of regular cast members and frequent guest stars, often consisting of celebrities who are either playing themselves or parodies of other famous figures. It's important to note that Robot Chicken is fast-paced and each episode is a mere 11 to 15 minutes long, jam-packed with quick sketches that often move faster than it takes to process the joke. This brisk format combined with the show's bizarre humor and pop culture references may not be everyone's cup of tea. Add to that its mature content and it's clear that Robot Chicken is best suited for viewers who can appreciate its dark humor, satirical commentary, and adult-themed content. All in all, Robot Chicken is a madcap roller coaster, bringing together a wealth of pop culture, stop-motion animation, and comedic talent. It pokes fun at everything and everyone it can lay its hands on, and does so with a unique style and charm that has earned it a loyal following since its debut. Whether you are a fan of animation, a lover of comedy, or someone who just appreciates the bizarre and surreal, Robot Chicken has something to offer. Its sketches may leave you laughing, perplexed, shocked, or all of the above, but they will never fail to entertain. Indeed, with Robot Chicken, you can expect the unexpected and plenty of laughter along the way.
Robot Chicken is a series categorized as a currently airing. Spanning 11 seasons with a total of 233 episodes, the show debuted on 2005. The series has earned a moderate reviews from both critics and viewers. The IMDb score stands at 7.7.
How to Watch Robot Chicken
How can I watch Robot Chicken online? Robot Chicken is available on Adult Swim with seasons and full episodes. You can also watch Robot Chicken on demand at Amazon Prime, Sling, Adult Swim, Amazon, Google Play, Vudu, Apple TV, Max online.
Genres
Animation & Cartoon, Comedy
Cast
Seth Green, Dan Milano, Breckin Meyer, Chad Morgan

Stream shows like Robot Chicken