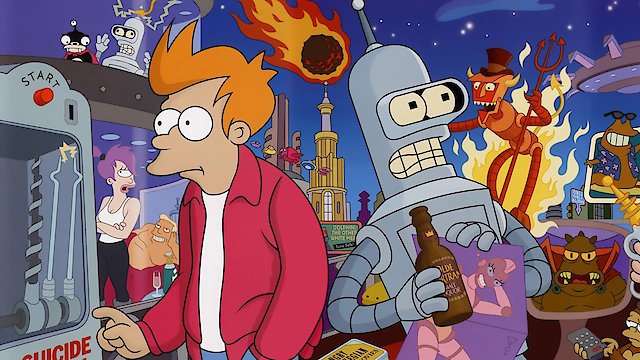 Where to Watch Futurama
The crew investigates whether the universe is a simulation.
Watch Futurama Season 11 Episode 10 Now
9
The Prince and the Product
The crew members are reborn as toys.
Watch Futurama Season 11 Episode 9 Now
When Zapp Brannigan is canceled for crude behavior, Leela takes over as captain of the Nimbus on a critical mission.
Watch Futurama Season 11 Episode 8 Now
7
Rage Against the Vaccine
A pandemic ravages future Earth.
Watch Futurama Season 11 Episode 7 Now
6
I Know What You Did Next Xmas
Bender and Zoidberg travel through time to attack Robot Santa.
Watch Futurama Season 11 Episode 6 Now
5
Related to Items You've Viewed
Bender uncovers the mysteries of the vast Momazon corporation.
Watch Futurama Season 11 Episode 5 Now
After Nibbler falls ill, the crew shrinks down for a dangerous mission into a desert world contained within his litter box.
Watch Futurama Season 11 Episode 4 Now
3
How the West Was 1010001
Bender and the crew head west to join the bitcoin mining rush.
Watch Futurama Season 11 Episode 3 Now
2
Children of a Lesser Bog
Amy and Kif's children emerge from an alien swamp.
Watch Futurama Season 11 Episode 2 Now
Fry risks permanent insanity when he attempts to binge-watch every TV show ever made.
Watch Futurama Season 11 Episode 1 Now

Futurama, created by Matt Groening, is a brilliant blend of comedy, science fiction, and animated charm, which aired on Comedy Central. Initially released in 1999 and running until 2023, the show took viewers on a whimsical journey filled with quotable gags, intriguing sci-fi concepts, and an unforgettable cast of characters. The narrative of Futurama revolves around the hapless yet remarkably charming delivery boy, Philip J. Fry. Fry finds himself unintentionally cryogenically frozen on New Year's Eve 1999 and wakes up a thousand years later in New New York, a city that embodies the futuristic, whimsical charm of the 31st century. Fry finds work at Planet Express, a delivery company run by his distant relative, the senile and exceptionally eccentric Professor Farnsworth. It's here where he meets an ensemble of characters who would soon become his surrogate family: Bender, the morally-ambiguous, cigar-chomping robot; Leela, the no-nonsense, one-eyed ship captain with a heart of gold; Amy, the flighty intern from Mars; Dr. Zoidberg, the perpetually penniless resident alien doctor; and Hermes, the meticulous, rule-loving bureaucrat from Jamaica. The narrative of Futurama is as much about this ragtag group's interstellar delivery adventures as it is about their daily lives, filled with personal screw-ups and triumphs. It's irreverently fun and provides an intriguing exploration of what future life might look like, with satirical takes on politics, pop culture, and human nature that hit extremely close to home. Futurama explores both everyday themes like romance, work, and friendship alongside bigger concepts like time travel, parallel universes, and the ethics of robotics. It's not just a series that makes you laugh with its deadpan humor, sarcastic dialogues, and slapstick comedy; it also makes you think, quite a lot. The social commentary hidden in every episode cleverly reflects the viewers' society back at them, but with a hilarious twist. One defining strength of Futurama is its ability to address emotional depth, making it stand out amongst similar animated comedy shows. From exploring the loneliness of Fry's displacement in time to Bender's struggle with existential robotic crises, and Leela's search for her true identity, the show doesn't shy away from dealing with complex emotional themes. It effortlessly balances comedy and drama, taking the audience on an emotional roller coaster in the midst of the futuristic silliness. Futurama's animation and art design deserve particular mention. The design team conjures up a compelling and unique vision of the future, filled with alien species, sentient robots, interstellar spacecraft, and cities wholeheartedly embracing the fantastic and the improbable. The visuals are vivid, dynamic, and energetic, matching the show's tone and enhancing its humor. The show also features excellent voice acting, with each character having a distinct, memorable voice brought to life by talented artists. The dynamic between characters is well-done, contributing significantly to the humor and charm of the series. It also features numerous celebrity guest voices, from Leonard Nimoy to Al Gore to Stephen Hawking, further adding to its appeal. The unique combination of storytelling elements, smart humor, and heartfelt moments makes Futurama a standout within the realm of animated shows. It's a superb mix of intelligent science fiction and sharp comedy, delivering laughs and thoughtful commentary with each episode. In balance, Futurama is more than just a comedy series set in the 31st century. From its unforgettable characters and thoughtful futurism to its sharp satire and surprising heart, it's a truly unique viewing experience. Whether you're a fan of animation, comedy, science fiction, or just intriguing storytelling, Futurama is a journey into the future that's well worth taking.
Futurama is a series categorized as a canceled. Spanning 11 seasons with a total of 170 episodes, the show debuted on 1999. The series has earned a mostly positive reviews from both critics and viewers. The IMDb score stands at 8.5.
How to Watch Futurama
How can I watch Futurama online? Futurama is available on Comedy Central with seasons and full episodes. You can also watch Futurama on demand at Hulu Plus online.
Genres
Animation & Cartoon, Comedy
Cast
Billy West, John DiMaggio, Katey Sagal

Stream shows like Futurama