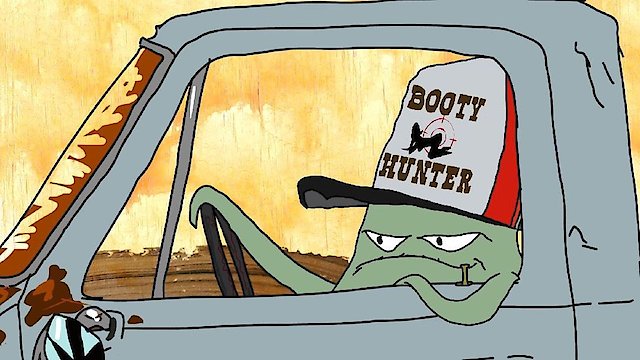 Where to Watch Squidbillies
9
This Show Is Called Squidbillies
A look at Rusty's conception and reunion with Early.
Watch Squidbillies Season 13 Episode 9 Now
Early is forced to choose between his community and his hats.
Watch Squidbillies Season 13 Episode 8 Now
Terror strikes from the skies.
Watch Squidbillies Season 13 Episode 7 Now
Sheriff gives a flip.
Watch Squidbillies Season 13 Episode 6 Now
5
Zen and the Art of Truck-Boat-Truck Maintenance
Early achieves enlightenment, then shoves it down everyone else's throat.
Watch Squidbillies Season 13 Episode 5 Now
4
Scorn on the 4th of July
Early poses as a military veteran to save 10% on an omelet.
Watch Squidbillies Season 13 Episode 4 Now
Early revisits the storage unit where he spent his childhood.
Watch Squidbillies Season 13 Episode 3 Now
Early exercises his freedom of speech by speeching differently from now on.
Watch Squidbillies Season 13 Episode 2 Now
The Roadkill Rembrandt rides again.
Watch Squidbillies Season 13 Episode 1 Now

Squidbillies is a long-running, off-kilter animated series from Adult Swim, a nighttime programming block of the Cartoon Network that caters to grown-up viewers with a taste for the irreverent, the quirky, and the outright weird. Set aside your expectations of a typical cartoon because Squidbillies departs from the norm, employing humor and satire to unconventional and sometimes dark comic effect. It first aired in 2005, and with its razor-sharp wit and infamous no-holds-barred approach, it has earned its spot as an Adult Swim staple. Set in the rural backwoods of the North Georgia Mountains, the show centers around the Cuyler family, a clan of anthropometric mud squids. Cue the show's title: Squidbillies. The family consists of Early Cuyler, the perpetually inebriated father with a proclivity for violence and destruction, his son Rusty, who admirably retains a glimmer of innocence despite the outrageous happenings around him, and Granny, the elderly, sometimes senile, family matriarch who nevertheless packs a punch. Early's sister Lil Cuyler was initially a main character but later recedes into the background. Rounding off this ensemble is Sheriff, the long-suffering law enforcer who often falls victim to the Cuylers' outrageous antics. Squidbillies isn't just about squid-based shenanigans, though. It's times a brutal, biting socioeconomic commentary exploring themes such as marginalization, religious conservatism, and the rural-urban divide from a decidedly satirical perspective. Squidbillies thrives on the absurd and surreal. As amusing as it is bizarre, the show also reflects on undeniably real societal issues, such as poverty, substance abuse, and lack of education in marginalized communities. Beneath the laughs lies a deeply embedded commentary on American culture, Southern tradition, and class structure. The animation style is unique, blending a comic book-like technique with abstract artistic flair, similar to other Adult Swim shows like Aqua Teen Hunger Force. The color palette is often bold and striking, typically fluctuating between sickeningly vibrant to grungy and desolate shades, and the character design equally twisted and distorted. It all adds to the wonderfully grotesque charm of Squidbillies which, wrapped up in jangly country music and unexpected plot turns, constantly dances on the edge of the improbable. The comedy is decidedly crass and cutting, leaning heavily into satire and slapstick. Early Cuyler, with his auto-tuned country drawl provided by the talented Unknown Hinson, proves a standout character, balancing his woeful ignorance with sinister charm. The comedy is often pitch black and may not always be to everyone's taste. However, fans appreciate the show's sharp sense of satire and the creators' fearlessness in testing limits and pushing boundaries. Each of the series' brief, punchy episodes typically focuses on the Cuylers' latest disastrous escapades, complete with the show's trademark combination of humor and societal commentary. The dialogue is fast and loose, employing a blend of acerbic wit and Southern colloquialisms that further color the show's uniquely oddball nature. The situations happened upon by the characters are mind-bendingly absurd and none of it is taken too seriously, with characters often breaking the fourth wall and openly acknowledging the fictitious nature of their world. The unpredictable nature of Squidbillies keeps audiences hooked as they delve deeper into the Cuylers' outlandish existence. And while not every joke may hit its mark or each character may not be instantly relatable, the show's commitment to its own brand of nonsensical humor and storytelling is what makes it a beloved addition to the Adult Swim lineup. In conclusion, Squidbillies is an unabashedly crude, wildly imaginative show set in a distinctive universe where squids roam the land and anarchy reigns supreme. Its animation style, character design, and overall premise might initially prove abrasive or challenging to some, but to those who enjoy offbeat humor interweaved with social commentary, Squidbillies offers a genuinely unique television experience.
Squidbillies is a series categorized as a currently airing. Spanning 13 seasons with a total of 135 episodes, the show debuted on 2005. The series has earned a moderate reviews from both critics and viewers. The IMDb score stands at 6.7.
How to Watch Squidbillies
How can I watch Squidbillies online? Squidbillies is available on Adult Swim with seasons and full episodes. You can also watch Squidbillies on demand at Max, Amazon Prime, Adult Swim, Amazon, Microsoft Movies & TV, Vudu, Sling, Apple TV online.
Genres
Animation & Cartoon, Adult Cartoon, Comedy
Cast
Dana Snyder, Dave Willis, Fred Armisen, Charles Napier, Danny Baker, Patricia French, Daniel McDevitt, Unknown Hinson, Mary Kraft, Todd Hanson

Stream shows like Squidbillies