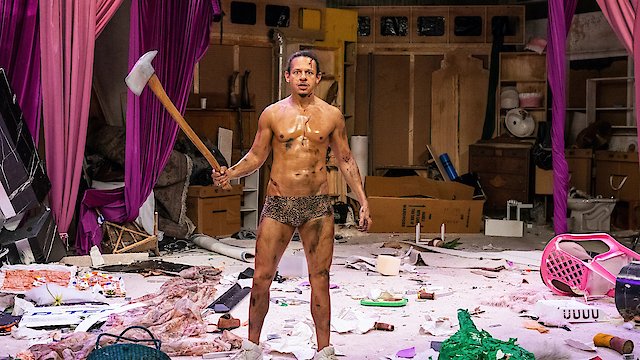 Where to Watch The Eric Andre Show
Freeze right there. Welcome to The COLD EPISODE. Eric and his new co-host the FRIDGE KEEPER celebrate cold temperatures with Meagan Goode and Daymond John. A man has an existential crisis on an elevator to hell
Watch The Eric Andre Show Season 6 Episode 10 Now
Eric welcomes Lil Yachty. Rico Nasty slaps around an iconic character. A school bus crashes, and a president's son is the lone suspect.
Watch The Eric Andre Show Season 6 Episode 9 Now
Eric welcomes Jaden Smith and Chloe Cherry. The Chainsmokers finally chain-smoke. A desperate dad hang glides into a gender reveal party gone awry.
Watch The Eric Andre Show Season 6 Episode 8 Now
Eric welcomes Raven-Symoné and Benny Blanco. H09909 gets H09909fied. The Kar Kwash introduces a new car cleaning technique.
Watch The Eric Andre Show Season 6 Episode 7 Now
Eric welcomes Chet Hanks, Natasha Lyonne, and Diplo. A realtor gets caught cheating on his wife but makes the sale nonetheless.
Watch The Eric Andre Show Season 6 Episode 6 Now
Eric welcomes Chanel West Coast and Donald Glover. Confusion ensues when a tow truck tows another tow truck.
Watch The Eric Andre Show Season 6 Episode 5 Now
Eric welcomes Blac Chyna and Jon Hamm.
Watch The Eric Andre Show Season 6 Episode 4 Now
Eric welcomes Tinashe and Chuch Liddell. Waka Flocka Flame attempts ayahuasca.
Watch The Eric Andre Show Season 6 Episode 3 Now
Eric welcomes Mia Khalifa and Jaleel White; human statutes have a brutal fight in New York City; Goober Driver goes off-roading.
Watch The Eric Andre Show Season 6 Episode 2 Now
Eric Andre is back; Lil Nas X and Karrueche Tran sit in the chair; Denzel Curry gets his teeth done; a Jewish exterminator hopes to capture the mother of all flies before the High Holy Days.
Watch The Eric Andre Show Season 6 Episode 1 Now

The Eric Andre Show is a chaotic, fast-paced, and surreal comedy talk series that has been a part of the late-night line up on Adult Swim since its debut in 2012. Comedian Eric Andre serves as the host, utilizing his unique and quirky brand of humor to deliver a program that continuously bends the conventional rules of television. Each episode, typically just over 10 minutes in duration, mimics the format of a low-budget public access talk show, complete with musical guests, celebrity interviews, and sketches. The show's set, intentionally designed to replicate cheap and rundown cable access TV, is regularly destroyed and reset between guest intermissions, reinforcing the abstract and unpredictable nature of The Eric Andre Show. Eric Andre, the enigmatic host, is joined by comedian and actor Hannibal Buress, who serves as his personable yet detached co-host. The dynamic between Eric and Hannibal often functions as a form of comedic whiplash – with Andre's chaotic energy bouncing off Buress's nonchalant demeanor. Celebrity guests, ranging from B-list stars to well-known musicians, are invited to the show. However, the interviews usually do not follow the typical talk show script. Andre often subjects his guests to pranks, uncomfortable situations, and awkward questions, taking them, and the viewers, off guard. The guests' real and unscripted reactions to Andre's antics add to the show's surreal comedic effect. The sketches on the show are often strewn with absurd and cringe comedy. Sometimes they take place on set, with Andre engaging in unusual and often outrageous antics. Other times, they're man-on-the-street segments, with Andre interacting with real people in public. The sketches usually capitalize on the unexpected, showcasing Andre's talent for physical comedy and his fearless approach to push boundaries and reinvent what defines comedy. Beneath the show's surface-level absurdity, there's also a critique of the banality of late-night talk shows and celebrity culture. By turning the traditional format on its head, Andre highlights the often-mundane scripted nature of such programs. Conversely, The Eric Andre Show's "script" aims to be as bizarre, random, and unpredictable as possible, keeping audiences guessing what will happen next. Musical performances also feature prominently, with bands and artists of various genres typically closing out each episode. However, true to The Eric Andre Show's style, these performances regularly veer off the conventional path, with Andre introducing unexpected twists and even participating directly, creating an outlandish and surreal closing to the show. Despite his embrace of chaos, Andre ensures his show makes a distinct mark in the landscape of late-night programming. The special brand of humor extracted from the awkwardness, the physical comedy, the shock value, and the absurdity provide a viewing experience unlike anything else on television. The Eric Andre Show is distinctly for those who appreciate unconventional and comedic anarchy that breaks from the norm, where guests, viewers, and even Andre himself are left to wonder, "What will happen next?" Turning talk-show comedy on its head, The Eric Andre Show from Adult Swim remains a groundbreaking endeavor in 21st-century television. As the creator, Andre consistently pushes the boundaries of comfort, expectations, and humor, ensuring that no two episodes are ever the same. He has introduced a fresh narrative to the realm of late-night programming, delving into absurdity and chaos instead of sticking to the script. Far from ordinary, The Eric Andre Show continues to deliver a slapstick, bizarre, and wildly entertaining viewing experience like no other. So, brace yourselves for a roller coaster ride as you step into Eric Andre's eccentric chaos-filled world of late-night comedy.
The Eric Andre Show is a series categorized as a currently airing. Spanning 6 seasons with a total of 68 episodes, the show debuted on 2012. The series has earned a mostly positive reviews from both critics and viewers. The IMDb score stands at 8.6.
How to Watch The Eric Andre Show
How can I watch The Eric Andre Show online? The Eric Andre Show is available on Adult Swim with seasons and full episodes. You can also watch The Eric Andre Show on demand at Hulu Plus, Sling, Apple TV, Adult Swim, Amazon, Microsoft Movies & TV, Google Play online.
Genres
Comedy, Kids & Family
Cast
Hannibal Buress, Jermaine Fowler, Tom Kane, Gary Anthony Williams

Stream shows like The Eric Andre Show