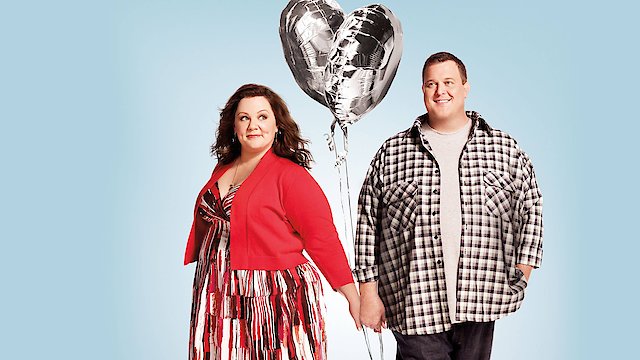 Where to Watch Mike & Molly
Mike (Billy Gardell) and Molly (Melissa McCarthy) and the group have an impromptu get-together to reminisce about everything that has brought them to this point, complete with a final battle between Joyce (Swoosie Kurtz) and Peggy (Rondi Reed).
Watch Mike & Molly Season 6 Episode 13 Now
Carl talks Mike into going with him to visit his psychic and Peggy hauls Molly to her church to pray for something they've all desired.
Watch Mike & Molly Season 6 Episode 12 Now
Mike and Molly hope everyone will be on their best behavior when the adoption agency sets up a home visit.
Watch Mike & Molly Season 6 Episode 11 Now
When Mike and Molly discover Frannie hasn't planned for after the baby is born, Molly decides to reunite her with her estranged sister, Maura.
Watch Mike & Molly Season 6 Episode 10 Now
Molly takes in a past student who is pregnant and homeless.
Watch Mike & Molly Season 6 Episode 9 Now
8
The Wreck of the Vincent Moranto
Mike is upset when Vince bails on finishing a Do-It-Yourself project they started together.
Watch Mike & Molly Season 6 Episode 8 Now
Mike adopts a stray puppy for the weekend but Molly has a hard time getting used to it.
Watch Mike & Molly Season 6 Episode 7 Now
Molly's leisure activities between novels become an issue when Mike wants her to be the perfect homemaker.
Watch Mike & Molly Season 6 Episode 6 Now
Molly is speechless when Joyce reveals she's left the house to Victoria.
Watch Mike & Molly Season 6 Episode 5 Now
Mike becomes ultra attentive after his wallet is stolen from the squad car while taking a nap.
Watch Mike & Molly Season 6 Episode 4 Now
Mike blames Molly for Peggy's heart attack, so Molly seeks forgiveness.
Watch Mike & Molly Season 6 Episode 3 Now
Molly hopes a fitness tracking device will encourage Mike to be healthier, but Mike has something else in mind for it.
Watch Mike & Molly Season 6 Episode 2 Now
Mike and Carl attend couples counseling in an attempt to reconcile their partnership. Also, Molly decides to do a promotional radio interview on her own after Peggy decides not to participate.
Watch Mike & Molly Season 6 Episode 1 Now

Mike & Molly is an American sitcom that aired on CBS from 2010 to 2016. The show revolves around the lives of Mike Biggs, a Chicago Police Officer, and Molly Flynn, a fourth-grade teacher, both of whom are navigating the pitfalls and triumphs of life while searching for love. Mike and Molly meet at an Overeaters Anonymous meeting and the story unfolds from there, providing a comedic look at the struggles and victories of two people trying to lose weight, fall in love, and maintain a healthy relationship. Billy Gardell plays the lovable lead character, Mike Biggs. Gardell's portrayal of Mike carries the warmth of human connection and the frailty of the human condition with a generous side of humor. Mike is portrayed as a good-hearted, gentle giant who is genuine in his approach to life and love. He's constantly grappling with his food addiction, and dealing with the day-to-day realities of being a city police officer. Melissa McCarthy, known for her comedy style that is both physical and slapstick, plays the role of Molly Flynn. She brings her own brand of humor to the character, delivering dialogue in a way that is funny, sharp, and at times, heartbreaking. Molly is also dealing with her weight issues, but she refutes the notion that she should be defined by her size. She is a smart and sweet woman who finds love in an unlikely place - an Overeaters Anonymous meeting. Reno Wilson portrays Mike's witty best friend and police partner, Carl McMillan. The duo's camaraderie is a highlight of the show, and their conversations range from hilarious banter to serious discourses about life, relationships, and personal goals. Katy Mixon plays the role of Victoria Flynn, Molly's party-loving, pot-smoking sister. Her character adds an extra layer of humor and complexity to the show with her self-centered yet lovable antics. Swoosie Kurtz portrays Joyce Flynn, Molly and Victoria's flirtatious and irrepressible mother. She adds a delightful mix of realism, humor, and tender moments as she navigates her relationship with her daughters and her own love interests. The show is set in Chicago, which provides the backdrop for a myriad of interesting characters and experiences. The city itself becomes a character in the series, from Mike and Carl patrolling the streets, to Molly teaching at the local school. Mike & Molly expertly uses humor to navigate serious themes such as addiction, relationships, and body image. Each episode is filled with hilarious and heartfelt moments, where the characters bungle their way through life, making mistakes but also learning and growing. Their respective battles with weight become the lynchpin of the series - not just as a common struggle that brings them together, but as a more profound metaphor for the challenges, both internal and external, that people face on their journey through life. The narrative highlights that love and acceptance are not prerogatives of the perfect or the ideal, but are fundamental human experiences that everyone richly deserves - regardless of size, stature, or the personal demons they fight. Furthermore, the show also addresses the dynamics of modern-day relationships, whether it's the developing romance of Mike and Molly, the activities of Molly's single mother and sister, or the constant skirmishes between Mike and his best friend Carl. Overall, Mike & Molly is not just a show about a couple who meet at an Overeaters Anonymous meeting. It is a heartfelt and humorous narrative about love, acceptance, and working through life's struggles. It's about two people who meet, fall in love, and work together to overcome their personal obstacles. But most importantly, it is about finding beauty and acceptance within one's self and in others. The relatable characters, the interplay of comedy and real-life issues, and the meaningful relationship development within the show all contributed to its appeal and staying power over six memorable seasons. It's a comedic journey of transformation and love - adorned with many laughs along the way.
Mike & Molly is a series categorized as a currently airing. Spanning 6 seasons with a total of 127 episodes, the show debuted on 2010. The series has earned a moderate reviews from both critics and viewers. The IMDb score stands at 6.5.
How to Watch Mike & Molly
How can I watch Mike & Molly online? Mike & Molly is available on CBS with seasons and full episodes. You can also watch Mike & Molly on demand at Max, Amazon Prime, Apple TV, Google Play, Amazon online.
Cast
Melissa McCarthy, Swoosie Kurtz, Katy Mixon, Billy Gardell, Reno Wilson, Cleo King, Holly Robinson Peete, Nyambi Nyambi, Brendan Patrick Connor, Andy Mackenzie, Rondi Reed, Louis Mustillo

Stream shows like Mike & Molly