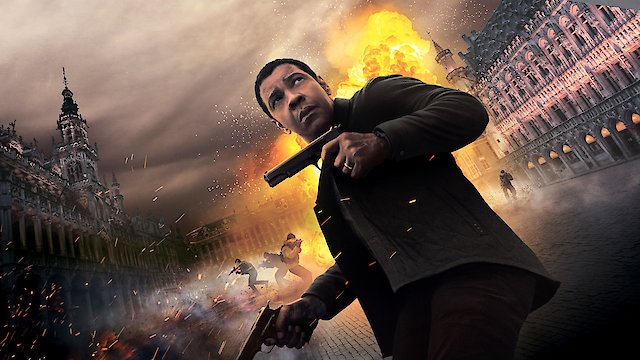 Where to Watch The Equalizer 2

The Equalizer 2, released in 2018, marks the return of Denzel Washington in his first ever sequel role, reprising his character Robert McCall from the original 2014 movie. Directed by Antoine Fuqua and co-starring Pedro Pascal, Ashton Sanders and Bill Pullman, this action-packed thriller beautifully continues McCall's story as he navigates brutal encounters in his tireless pursuit of justice. In the film, Washington's character, McCall, a former black ops agent turned vigilante, lives a quiet existence as a Lyft driver, outside the glare of society. Living in semi-isolation in his Boston apartment, he uses this low-profile occupation to help people who cross his path. His amicable demeanor with the riders concocts an insurmountable barrier between his humble life and the extraordinary abilities that he conceals beneath his plain exterior. However, it's his insatiable need to help the helpless and defend the defenseless that makes McCall a magnetic figure. The film's plot unravels when a sudden tragedy strikes close to home, which shakes McCall out of his simple life and propels him back into the world of violence and revenge. His quest to administer his own brand of justice brings him face-to-face with a range of menacing characters providing relentless action scenes. Denzel Washington delivers a stellar performance, reprising his role as the tough but empathetic McCall. He effortlessly merges the mild-mannered, compassionate, everyday man persona with the steely, resourceful fighter when pushed to his limits, balancing his portrayal of McCall's dual personas with a finesse that firmly roots the character in viewers' hearts. Pedro Pascal gives a flawless performance as Dave York, McCall's former colleague, whose charm and charisma make for a compelling watch. Ashton Sanders excels as Miles Whittacker, a young neighbour in McCall's apartment complex. He portrays a high school student grappling with life, navigating his way between his ambitions and the harsh realities of his neighborhood. Director Antoine Fuqua returns to helm this sequel, his deft handling of intense action sequences blending seamlessly with soulful character relationships. Fuqua's treatment of the storyline keeps the audience on the edge of their seats, with an unpredictable narrative full of gripping fight scenes, followed by tender moments of camaraderie and emotional intensity. Distinct from conventional action films, The Equalizer 2 delves deeper into McCall's personal life unlike its predecessor, providing glimpses of his human connections and vulnerabilities. However, it still maintains a powerful punch of action sequences, loaded with adrenaline-rushing moments. These character-driven stories intertwined with meticulously choreographed fight scenes serve as constant reminders that McCall is on a mission, with or without a helper. The cinematography is strikingly visceral, with every explosion, every punch landing, or McCall stealthily laying a trap, filling the screen with gripping visual detail. The soundscape is masterfully incorporated, accentuating the escalating tension and skyrocketing adrenaline levels, lending an immersive experience to The Equalizer 2. A keen observation of societal blight and human suffering lies at the core of the storyline. This installment does an excellent job of underscoring McCall's belief that those marginalized by society deserve justice just as much as anyone else. Despite it being an action-packed thriller, the film never strays away from the emotional fabric that ties the characters together. The Equalizer 2 delves into themes of loneliness, camaraderie, hope, and resilience, making it more than just a simple action flick. Overall, The Equalizer 2 offers a potent blend of high-impact action and emotion-filled drama, led by Denzel Washington's compelling performance and Antoine Fuqua's skillful direction. It is an engaging story of a man driven by vengeance, but also colored by empathy and a deep-rooted sense of justice. This film strikes a commendable balance between its hard-hitting themes and commercial considerations –something that action lovers and drama buffs alike will appreciate. It's a true spectacle, all the more potent because of its blending of raw physicality with the emotional integrity of its gritty hero.
The Equalizer 2 is a Thriller, Action, Crime movie released in 2018. It has a runtime of 129 min.. Critics and viewers have rated it moderate reviews, with an IMDb score of 6.7. It also holds a MetaScore of 50.
How to Watch The Equalizer 2
Where can I stream The Equalizer 2 movie online? The Equalizer 2 is available to watch and stream, buy on demand, download at Hulu Plus, FuboTV, Apple TV, Amazon, Google Play, Microsoft Movies & TV, Vudu. Some platforms allow you to rent The Equalizer 2 for a limited time or purchase the movie for downloading.


Stars
Denzel Washington, Ashton Sanders, Pedro Pascal, Melissa Leo, Bill Pullman
Genres
Thriller, Action, Crime

Stream movies like The Equalizer 2
Also directed by Antoine Fuqua
Also starring Denzel Washington