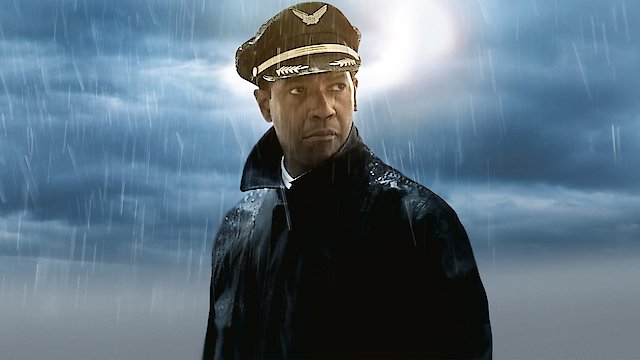 Where to Watch Flight

Flight is a 2012 American drama film directed by Robert Zemeckis and stars seasoned actors such as Denzel Washington, Nadine Velazquez, and Don Cheadle. Renowned for its dynamic plot and commanding performances, the movie provides an intense exploration of personal transformation and redemption, enveloped in a thrilling narrative. The multi-award-winning actor Denzel Washington brilliantly takes on the role of the movie's central character, Whip Whitaker, a seasoned airline pilot who's battling alcoholism and substance abuse. Despite his personal life being a maelly of poor decisions and destructive behaviour, Whitaker is an experienced and adroit pilot, and the film's opening sequences involve a tumultuous plane crash that pushes his piloting skills to an unimaginable limit. When an unforeseen mechanical failure causes the plane to plummet midway through the flight, Whip, in a daring move fuelled by a combination of instinct, skill, and desperation, manages to land the plane in a field, averting a more disastrous outcome. Washington's performance is nothing short of breathtaking as his character wrestles with the controls and somehow manages to bring the plane down with minimal casualties. His heroism instantly thrusts him into the media spotlight, but as Whip becomes embroiled in a highly scrutinized investigation concerning the crash, his personal demons are put on a blistering display. The shattering plane crash was only the start of a long, gritty journey for the stoic captain, whose problems deepen as inquiries closer home begin to unravel. Nadine Velazquez elegantly takes on the role of Katerina Marquez, providing the film with a touch of emotional volatility and vulnerability. Marquez is a fight attendant who has intricate ties with Whip, and Velasquez's portrayal adds another profound, emotional layer to the narrative, painting a more somber picture amidst the unfolding chaos. Enter Don Cheadle, who plays the smooth, well-spoken lawyer, Hugh Lang. Cheadle delivers an absorbing performance as the attorney who is hired to defend Whip in the investigation. Poised and strategic, Lang is central to the process of uncovering the truth, and his presence adds another level of tension to the film's already-tense plot. Flight is an intense drama visually punctuated with edge-of-your-seat scenes of the plane crash, and it skillfully delves into the consequences that follow for the aviator leading a double life, sensitive themes of addiction, morality, and redemption delivering an emotionally and mentally gripping narrative. Washington's portrayal of Whitaker's struggles with his personal ghosts, the pressure from the investigation, and his own sense of self-worth provide viewers with an intimate view of a man grappling with the most challenging phase of his life. Adding tension to the narrative is an assertive soundtrack and first-rate cinematography that beautifully captures the heart-stopping realism of the scenes. The film adopted a unique approach in shining a spotlight on the challenges faced by its lead character. It's a civil aviation-themed movie, but its core lies in exploring one man's struggle with addiction and his tumultuous journey to redemption, using the plane crash as a metaphorical and literal disaster. The film doesn't shy away from displaying the grim truths and darker sides of alcoholism, showcasing how it can wreak havoc on personal and professional life. The traditionally likable and heroic image of an aviator is drastically dismantled here as the personal flaws of the main character are laid bare in front of the viewers. In summary, Flight is a captivating exploration of a life spiraling out of control and the searing journey to redemption. It is a powerful character study expertly portrayed by Denzel Washington and supported by strong performances by a compelling ensemble cast, including Nadine Velasquez and Don Cheadle. Its engaging narrative, coupled with raw, thought-provoking themes, ensures that it makes for a fascinating, potent watch. While the film has panoramic views of the resplendent skies, its true flight is in the personal ascent and descent of its protagonist set against an engaging backdrop of a high-stake plane crash.
Flight is a Drama movie released in 2012. It has a runtime of 138 min.. Critics and viewers have rated it moderate reviews, with an IMDb score of 7.3. It also holds a MetaScore of 76.
How to Watch Flight
Where can I stream Flight movie online? Flight is available to watch and stream, buy on demand, download at Hulu Plus, Max, Amazon Prime, The Roku Channel, Apple TV, FlixFling VOD, Amazon, Google Play, YouTube VOD, Vudu. Some platforms allow you to rent Flight for a limited time or purchase the movie for downloading.


Stars
Denzel Washington, Kelly Reilly, Bruce Greenwood, Don Cheadle, John Goodman, Melissa Leo, James Badge Dale

Stream movies like Flight
Also directed by Robert Zemeckis
Also starring Denzel Washington
Also starring Nadine Velazquez
Watch movies on Apple TV+