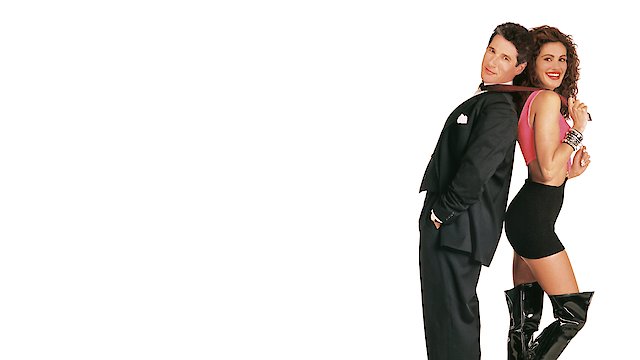 Where to Watch Pretty Woman

Pretty Woman is a quintessential 1990s romantic comedy film that successfully combines charm, humor, and raw emotion to create an enchanting tale that transcends the typical "Cinderella" story. The film is directed by the masterful Garry Marshall and stars the inimitable actor Richard Gere, the ethereal Julia Roberts, and the versatile Jason Alexander. The plot of Pretty Woman centers around Edward Lewis, a wealthy and successful businessman, played by Richard Gere. Edward, known for his ruthless business dealings, seems to have it all - money, power, respect. However, his personal life is quite the opposite of his flourishing career. One night, purely by coincidence, he crosses paths with Vivian Ward, a bright and full-of-life streetwalker, portrayed with sheer brilliance by Julia Roberts. Vivian is quite different from the women Edward usually encounters in his high-society world, but her sincerity, effervescence, and charisma attract him. Despite initial reservations, Vivian and Edward enter into an unconventional agreement. In exchange for a sizable sum of money, Vivian agrees to accompany Edward to social events, providing him with companionship and lending him an air of normalcy in his highly scrutinized world of business and wealth. This agreement marks the beginning of a journey filled with unexpected emotions, crazy antics, and hilarious situations that form the crux of Pretty Woman. Julia Roberts and Richard Gere engender a palpable chemistry onscreen. Their characters, despite coming from polar opposite worlds, find a strange but captivating connection, showcasing the timeless axiom that love knows no boundaries nor status. Gere's portrayal of Edward is complex and multifaceted. He convincingly plays this hard-nosed businessman who slowly exposes his vulnerability as he becomes closer to Vivian. Roberts, with her electrifying performance as Vivian, is a revelation. She superbly balances the role's demand for street smarts with endearing innocence, thereby winning the hearts of audiences worldwide. Jason Alexander, too, delivers a commendable performance as Edward's loyal but morally ambiguous attorney, Philip Stuckey. This character brings the necessary antagonistic counterbalance to the blossoming romance, providing a stark contrast and highlighting the differences between Edward and Philip's ethical principles. Garry Marshall does a phenomenal job directing Pretty Woman. The movie never stumbles into the territory of being overly sentimental or melodramatic, maintaining an ideal blend of comedy, romance, and drama. The magical transformation of Vivian doesn't undermine her independence or strength but reveals the depth of her character, instilling her with relatable qualities that endear her to the audience. The film's screenplay is engaging, imbued with witty, humorous dialogues and poignant moments that aptly depict the emotions of the characters. Pretty Woman does a commendable job of challenging societal stereotypes and showcases an unconventional and beautiful love story. It sends a clear message that love does not discriminate and that everyone deserves a shot at their "happily ever after." Pretty Woman is celebrated for its iconic fashion sense. Costume designer Marilyn Vance presents an array of looks, ranging from Vivian's initial street-savvy wardrobe to the stunning, glamorous, and elegant dresses she wears as she accompanies Edward. Combined with the movie's incredible music score featuring the iconic title track by Roy Orbison, Pretty Woman creates a memorable cinematic experience. In conclusion, Pretty Woman stands as a touchstone of 90s cinema. This film is as much about the captivating romance of Edward and Vivian as it is about self-discovery, empowerment, and breaking stereotypes. With its remarkable performances, engaging plot, and teeming wit, Pretty Woman remains a beloved classic, touching the hearts of audiences around the globe. If you're a fan of romantic comedies or love compelling character journeys, Pretty Woman is one film you shouldn't miss.
Pretty Woman is a Comedy, Romance movie released in 1990. It has a runtime of 119 minutes. Critics and viewers have rated it moderate reviews, with an IMDb score of 7.1. It also holds a MetaScore of 51.
How to Watch Pretty Woman
Where can I stream Pretty Woman movie online? Pretty Woman is available to watch and stream, buy on demand, download at Peacock Premium, Apple TV, Amazon, Google Play, YouTube VOD, Vudu. Some platforms allow you to rent Pretty Woman for a limited time or purchase the movie for downloading.


Stars
Richard Gere, Julia Roberts

Stream movies like Pretty Woman
Watch movies on Apple TV+
Also starring Richard Gere
Also starring Julia Roberts