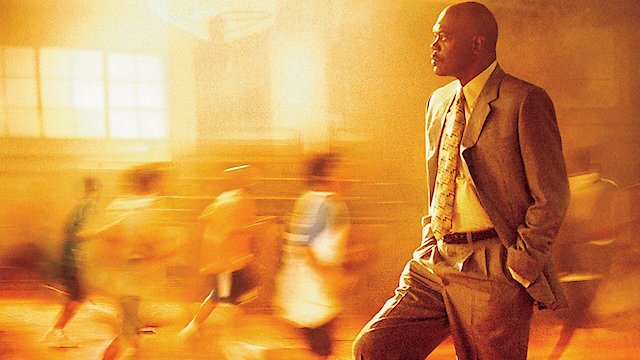 Where to Watch Coach Carter

The 2005 Paramount Pictures film, Coach Carter, wonderfully directed by Thomas Carter, is a thought-provoking blend of sports, drama, and real-life inspirational stories. The movie is based on the compelling true-life story of Richmond High School basketball coach, Ken Carter, brilliantly portrayed by the Oscar-nominated actor Samuel L. Jackson. The narrative is set in the inner-city basketball court of Richmond, California, highlighting the crossroads of adolescence, athletics, and pertinent socio-economic issues. At its core, the film explores a passionate coach's mission to instill discipline, respect, and the importance of academics in his hard-knock life players, played superbly by a group of young actors including Rick Gonzalez and Robert Ri'chard. The portrayal of these young men of color grapples with a wide array of issues from teen pregnancy, drug abuse, neglect, and the necessity of education over sporting prowess. Samuel L. Jackson, as Coach Ken Carter, takes center stage with a dominant performance that exudes both toughness and affection. He portrays a visionary man who stands against the systemic societal constraints that seem to value athletic talent over educational development in schools. The challenging underlying question that the story poses repeatedly is: Is winning games more significant than building lives? Coach Carter, upon his arrival at Richmond High, is faced with a demotivated, undisciplined group of players and dismal team records. However, rather than being driven purely by the desire to win games, he enforces a strong-willed contract upon his players. The contract decrees that the players must maintain a minimum of 2.3-grade point average (GPA), attend all classes, and wear dress shirts and ties on game days. It acts as a stepping stone to steer them towards education and discipline, teaching them life lessons that resonate beyond the hardwood court. The film may seem like another addition to the sports movie genre at first glance, but it profoundly breaks free from this bracket, revealing a more profound educational and societal commentary. With a strong backbone of morality and principals, Coach Carter embraces his role, not just as a coach but also as a pillar the players could lean on, triggering transformational waves of changes in his players' lives. The character dynamics in the movie further strengthen the narrative. While Jackson's character holds the movie's spine, the young ensemble cast's interactions provide some heartrending moments, beautifully accentuating the gravity of the story. The performances by Rick Gonzalez and Robert Ri'chard deserve special mention, each showcasing a roller coaster of emotions as their characters undergo personal growth under the tutelage of Ken Carter. But what happens when this new philosophy encounters resistance from the world outside, including parents, school executives and the wider community, who measure success only through their team's wins? This creates the conflict that moves the film, showing how Coach Carter faces a backlash for locking the undefeated team out of their own gym because they have not met his academic standards. Tension, drama, and emotions are depicted beautifully in the movie with a dash of thrilling basketball action. The director, Thomas Carter, has done a commendable job of combining different genres and creating this masterpiece. The screenplay flows smoothly throughout the film, gripping the audience. Moreover, the cinematographic techniques employed in the basketball sequences serve both to enliven the game and metaphorically communicate the protagonists' character arcs. Another laudable aspect of Coach Carter is its soundtrack. The carefully selected music sets the tone, contributing significantly to the whole viewing experience. In the end, Coach Carter is an engrossing, inspirational, and thought-provoking movie that breaks the traditional norms of a sports drama. It is a story of grit, determination, sacrifice, discipline, and the vital role education plays in creating a well-rounded persona beyond just athletic abilities. Samuel L. Jackson, with his commanding performance and relentless pursuit of ideals, will leave viewers immersed and contemplating the film's profound themes, making Coach Carter a masterpiece of recent cinema.
Coach Carter is a Drama, History movie released in 2005. It has a runtime of 136 min.. Critics and viewers have rated it moderate reviews, with an IMDb score of 7.3. It also holds a MetaScore of 57.
How to Watch Coach Carter
Where can I stream Coach Carter movie online? Coach Carter is available to watch and stream, buy on demand, download at Amazon Prime, The Roku Channel, Apple TV, Amazon, Google Play, Microsoft Movies & TV, Vudu. Some platforms allow you to rent Coach Carter for a limited time or purchase the movie for downloading.


Stars
Samuel L. Jackson, Rob Brown, Channing Tatum, Rick Gonzalez, Ashanti

Also starring Rick Gonzalez
Watch movies on Apple TV+