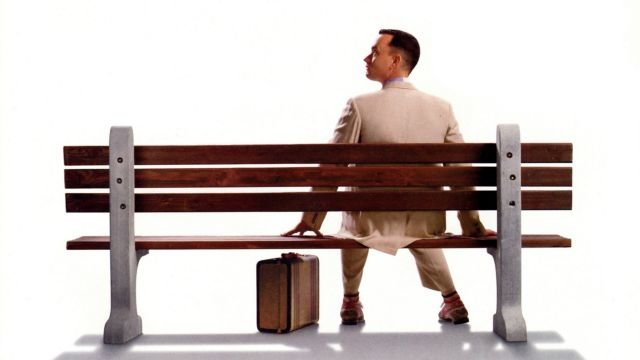 Where to Watch Forrest Gump

Forrest Gump is a multi-award-winning 1994 film directed by Robert Zemeckis, featuring powerful performances from Tom Hanks, Robin Wright, and Gary Sinise. This drama-cum-romantic comedy offers a unique and touching tale revolving around the endearing hero, Forrest Gump. Tom Hanks shines as Forrest Gump, a good-hearted man from Greenbow, Alabama, who may be considered slow-witted by some, but whose simplistic wisdom and childlike innocence show a deeper understanding of life. He leads us through an emotive journey seen through his eyes, using his uncomplicated perspective to examine some of the most significant events and cultural shifts of the late 20th Century America. Hank's portrayal is made even more enriching through his interactions with the supporting characters. Robin Wright beautifully plays the role of Jenny Curran, Forrest's childhood friend and first love. Wright's performance captures the turbulent life of a woman trying to find her own identity amid chaos. She is Forrest's opposite and equal, embodying the spirit of the troubled times they traverse. Gary Sinise plays Lieutenant Dan Taylor, Forrest's commanding officer during the Vietnam War, whose life takes a dramatic turn after meeting Forrest. Sinise gives a stellar performance, depicting a man struggling with his fate, evolving from a bitterness towards his situation to eventually finding peace and acceptance. His relationship with Forrest adds layers to the narrative, showing the transformative power of friendship. The film is peppered with historical events, seamlessly weaving in Forrest's life story. He inadvertently participates in notable moments of American history - from teaching Elvis Presley his iconic dance moves to unknowingly exposing the Watergate Scandal. Despite the changing times and myriad experiences, Forrest's core of honesty, love, and integrity remains unaltered, making his character uniquely appealing. While Forrest Gump is central to the narrative, it's the intersecting lives and relationships that reflect on the prevailing societal values and attitudes, draughting a perfect blend of personal and historical. However, the film is not just a reflection on American history. It conveys larger universal messages about life, love, friendship, and destiny. Set against a soundtrack that perfectly encapsulates the zeitgeist of the era, Forrest Gump is as much a story about America as it's about its titular character. From the carefree rock'n'roll of the 50s to the hard-edged protest songs of the Vietnam War era, the film showcases a broad cultural spectrum through music. Zemeckis has masterfully interlaced humor, drama, and romance in this cinematic masterpiece. The script by Eric Roth is impressively full of wit and heart, capturing key themes about the unpredictability of life and the constancy of love and human spirit. It's the director's narrative prowess that even the historical sequences do not feel like detached occurrences but essential parts of the protagonist's life, offering glimpses of ironies and ambiguities of existence. Visual effects in Forrest Gump are another prominent aspect. Zemeckis has brilliantly used CGI technology to integrate Hanks into archival footage, resulting in a flawless collaboration of reality and fiction, enhanced by the captivating cinematography. Forrest Gump charms with its simplicity while compelling its audience to brood over life's complexities. It's a poignant cinematic journey that leaves an indelible impression on both your heart and mind. Ranging from innocent laughter to heartfelt tears, the film succeeds in eliciting a gamut of emotions from the viewers. In essence, Forrest Gump signifies unforgettable character study against the backdrop of an ever-changing America. It's a sentimental exploration of one man's life that inextricably interweaves with the historical tapestry of his country. Through its distinct storytelling, it provides a new vantage point on life, presenting us with the profound insight that "Life is like a box of chocolates, you never know what you're gonna get." Encapsulating universal themes, emotive performances, and historical accuracy, Forrest Gump is not just a movie; it's a heartwarming experience that compels us to view the world through a different lens, enticing us with its simplicity yet profound intellectuality.
Forrest Gump is a Comedy, Drama, Romance movie released in 1994. It has a runtime of 142 min.. Critics and viewers have rated it mostly positive reviews, with an IMDb score of 8.8. It also holds a MetaScore of 82.
How to Watch Forrest Gump
Where can I stream Forrest Gump movie online? Forrest Gump is available to watch and stream, buy on demand, download at Paramount+, Amazon Prime, Apple TV Channels, Pluto TV, The Roku Channel, Apple TV, FlixFling VOD, Amazon, Google Play, Microsoft Movies & TV, Vudu. Some platforms allow you to rent Forrest Gump for a limited time or purchase the movie for downloading.


Stars
Tom Hanks, Robin Wright Penn, Gary Sinise, Mykelti Williamson, Sally Field
Genres
Comedy, Drama, Romance

Stream movies like Forrest Gump
Also directed by Robert Zemeckis
Also starring Robin Wright