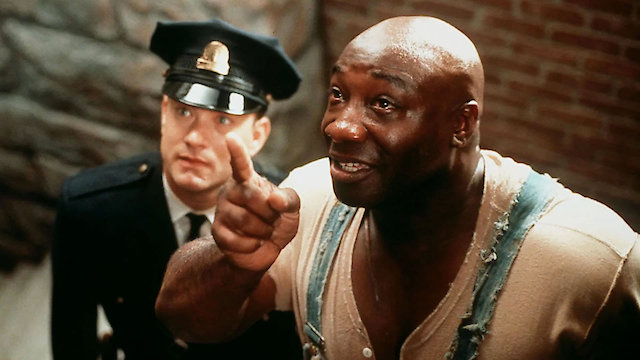 Where to Watch The Green Mile

The Green Mile is a powerful, captivating, and emotionally provocative drama starring Tom Hanks and Michael Clarke Duncan. Released in 1999, the film was directed by Frank Darabont and adapted from Stephen King's best-selling novel bearing the same name. With a compelling narrative, spirited performances, and a deeply compassionate heart, The Green Mile presents a cinematic marvel that effortlessly blends the elements of magical realism with an intimate exploration of human emotions. Set in the backdrop of the mid-1930s Louisiana, Tom Hanks stars as Paul Edgecomb, a composed and sympathetic death row corrections officer. Paul's life takes an extraordinary turn with the arrival of a behemoth of a man, John Coffey, a role that led Michael Clarke Duncan to his first and only Oscar Nomination. John is convicted for the heinous crime of murdering two little girls, a startling contradiction to his gentle giant demeanor. Despite the harsh environment that death row typically brings, The Green Mile propels itself above the typical bleak and gritty prison movie into a realm of hope, redemption, and emotional resonance. Tom Hanks presents one of his most sensitive performances, portraying Edgecomb with a beautiful mix of authority and empathy. Michael Clarke Duncan's portrayal of John Coffey is equally commendable, as he illustrates his character's tragic vulnerability, nuanced innocence, and surprising supernatural abilities with conviction and warmth. His unique mental condition and miraculous healing abilities genuinely challenge Paul's rigid beliefs on right and wrong. The emotionally charged connection between Hanks and Duncan could move the sternest hearts, adding profound layers to the narrative. David Morse plays Paul's fellow prison guard Brutus "Brutal" Howell and delivers a commendable performance. The supporting cast features a line-up of seasoned performers that include James Cromwell as Warden Hal Moores, Bonnie Hunt as Jan Edgecomb, and Sam Rockwell as "Wild Bill" Wharton whose relentless malevolence adds another dimension to the story. The Green Mile adeptly touches on several compelling themes; it's not just a poignant chronicle of death-row inmates, it delves into hope, faith, empathy, redemption, and the fundamental human capacity for good and evil. The film doesn't shy away from a meticulous exploration of the justice system and provocatively humanizes its prisoners, while highlighting the inevitable moral and emotional conflicts faced by their guards. The film is underscored by excellent cinematography and an atmospheric score that accentuates the powerful narrative. The Green Mile's settings are impeccably detailed and carefully presented to reflect the heart-wrenching grimness of 1930s death row and further complements the plot's emotional weight. From the hauntingly silent confines of the prison cells to the eerie green stretch leading to the electric chair- dubbed "The Green Mile" - the film's setting effectively enhance the drama's intensity and depth. Under Frank Darabont's masterful direction, the film runs at a remarkable 189 minutes, yet it captivates viewers from the opening credits to the unforgettable finale. Known for his previous blockbuster, The Shawshank Redemption, Darabont portrays his innate ability to adapt Stephen King's works by seamlessly blending the film's dramatic heft with enchanting supernatural elements. Moreover, The Green Mile isn't afraid to elicit heavy emotional responses from viewers. Rather, it seems to encourage it. It explores the fragility of life, the horror of injustice, and offers a heartbreaking yet beautiful look at death. It's an emotionally challenging watch, but absolutely rewarding as it captures the essence of humanity in its rawest form. In summary, The Green Mile is an enthralling cinematic exploration of a tenderly weaved tale that maps the human condition in all of its complexities. Its acting performances exude depth and passion, making viewers feel a powerful connection to the characters and their journey. This movie is a timeless tour de force of not just filmmaking but a testament to the enduring themes of compassion, empathy, and ultimately, the triumph and tragedy of the human spirit.
The Green Mile is a Fantasy, Drama, Crime movie released in 1999. It has a runtime of 188 min.. Critics and viewers have rated it mostly positive reviews, with an IMDb score of 8.6. It also holds a MetaScore of 61.
How to Watch The Green Mile
Where can I stream The Green Mile movie online? The Green Mile is available to watch and stream, buy on demand, download at The Roku Channel, Apple TV, Amazon, Google Play, Vudu. Some platforms allow you to rent The Green Mile for a limited time or purchase the movie for downloading.


Stars
Tom Hanks, David Morse, Bonnie Hunt, Michael Clarke Duncan, James Cromwell, Michael Jeter, Graham Greene, Doug Hutchison, Sam Rockwell, Barry Pepper, Jeffrey DeMunn, Patricia Clarkson, Harry Dean Stanton, Dabbs Greer
Genres
Fantasy, Drama, Crime

Stream movies like The Green Mile
Also directed by Frank Darabont
Also starring Michael Clarke Duncan