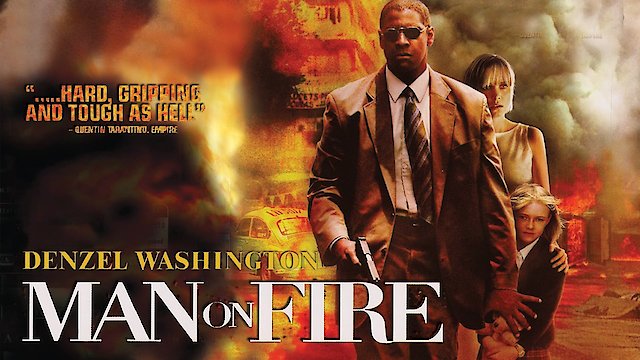 Where to Watch Man on Fire

The 2004 drama/thriller movie Man on Fire, directed by Tony Scott, stars Denzel Washington as the principal character, John Creasy, along with other high-profile actors such as Christopher Walken and Dakota Fanning. The film is both an engaging action drama and a poignant exploration of redemption and sacrifice, situated in Mexico City's chaotic and crime-ridden landscape. In Man on Fire, Denzel Washington delivers a layered performance as John Creasy, a washed-up, war-weary former CIA operative who harbors a deep well of guilt and disillusionment after his career. Seeking a purpose, he accepts a job as bodyguard for a wealthy family in Mexico City, treating it as merely an assignment, unknowingly becoming the sole protector of nine-year-old Pita Ramos, played with authentic innocence and vitality by Dakota Fanning. The two initially share an uncomfortable tension, with Creasy preferring his solitude and alcohol to the girl's youthful energy. However, in a true testament to the power of friendship, they gradually develop a close bond, and Creasy's cold exterior begins to thaw. Pita's innocent love and trust breathe new life into Creasy, awakening in him a sense of purpose and a belief in good that he thought he had lost forever. This dynamic between Creasy and Pita forms the heartbeat of the film and gives the film a deeply emotional center around which the subsequent, thrilling plot revolves. When things take an unexpected, sinister turn, Creasy must return to his old violent ways and, armed with his particular set of skills and driven by fierce love, becomes a man on fire. Unafraid of the consequences, he embarks on a relentless quest, navigating through Mexico City's labyrinth of corruption and crime, steadfast in his resolve to administer his own brand of justice. Christopher Walken, with his characteristic intensity, plays Rayburn, a former comrade and good friend to Creasy. Rayburn is the person who lands Creasy the job with the Ramos family. He is also the cinematic Greek chorus, offering insights into Creasy's dark past and foreshadowing the storm to come. His role, while limited in screen time, is pivotal in portraying the depth of Creasy's character and his impending rampage. Mexico City plays a huge part in the film as well, not just as a backdrop, but almost as a collective character in itself. The dusty streets, the bustle, the vibrant culture, and the ominous underbelly of the city pulsate with life. The stark contrast between the metropolitan glamour and the grim criminal underworld stirs an atmosphere of constant tension. Despite being known as an action movie, Man on Fire is more than a typical shoot-'em-up. Scott, with his distinctive frenetic style, presents not merely an action flick, but a raw portrayal of a man's journey from utter despair to redemption. The movie's pace is a perfect balance of heartfelt moments and adrenaline-pumping sequences. The action scenes are intense and stylish, yet they never undermine the emotional core of the story. In a nutshell, Man on Fire is a compelling exploration of a man's journey towards redemption set amidst the backdrop of political and social turmoil. Denzel Washington puts forward a performance that is powered by both bursts of volatile energy and quiet instances of vulnerability, creating a crescendoed balance that allows the viewers to engage emotionally. Fanning, on the other hand, adds a dash of purity and innocence that makes the narrative even more heart-wrenching. In spite of its gritty atmosphere and often dark themes, Man on Fire ultimately revolves around the theme of love—love, which sparks the action, drives the vengeance, and provides hope. If you are searching for a movie that incredibly intertwines action, suspense, and emotion, Man on Fire is an exceptional choice to consider. It will leave you entertained, moved, and unquestionably captivated by Denzel Washington's gripping rendition of a man reborn in fire.
Man on Fire is a Action, Drama, Thriller movie released in 2004. It has a runtime of 146 minutes. Critics and viewers have rated it moderate reviews, with an IMDb score of 7.7. It also holds a MetaScore of 47.
How to Watch Man on Fire
Where can I stream Man on Fire movie online? Man on Fire is available to watch and stream, buy on demand, download at Hulu Plus, Max, Amazon Prime, Apple TV Channels, The Roku Channel, Apple TV, Amazon, Google Play, Microsoft Movies & TV, Vudu. Some platforms allow you to rent Man on Fire for a limited time or purchase the movie for downloading.


Stars
Denzel Washington Dakota Fanning Christopher Walken Giancarlo Giannini Radha Mitchell Marc Anthony Rachel Ticotin , Mickey Rourke
Genres
Action, Drama, Thriller

Also starring Denzel Washington
Also starring Christopher Walken
Watch movies on Apple TV+