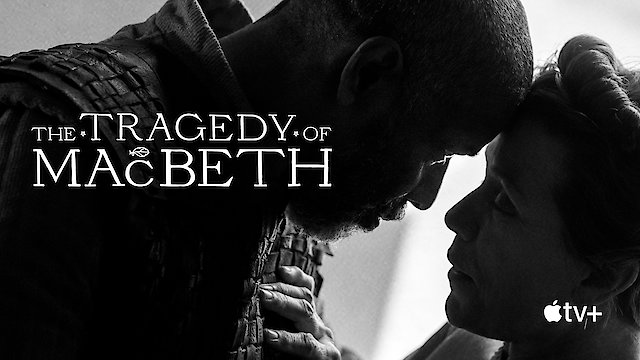 Where to Watch The Tragedy of Macbeth

The Tragedy of Macbeth is a gripping and atmospheric cinematic adaptation of one of the most renowned plays written by William Shakespeare. Released in 2021, this black and white film is a masterstroke from director Joel Coen, and it stars Academy Award winners Denzel Washington and Frances McDormand, with a remarkable supporting performance from Alex Hassell. The film takes us through the ruthless, blood-soaked journey of Macbeth, played by Denzel Washington. Known for his iconic roles that leave a lasting impression, Washington brings an intense, raw portrayal of the ambitious Scottish general. He gives life to Macbeth's fierce bravery, profound vulnerability, and tormenting guilt with compelling nuance and dexterity, captivating the audience with his powerful performance. Equally sublime is Frances McDormand's performance as Lady Macbeth. Bound in the threads of ruthless ambition and troubling guilt, McDormand steals the spotlight with her portrayal of one of the most complex characters in literature. She beautifully captures Lady Macbeth's ambition, manipulative nature, and chilling cold-heartedness while carefully exposing her deteriorating sanity to a degree that subtly humanizes her. Alex Hassell provides a noteworthy performance as Ross, one of the Thanes of Scotland. Hassell brings a unique blend of moral ambiguity and political opportunism to his character, underscoring the grim realities of power and ambition that are central to the narrative's psychological undertones. The Tragedy of Macbeth brings to life the ethereal, eerie, and unearthly elements of Shakespeare's tragedy right from the first scene. There is an unmistakable Gothic charm that perfectly complements the brooding darkness and visceral drama of the play. Whether it's the gloomy castle interiors, open heath under a stormy sky, or haunted sleepwalking scenes, every aspect of the movie contributes to a growing sense of dread and impending doom. Joel Coen ensures that this adaptation retains the richness of Shakespeare's language, making it an authentic interpretation of the original work. The dialogue is rendered flawlessly, and every monologue, every line delivery is potent and poignant. The film's austere black and white cinematography is evocative, raising the visual storytelling to a level that equalizes with Shakespeare's linguistic mastery. On top of the exceptional performances and cinematic allure, the movie remains grounded in exploring the universal themes inherent in Macbeth. It delves into the human yearning for power, the corrosive nature of unchecked ambition, the struggle with guilt, and the repercussions of succumbing to greed and treachery. The psychological unraveling of both Macbeth and Lady Macbeth is captured in an intimately haunting way, pushing the viewers to question morality and personal ambition's limits. Furthermore, Coen's use of symbolism, visual metaphors, and abstract imagery creates a captivating and layered storytelling experience. The Tragedy of Macbeth doesn't merely narrate the tragic fall of a celebrated warrior induced by prophecy and ambition; it painstakingly translates the anxiety, paranoia, and psychological turmoil of its primary characters to the audience in a tangible manner. Unforgettable, stark, and intensely psychological, The Tragedy of Macbeth is more than a cinematic adaptation of a known tragedy. It's a masterful piece of film-making that communicates the dark, unfathomable depths of ambition and guilt with resonance and artistry. The striking performances, haunting visuals, and the authentic rendition of Shakespearean language create a gripping narrative that lingers long after the credits roll. In all, The Tragedy of Macbeth is a cinematic triumph that does justice to the complexity and profoundness of the original Shakespearean tragedy. Its exploration of dark ambition, paranoia, guilt, and downfall is not just impressive, but also deeply human, making it a must-watch for fans of Shakespeare, psychological thrillers, and classic drama alike.
The Tragedy of Macbeth is a Drama, War movie released in 2021. It has a runtime of . Critics and viewers have rated it moderate reviews, with an IMDb score of 7.1. It also holds a MetaScore of 87.
How to Watch The Tragedy of Macbeth
Where can I stream The Tragedy of Macbeth movie online? The Tragedy of Macbeth is available to watch and stream at Apple TV+.


Stars
Denzel Washington, Frances McDormand, Brendan Gleeson, Corey Hawkins, Sean Patrick Thomas, Ralph Ineson, Brian Thompson

Stream movies like The Tragedy of Macbeth
Also directed by Joel Coen
Also starring Denzel Washington
Also starring Frances McDormand
Watch movies on Apple TV+