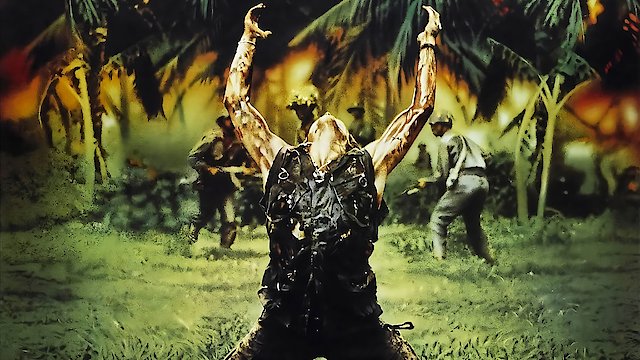 Where to Watch Platoon

Platoon, an American war drama film from 1986, was written and directed by the gritty auteur, Oliver Stone. Regarded as a compelling and visceral portrayal of the Vietnam War, the movie weaves its narrative with stark rawness and profound authenticity, a testament to Stone's own experiences as an infantry soldier during the war. A star-studded ensemble led by Charlie Sheen, Tom Berenger, and Willem Dafoe personify the power dynamics, moral complexities, and psychological toll of war. Sheen is Chris Taylor, a young and innocent American, who drops out of college to volunteer for combat in Vietnam. The war's harsh realities dismantle his romantic notions of valour, revealing a grim portrait of human depravity in extremity. Berenger and Dafoe excellently portray discordant facets of leadership as the sadistic Sgt. Barnes and the more humane Sgt. Elias, respectively. These two formidable sergeants, each representing a moral pole, deepen Taylor's existential crisis while battling for the loyalty of their men amidst the complicating backdrop of the Vietnam war. Platoon propels its narrative with a captivating mix of symbolism, psychological probing, and a brutal examination of the survival instinct. Stone does not shy away from portraying the grim underbelly of war—the graphic violence, moral compromises, and the jarring loss of humanity. He does an exceptional job weaving in the paradoxes and tragic inevitability that comes with war—innocence lost, brotherhood fostered yet betrayed, and the perversion of idealism. The cinematography of Platoon is remarkable; it brings the jungles and villages of Vietnam to life with an unnerving realism. Employing natural lighting and close-up shots, Stone eloquently communicates the terror, chaos, and the brutal claustrophobia of jungle warfare. The viewer is immersed into the experience, sharing the men's fear of unseen enemies, the suffocating jungle heat, and the omnipresent threat of death. The movie's score, featuring Samuel Barber's evocative "Adagio for Strings," complements the storyline's emotional accelerations perfectly, adding layers and complexity to each scene's emotional texture. The soundtrack's potent use of popular music of the era also presents a resonant contrast, juxtaposing the rock-and-roll fueled innocence of 1960s America with the sobering harshness of the Vietnam battlefield. Sheen's earnest portrayal of Chris Taylor enables viewers to witness first-hand the transformative impact of war on his psyche. Berenger and Dafoe, meanwhile, present two distinct ideologies borne out of the chaos of warfare. Their performances are strong, engaging, and deeply impactful. Other standout performances include those by John C. McGinley, Forest Whitaker, Kevin Dillon and Johnny Depp, making Platoon a true ensemble piece. Though a war film, Platoon digs deeper into the drama, often exploring the ethical and moral ambiguities that emerge during times of conflict. It questions the vale of idealism, the cost of duty, and the meaning of humanity. Shocking, emotional, yet undeniably thought provoking, the movie won rave reviews upon its release. It earned Oscars for Best Picture, Best Director, Best Sound, and Best Film Editing, showing how it managed to capture the raw soul of its audience; in addition, Berenger and Defoe both received nominations for Best Supporting Actor. Despite its historic setting, Platoon's themes remain timeless and relevant. It offers an unflinching portrayal of the cost of war—not only in lives, but in spirit, morality, and humanity. Inspired by Stone's personal experiences, it doesn't aim to present a grand history of the Vietnam War, but focuses instead on the small, evocative stories within it. It's these stories, filled with intensity and brought alive by stellar performances, that engross the viewer, making Platoon much more than just a war movie. In conclusion, Platoon stands as a testament to the gritty, unromanticized side of war. Though it visually stuns with raw battle scenes, its real power lies in its exploration of the human spirit amidst the chaos, fear, and madness of war. A rare blend of drama, action, and philosophy, it is a movie that leaves an impactful cinematic mark and continues to be a touchstone of the war film genre.
Platoon is a Drama, War, Action movie released in 1986. It has a runtime of 120 min.. Critics and viewers have rated it mostly positive reviews, with an IMDb score of 8.1. It also holds a MetaScore of 92.
How to Watch Platoon
Where can I stream Platoon movie online? Platoon is available to watch and stream, buy on demand, download at Max, Amazon Prime, Apple TV, Amazon, Google Play, YouTube VOD, Vudu, EPIX NOW. Some platforms allow you to rent Platoon for a limited time or purchase the movie for downloading.


Stars
Tom Berenger, Willem Dafoe, Charlie Sheen

Stream movies like Platoon
Also directed by Oliver Stone
Also starring Charlie Sheen
Also starring Tom Berenger