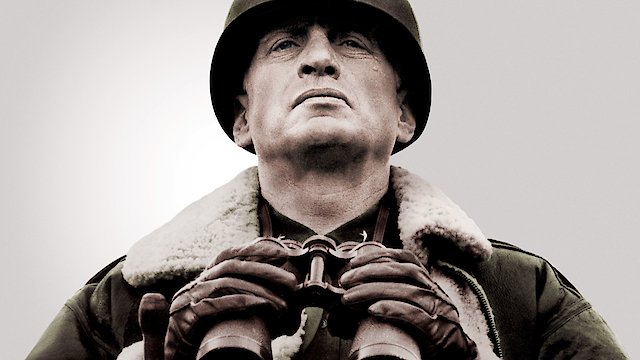 Where to Watch Patton

Patton, a 1970 historical war drama, is a cinematic masterpiece directed by Franklin J. Schaffner and written by Francis Ford Coppola and Edmund H. North. The film — which earned a whopping seven Academy Awards, including Best Picture and Best Actor for George C. Scott — offers viewers an in-depth and unvarnished look at the life of one of the most controversial figures of World War II, General George S. Patton. The narrative of the film centers around the titular character, General George S. Patton Jr., portrayed impeccably by George C. Scott. Patton is a complex and multi-faceted character, depicted as an audacious and brash military leader, famed for his grit, determination, and unorthodox methods. Known as "Old Blood and Guts," his demeanor and stern leadership style often reflect his passionate commitment to his troops and his fervor for victory. A poet at heart, he is a paradox of sorts, displaying an odd mix of visceral aggression and a profound love for ancient history. Scott's nuanced and towering performance is riveting and magnetic, capturing Patton's bold and spirited essence with an intensity that reverberates throughout the tale. Karl Malden, as General Omar N. Bradley, injects a powerful counterbalance to Scott's Patton. Playing the "GI's General," Malden's Bradley is portrayed as a more pragmatic and level-headed foil to the wild bravado of Patton. The interplay between these two characters becomes a central point, illustrating the clash of different leadership philosophies and approaches to war. A disclaimer to viewers is that Patton is not your typical action-packed war movie. Instead, it is an intricate character study set against the backdrop of World War II. The film does not shy away from showcasing the brutal landscapes and harsh realities of warfare. However, Patton's main focus is not on the war per se, but rather on the enigmatic and enigmatic personality that is General Patton. It explores how an individual's personality, including his strengths, weaknesses, eccentricities, and even outright flaws, can significantly affect the conduct and outcome of a war. The cinematography by Fred J. Koenekamp and the musical score by Jerry Goldsmith both lend a fitting epic scale to Patton's life. From the vividly captured North African deserts to the rolling European landscapes, the cinematography is stunning, bringing an authentic and intense feel to the war sequences. Meanwhile, Goldsmith's score lends the narrative an added layer of grandeur and intensity. The script, worked on by cinematic masterminds Francis Coppola and North, is a synthesis of meticulous research and creative speckles, revealing the man beneath the four-star general's helmet without absolving him of his well-documented controversies. Its accuracy in capturing Patton's speeches recapitulates the general's signature eloquence and fiery rhetoric known to both invigorate and provoke. Patton teeters on a tightrope delicately, offering, on one hand, the image of a valiant war hero who considers himself a reincarnated warrior, and on the other, a volatile, head-strong character whose arrogance and hot-tempered nature often land him in hot water, both with his superiors and the media. By no means an unquestioning glorification or a critic's bleak portrait, Patton serves as a balanced biographical war film with its share of victories, controversies, and complexity. Schaffner's nonjudgmental lens allows the audience to form their own perspectives about the man behind the persona. Ultimately, Patton is a powerful narrative that underscores the human aspects behind the unforgiving facades of war and leadership. It is a film that defies one-dimensional portrayals to lay bare an audacious, flawed, yet intensely memorable character study of one of the most iconic figures of World War II. With its blend of superb acting, masterful direction, and a magnificent script, Patton stands tall as a timeless piece in the annals of cinematic history.
Patton is a Drama, History, War movie released in 1970. It has a runtime of 172 min.. Critics and viewers have rated it moderate reviews, with an IMDb score of 7.9. It also holds a MetaScore of 86.
How to Watch Patton
Where can I stream Patton movie online? Patton is available to watch and stream, buy on demand, download at Amazon Prime, Apple TV, Amazon, Google Play, YouTube VOD, Vudu. Some platforms allow you to rent Patton for a limited time or purchase the movie for downloading.


Director
Franklin J. Schaffner
Stars
George C. Scott, Karl Malden, Michael Bates, Karl Michael Vogler
Genres
Drama, History, War

Stream movies like Patton
Also directed by Franklin J. Schaffner
Also starring George C. Scott
Also starring Karl Malden
Watch movies on Apple TV+