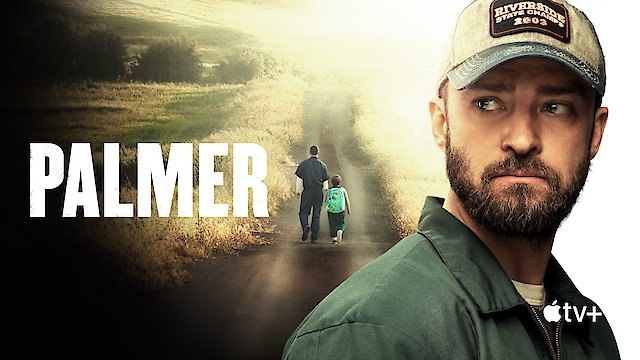 Where to Watch Palmer

Exuding heartfelt sincerity, the inspiring drama "Palmer" is a 2021 release featuring a heart-stirring tale written by Cheryl Guerriero and expertly directed by Academy Award nominee Fisher Stevens. It stars the dynamic trio of Justin Timberlake, Juno Temple, and Alisha Wainwright, shelling out stellar performances. This Apple TV+ feature film is an emotionally laden tour-de-force, redefining the concept of familial bonds and uncovering the sheer power of acceptance and redemption. The movie centers around Eddie Palmer (Justin Timberlake), a former high school football star whose once-promising life is shoved into a downward spiral landing him into prison. The plot embarks when Palmer is released and comes back to his hometown in Louisiana after serving twelve long years, hoping to mend his broken life together and carve out a new, more promising future. At the core of Palmer's fresh undertakings is his juxtaposed connection with a unique boy-next-door named Sam (Ryder Allen). Portrayed vibrantly by young actor Ryder Allen, Sam breaks free of traditional gender norms, indulging in pursuits traditionally associated with girls. His atypical interests and behaviors make him an outcast among his peers, a sensitive soul unable to mold himself into the rigid confinements of the society he lives in. Palmer, hardened by years of incarceration and his own preconceived notions of masculinity, initially finds it hard to accept Sam's free-spirited nature. However, unexpected circumstances thrust Palmer into an unlikely guardianship role over Sam. It challenges Palmer's prejudices and simultaneously gives him an unexpected chance at parenthood. This unique dyad forms the emotional backbone of the film, with the relationship between Palmer and Sam blossoming into a deep and unsuspected bond. Further weaving intricacy into the plot is the enigmatic character of Sam's mother Shelly (Juno Temple), a woman battling her own demons. Shelly and Palmer's encounters give rise to moments that are soaked in deep friction, her recurring appearances infusing a strain of complexity throughout the film. Other notable characters, such as Maggie Hayes (Alisha Wainwright), provide more depth and texture to the story. As a teacher by profession and a beacon of stability, Maggie's involvement in Palmer and Sam's lives makes a significant impact over time. Refreshingly, "Palmer" signals a departure from the traditional Hollywood model that often typecasts people from the South in clichéd roles. Instead, it presents a realistic, multi-dimensional perspective on individuals living in Southern communities. The movie strikes a beautiful balance between complex character-building and the delivery of its potent underlying message, exploring themes of acceptance, redemption, and the ability of humans to change for the better. Justin Timberlake, venturing quite a distance from his pop-sensation image, admirably portrays the titular character, who is taciturn, hardened, and grappling with his past demons. His performance is earnest and convincing, readily slipping into the challenging role of Palmer with gravitas and sheer authenticity. Young Ryder Allen delivers an endearing performance as Sam, his portrayal brimming with innocence, charm, and resilience that easily worms its way into the viewer's heart. Juno Temple, with her nuanced acting, makes Shelly's character at once abhorrent and pitiful, holds a mirror to life's harsh realities. Alisha Wainwright shines in her role as Maggie too, tenderly portraying a woman who understands the complex dynamics at play and offers a gentle presence in the rough-and-tumble machinations of the characters around her. The chemistry among the film's characters is palpable, and the unique relationships allow for a nuanced exploration of the human capacity for growth, redemption, and acceptance. "Palmer" is underpinned by an extraordinary mixture of brilliant storytelling and powerful performances. The film thoughtfully reframes the trope of the 'unlikely family', exploring narratives around masculinity and self-acceptance. It ultimately officiates as a gratifying cinematic experience that prompts deep thought and tugs at the heartstrings. The movie exudes a raw starkness and paints an authentic portrait of rural Southern life that serves to instigate a visceral emotional connection with the audience. The deftly incorporated storyline combined with the skillful acting and intricate character dynamics make "Palmer" a remarkable and commendable cinematic experience, resonating long after the screen credits roll.
Palmer is a Drama movie released in 2021. It has a runtime of 110 min.. Critics and viewers have rated it moderate reviews, with an IMDb score of 7.2. It also holds a MetaScore of 53.
How to Watch Palmer
Where can I stream Palmer movie online? Palmer is available to watch and stream at Apple TV+.


Stars
Justin Timberlake, Juno Temple, Alisha Wainwright

Stream movies like Palmer
Watch movies on Apple TV+
Also directed by Fisher Stevens
Also starring Justin Timberlake
Also starring Juno Temple