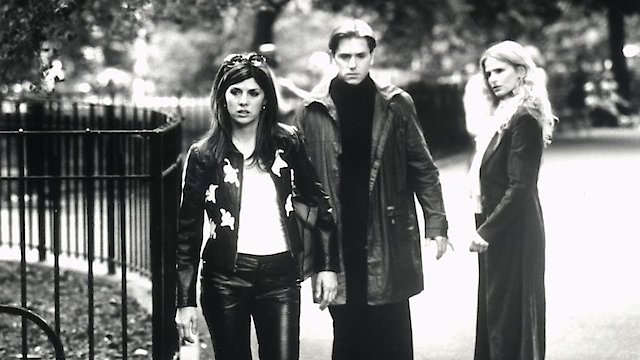 Where to Watch Just a Kiss

Just a Kiss is a dark romantic comedy film from 2002, directed by actor-turned-director Fisher Stevens and written by Patrick Breen. The film parades an ensemble cast featuring recognizable talents like Ron Eldard, Kyra Sedgwick, Marisa Tomei, among other stars. Eldard plays the role of Dag, a successful commercial director known for his charisma and charm. Sedgwick stars as his long-term girlfriend, Halley, who is also a dedicated ballet dancer. Marisa Tomei brings the character of Paula, a volatile admirer of Dag, to life with her well-renowned acting skills. The storyline is embedded with drama, romance, and comedy that sends audiences on a roller coaster of emotions. Paula, infatuated with Dag, manipulated the sequence of events that led to their first encounter. His relationship with Halley gets complicated when he has an accidental tryst with Paula. The philosophy at the crux of the film revolves around the theme that a single kiss can change everything, and boy does it true for Dag. The kiss sends a ripple effect in the lives of the main characters, changing their relationships and life conditions in unexpected ways. Not only focused on Dag's life, but Just a Kiss also widens the narrative to explore the romantic entanglements of his close friends. Peter (played by Patrick Breen), who is Dag's best friend and a successful actor, is simultaneously dating an under-age girl named Rebecca (played by Sarita Choudhury) and is pursued by a wacky woman named Colleen (played by Marley Shelton). Marley Shelton's character, Colleen, is an insane stewardess who secretly pines for Peter, looping her into the twisted love quadrilateral. Another pivotal character in the movie is Andre (Taye Diggs), a cellist who also happens to be Halley's past lover, creating a complex matrix of relationships and emotions. The storyline continues to evolve as these different relationships collide and interact in unexpected and humorous ways. The movie engulfs the viewer in a world of intricate relationships, emotional turmoil, passionate encounters, comedic junctures, and complex moral conundrums. The script is layered, providing a detailed examination of relationships, showing them as neither black and white but complicated and messy. Fisher Stevens brings an unconventional approach to this film by occasionally employing rotoscoping animation. This adds a surreal and visually engaging component to the movie that makes it stand out from typical romantic comedies. The animation, although unconventional, further enhances the narrative owing to its dream-like and offbeat feel which complements the dramatic transformations and chaotic lives of the characters. Just a Kiss presents a blend of humor, romance, and intense drama wrapped within a visually distinctive shell. Its exploration of relationship dynamics and the complications they entail is a unique approach in the realm of romantic comedies. It stretches beyond the narrative of linear love stories to present intricacies of relationships in their raw and often messy forms. It also points towards how a small act of 'just a kiss' can escalate to massive proportions, changing lives and relationships in ways one cannot comprehend, adding a universal appeal to its theme. Supported by strong performances from the cast, nuanced story-telling, a captivating script, and innovative use of visuals, Just a Kiss manages to engage the audience with its quirkiness and depth. The film is not just about comedic moments but also provides substantial material for thought, making it a smart and entertaining romantic comedy that viewers would relish. The supporting cast, which includes well-respected actors such as Zoe Caldwell and Bruno Amato, further enriches the narrative with their own subplots and character arcs, contributing to the overall tapestry of tangled relationships. Whether you're a fan of romance, comedy, or drama, Just a Kiss doesn't fail to deliver in all these aspects. In conclusion, Just a Kiss holds viewers' attention with its exceptional narrative, refreshing approach to the romantic comedy genre, and memorable performances by its cast. It's a distinctive romantic-comedy that will entertain, make you think, and perhaps even relate to your experiences.
Just a Kiss is a Comedy, Romance movie released in 2002. It has a runtime of 89 min.. Critics and viewers have rated it mostly poor reviews, with an IMDb score of 4.9. It also holds a MetaScore of 39.
How to Watch Just a Kiss
Where can I stream Just a Kiss movie online? Just a Kiss is available to watch and stream, buy on demand, download at Apple TV, Amazon, Google Play, YouTube VOD, Vudu. Some platforms allow you to rent Just a Kiss for a limited time or purchase the movie for downloading.


Stars
Ron Eldard Kyra Sedgwick Marisa Tomei Marley Shelton Taye Diggs

Also starring Kyra Sedgwick
Watch movies on Apple TV+